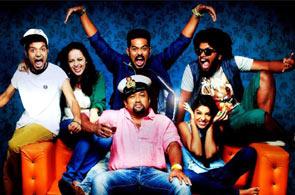 Despite of it's wafer-thinplot, Paresh C Palicha says Honey Bee succeeds in entertaing the audience.

The infusion of new blood is an exciting thing, and we are getting that in torrents in the Malayalam film industry these days. But, unfortunately, they don't bring much innovation or ingenuity to the film scene.

This week we saw the début of Lal Jr, son of producer-director-actor Lal. He has written and directed Honey Bee, which is pretty much in the style of predecessors Siddique-Lal with plenty of gags but bereft of any depth or thought.

Honey Bee has a wafer-thinplot. Sebastian or Seban (Asif Ali) and Angel (Bhavana), the director and the lead performer respectively of a dance troupe come to realise that they are in love the night before Angel is getting married to a police officer.

They elope with the support of their friends Abu (Sreenadh Bhasi), Fernando (Baburaj), Ambro (Balu) and Sara (Archana Kavi). The problem is that Angel's brothers are well known thugs who will not take anything lying down and resort to violence at the drop of a hat.

Three-fourths of the film is devoted to this group running from Angel's brother led by Michael (Lal).

The weight of carrying the flimsy plot is on the shoulders of Baburaj and Bhasi who are made to mouth one-liners
that are supposed to bring the house down.
Lal Jr takes inspiration from many sources including the older films of his father. The dialogues are peppered with expletives (as is the trend in the so-called 'new gen' films) and the one-liners poke fun at his contemporaries and even the classics.
We would have been happier if he had reduced the use of alcohol in the film but he gives the impression that every male character in this venture is an alcoholic.
As for the performances, Asif Ali and Bhavana do not get the privilege of being the lead pair as they become part of a huge ensemble, but they give decent performances.
Baburaj, who is in the limelight these days, virtually steals the show here too. Bhasi as Abu gives Baburaj a run for his money and gives us the hope that he will mature into a good actor in future.
Lal Jr has tried to make a mass entertainer with
Honey Bee
and succeeds in doing that.
Rediff Rating: