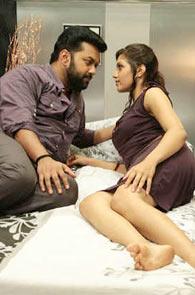 Paresh C Palicha says Up & Down: Mukalil Oralundu has an interesting plot but somewhere feels jaded.
Director T K Rajeev Kumar often experiments with plots and story ideas. His new venture Up & Down: Mukalil Oralundu was promoted as such a film.
The plot revolves around a group of people who are stuck in an elevator of the tallest building in town, and there is a murder mystery as a parallel plot.
A call girl (Meghana Raj) enters the elevator and flirts with the lift-man Thampuran (Indrajith) establishing that the lady is a frequent visitor to this building, though her real identity is not revealed. We understand that there is a relationship between them beyond mere acquaintance as she leaves her child in his care while she finishes her job.
Later, we get to know that there's a problem with the elevator and it requires frequent repairs, which are handled by an alcoholic technician played by Kochu Preman.
The elevator goes kaput on the day a celebration is to be held of the building. The city's police commissioner played by K B Ganesh Kumar, who is the chief guest, is holed up in the elevator along with others, most of whom were to participate in the function.
The premise holds our interest for the most part of the first half as layers are added to the characters and the story. But, when it comes to the suspense part, it becomes a lacklustre show.
The people in the elevator with the commissioner are Thampuran, Suraj (Rejith Menon), who is the building association's general secretary, his girlfriend and the coordinator of the programme Mitra (Shruthy Menon), Cheriyan (Nandhu), Sam Christy (Baiju), his wife Kalamandalam Prasanna (Remya Nambeesan), who is to perform a dance at the function, writer Edathil Govindan Nair (Prathap Pothen), who has written Sam Christy's biography, and the child of that mystery lady.
The story, credited to the director, makes everyone a suspect in the crime that is yet to be substantiated and the narrative goes in flashbacks as everyone's back story is revealed supposedly making things interesting for the viewer. This pattern makes us feel jaded after a while and there is no point in mentioning the loopholes in the plot.
The performance of the actors is pretty even. Indrajith has to be serious all the time, which comes easy to him. Prathap Pothen has to be a creative person without a leash on his tongue and with a weakness for drink. The other actors don't have to do anything extraordinary.
Up & Down: Mukalil Oralundu promised a lot but does not deliver.
Rediff Rating: