Soorarai Pottru held A Ganesh Nadar's attention till the last frame.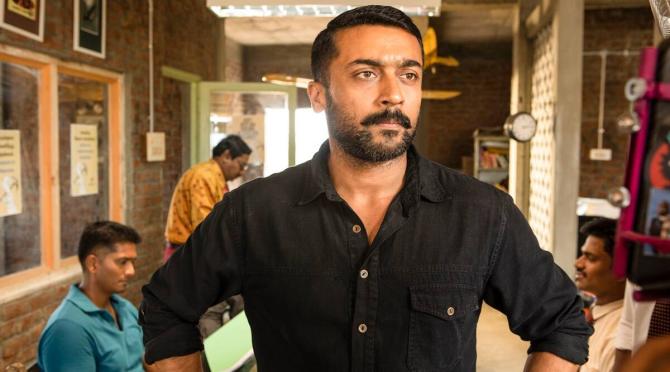 Soorarai Pottru translates to 'praise the brave', but if I had to name the film in English, I would call it Crisis.
The Tamil film really hurtles from one crisis to the next.
How the hero Suriya solves each crisis forms the crux of the movie.
It opens with an Air Deccan flight -- the story is loosely based on the life of Captain G R Gopinath, who pioneered India's low cost airlines with Air Deccan), making an emergency landing at an Indian Air Force base instead of the Chennai airport.
On the left of the screen, there is a disclaimer saying that this does not happen in real life at the IAF base. This message is displayed every time there is any reference or image of the IAF.
It looks like the makers of the movie were worried about anyone taking legal objection to it.
Suriya's father is a school teacher, who likes to petition the government for various facilities for his village.
Suriya tries a more extreme approach like blocking railway tracks to stop a train in his village.
There is a clash between father and son because of their different approaches.
Veteran actress Urvashi, who plays Suriya's mother, stands out as she trues to bring peace between father and son.
The interaction between Suriya and Aparna Balamurali, who plays the leading lady, is different from what you see in other movies.
The first time they meet is when Suriya is dancing at an old man's funeral. Suriya dances very vigorously in this scene, and it looks very realistic.
The pair decide they will marry after the realisation of their respective dreams: He wants to start an airline and she wants to start a bakery.
The next time they meet is at her bakery, which doesn't turn out very well.
In another meeting she is in an auto, promoting her bakery with a loudspeaker. Her uncle (comedian Karunas) is the driver.
Suriya comes alongside on a bike. They decide to marry after he agrees to three of her conditions.
The scene is funny because their entire conversation is heard by the whole town, thanks to the loudspeakers.
For most of the movie, Karunas plays the responsible uncle, more than a comedian.
Among the various crisis that Suriya faces in the film is an aircraft catching fire just before takeoff.
The DGCA refuses to meet Suriya to grantg various permissions, only meeting him after a recommendation from the President.
How does he get to meet the President when he cannot even meet a DGCA?
You have to see the movie to find out how they make this scene believable.
Then there's an entire flight empty because software malfunctions.
The 'bad guy' is played by Paresh Rawal, who owns a large airline.
He is not believable as a villain though he tries his best to act arrogant.
Then there is a Vijay Mallya lookalike. In case you don't realise that it is supposed to be Vijay Mallya, the man mentions he owns a beer company.
The movie blames the big airline owners as the reason for all of Suriya's woes.
A refreshing change in the movie is that Suriya doesn't bash up goondas in any scene.
He plays his role with remarkable restraint, displaying his frustration with every hindrance to his plans.
Aparna, as the country girl who matures into a smart businesswoman, plays her part very well. She also delivers a message that when everyone leaves your side, the wife is always there for her husband.
G V Prakash Kumar's music is refreshing as in he uses Nattum puram padal (country music) in most of the songs.
In spite of being two hours and 33 minutes long, the movie holds your attention till the last frame.
That is Director Sudha Kongara's biggest achievement.
Rediff Rating: