Tillotama Shome is such a natural that every moment of hers on screen is a treat. observes Moumita Bhattacharjee.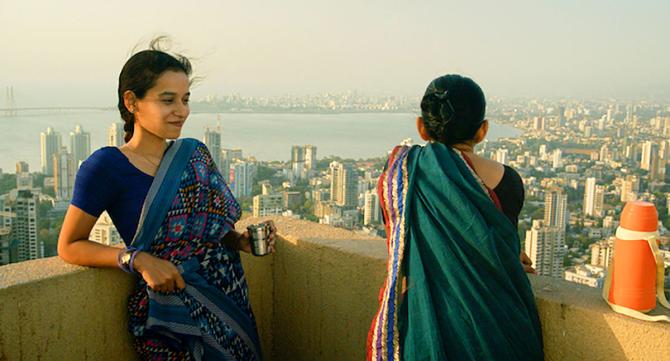 Flying dupattaS, sarson ke khet and two people drowning in each other's eyes are passe now.
It's been years since I got that warm, fuzzy feeling which was a regular back in the 1990s and early 2000s.
Sir could have filled that gap easily, but an indulgent direction and sluggish pace ruins it all.
Ratna (Tillotama Shome) is Ashwin's (Vivek Gomber) live-in maidservant.
While taking care of her master, she dreams of starting her own tailoring business.
She even starts working for a tailor for free to learn more about the craft.
Ashwin supports Ratna completely in her quest and with just two of them in the house, they start to bond more than just as an employer-employee.
That blooms into mutual love and respect for each other.
But Ratna knows the gaping divide between the two and decides against it.
Ashwin, however, doesn't care.
To be or not to form the rest of the story.
Ratna's backstory makes it abundantly clear that she feels free and liberated in Mumbai.
She has a goal and a drive to make her ambitions come true.
Ashwin's back story may not be equally tragic, but it is dramatic and makes both of them sail on the same boat.
This common thread binds the two, who belong to completely different worlds.
Such moments are beautifully depicted in the movie and so is their romance.
But it gets mired due to an extremely slow pace, which takes almost an hour to come to the conflict.
The film's abrupt end does not justify the tedious buildup for the better part of the runtime of one hour and 36 minutes.
I get it that Director Rohena Gera wanted to let the audience to make their own interpretation, but it really needed to brew more.
Also, whoever did the subtitles either didn't get the movie or was employed to cater to a different market.
In a scene where Ratna's sister talks about Ranbir Kapoor, the subtitles turn it into Brad Pitt.
Even if it's targeted for an international audience, Ranbir is fairly popular worldwide.
I didn't understand the need to change Ranbir to Brad Pitt.
Tillotama Shome is the star of the film.
She is such a natural that every moment of hers on screen is a treat.
Be it feeling happy about her dreams or crying in despair to see them dissolve, Shome outscores everyone in the film.
Vivek Gomber is apt for his role as an America-returned man with a broader outlook towards life. But he needed a more emotional arc than just being a brooding man.
He shines in scenes where he tries to strike a conversation with Shome to bridge the gap between two humans.
Sir is a love story that could have filled the gap left behind due to the lack of mushy, aspirational, romantic movies at the cinemas, but a sluggish pace and rushed end become a buzzkill.
Rediff Rating: