Bejoy Nambiar's gripping slice-of-mess about things spiraling out of control find an expression in a striking ensemble and volatile scenery, notes Sukanya Verma.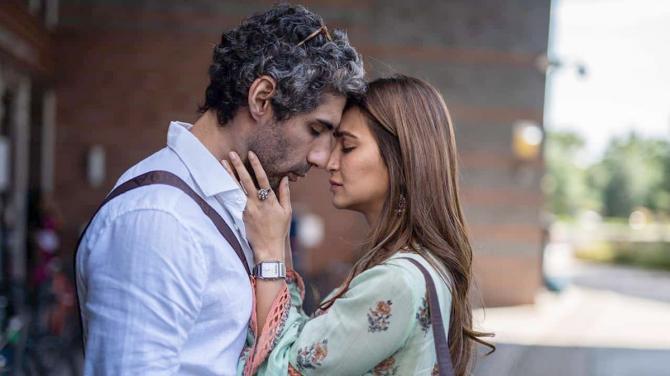 Originally a feature film, Taish was broken down into six episodes to give the semblance of a Web series.
It is a superb ploy considering the script's inherent dispersed tone that moves to and fro between regrettable impulses and impending doom.
As a consequence, the ensuing drama is free to unleash its eclectic energy and edgy conflict until it all converges to a point of no return.
Strong brews are Director Bejoy Nambiar's forte and his gripping slice-of-mess about things spiralling out of control find an expression in a striking ensemble and volatile scenery.
Even at its most contrived, the circumstances and characters he creates (sharing screenplay credits with Anjali Nair, Kartik R Iyer, Nicola Louise Taylor) are so forceful and fascinating, I was curious even when I wasn't convinced.
Taish, loosely translated is a fit of rage, concerns itself with three men -- one's guilt, another's grief and the man taking responsibility for both.
Despite the disparity in their backgrounds and motivations, they are all bound by the same ideals of family, honour and revenge.
Drawing parallels between them as well as chewing over the contrasts is what drives Nambiar's fast-paced blend of style and substance.
Centred on two desi families in the UK, the story's zigzag timeline travels back and forth to highlight the events leading to the big, bad clash.
The Brars --Southall kingpins and loan sharks are having a bit of a bad time on the home front.
Pali (Harshvardhan Rane) is hopping mad at his older brother Kuljinder (Abhimanyu Singh) after the latter marries his lover Jahaan (Sanjeeda Sheikh) for child bearing purposes.
Jahaan's older sister Sanobar (Saloni Batra) is Kuljinder's first wife and on board with its Waaris-reminiscent regressions where Smita Patil implores her younger sister Amrita Singh to nip her romance with Raj Babbar in the bud and marry her old father-in-law Kulbhushan Kharbanda to produce an heir.
The Kalras, an affluent family of doctors is prepping up for a fancy countryside wedding as a surgeon's (Ikhlaque Khan) younger son Krish (Ankur Rathee) brushes up his Bollywood dance moves to tie the knot to his long-time girlfriend Mahi (Zoa Morani).
Rohan (Jim Sarbh), the other son, is not quite sure how his family will react to his Pakistani Muslim live-in girlfriend Arfa (Kriti Kharbanda).
Rohan's wild best friend Sunny Lalwani (Pulkit Samrat) is the catalyst, the trigger point, which is set in motion once a dark memory connecting these two families becomes known to him.
But before it races off to its thrilling vendetta ambitions of mending broken Bro Codes and Greek Tragedy climates, it's the interpersonal relationships of both families that give Taish its true bearings as a story about real people caught in an unreal fracas.
Pali's side of the family is visibly traditional and only converse in Punjabi.
Their clout and business stems from and thrives on their ethnic identity.
Whereas Rohan's modern upbringing and upscale lifestyle doesn't necessarily conceal his parent's prejudices.
Nambiar does well to highlight the hypocrisies and dysfunctional characteristics across their individual social structure.
If the mood is distinctly brooding and shadowy on one side, the conversation is akin to fencing with a touché-like finish on the other. The dissimilarity is neatly preserved through scenes of crisp chemistry and anxious face-offs.
Bejoy Nambiar is a champion of slick.
If a tense background score (Gaurav Godkhindi, Govind Vasantha) builds on a momentum of swagger and urgency, the spunky soundtrack arms the episodes with an array of emotions ranging from festive to feuding.
No less impressive is the symmetry and design of its visuals, shot magnificently by Harashvir Oberoi while capturing the changing landscapes of violence and beauty in alluring harmony.
Party or prison, aesthetics are a constant source of pleasure for two-and-half-hours of Taish.
Like that highly impactful sequence build around blinking red lights and alarm sirens around a hostile confrontation is a highpoint in the series, something the climax cannot live up to.
A whole lot happens in Taish's course of two-and-a-half hours.>Pali's muddled loyalty and profound bitterness, Jahaan's tragic passions and abject lack of agency, Sanober's strength and dilemma as she juggles between conscience and conditioning, Rohan's pacifism pushed to the limits, Aarfa's extraordinary patience for her partner's aloofness, Krish and Mahi's pre-wedding crisis and Sunny's destructive ideas of justice.
Despite a credible division of storyline, it is not an authentic Web series, a detail that bothers if only for a want of a few bonus episodes focusing on the supporting elements in the story.
There's Pali's thuggish aide (an excellent Saurabh Sachdeva) sporting funky hair and athleisure, the shady Gyaanji (Mahavir Bhullar), a godfather-figure smug about his significance in the money lending trade, the women (including Kunika's side-lined matriarch in a dastaar) tolerating the arrogance and reckless behaviour of their men.
But the ensemble delivers the goods just as well.
Pulkit Samrat's Ranbir Kapoor-lite verve works up his character's daredevil stance while Jim Sarbh shows his prowess as a straightforward, non-confrontational, dude entangled in an out-of-control scenario.
Saloni Batra brings heft to her minor role even as Kriti Kharbanda's restraint and Sanjeeda's luminous daze does it bit to charge the screen.
It is Harshvardhan Rane though, as the seemingly formidable figure harbouring humble dreams, inclined for disaster, prone to heartbreak and penalised for his misplaced loyalty and toxic reflexes, leaving an intense, fiery, impression.
Taish circles in a moment, one unthinking rash moment without paying heed to the repercussions that will follow.
The rush of adrenalin is everything -- whether going for the kill or paying the price.
And Bejoy Nambiar has a ball submitting to its murky whims.
Taish streams on Zee5Premium.
Rediff Rating: