Laxmii is dull, boring, stale, unbearable, complains Moumita Bhattacharjee.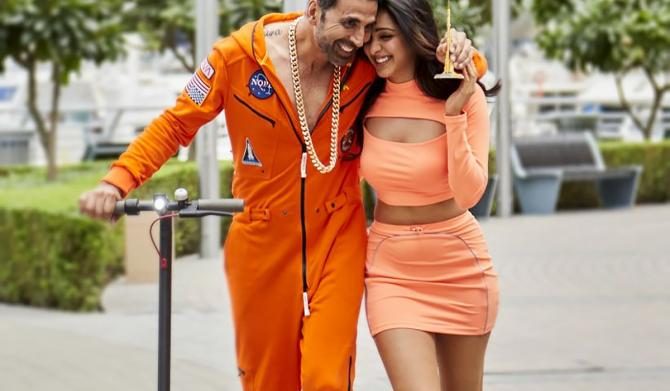 I can't bear to watch horror movies because they give me the creeps and keep me awake for nights.
But Laxmii did not evoke such sentiment.
While it is labelled as horror on Disney+ Hotstar, it made me tired, exhausted and desperately waiting for it to end.
A remake of the 2011 Tamil movie Kanchana, which is equally sub-par, Laxmii attempts to start a conversation about including transgenders in the mainstream thought process, but all it will make anyone talk about is tasteless the plot is.
Asif (Akshay Kumar) and Rashmi (Kiara Advani) had an inter-religious marriage, which left her family really upset.
Her father (Rajesh Sharma) has not accepted the couple, but her mother invites them over to celebrate the parents's marriage anniversary in a bid to reconcile.
While Asif navigates strained relations with his father-in-law, he leads a bunch of kids to an abandoned property to quell the misconception of it being haunted.
Asif disturbs a spirit while drilling the stumps onto the ground and hurts a spirit.
After that, everything goes for a toss for him.
While Kanchana was a horror film, Laxmii dabbles with comedy as well and is directed by the same man, Raghav Lawrence.
No, it is not a horror-comedy because it is neither horrifying nor funny.
In fact, it's extremely dull.
There are no highs, no lows, no thrills, no chills and no jokes to chuckle at either.
The whole hullabaloo of seeing Akshay as Laxmii comes to naught. If I have to watch a film on a transgender, I would rather watch Mahesh Bhatt's 1997 movie Tamannah.
The lame plot points insult your intelligence.
The songs really get to you because they are needless and plain.
Just to justify the romance between Kiara and Akshay, Burj Khalifa is jammed into the narrative.
They have no chemistry whatsoever.
There is a dialogue where Akshay declares, ''Agar bhoot dikh gaya to chudi pehenlunga.'
What does that mean?
This is 2020, for God's sake!
It isn't just a derogatory remark on the very community, it is seemingly supporting but on women too.
The film does begin with promise, as it takes you on a chilly ride.
Even the scenes where two women of the family try to ascertain if their house is being haunted by an evil spirit are enjoyable.
There's nothing to talk about the performances.
Akshay, as a transgender, is forgettable.
Kiara Advani is just about okay.
The rest of the cast does what they are supposed to do -- support.
Laxmii is the most excruciating 2 hours, 12 minutes I have ever spent on a movie released on OTT.
It is dull, boring, stale, unbearable.
Watch it at your own risk!
Rediff Rating: