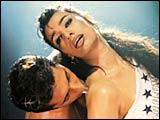 Those who think Oops! is anything close to The Full Monty, think again. So what is actor-turned-director Deepak Tijori's debut film about?
Oops! is about a young man who wants to get rich quickly.
It is about an elderly woman whose husband and son don't have time for her. She makes up for it by buying that attention from young men.
Sounds interesting, doesn't it?
So let's explore the story. The film revolves around three friends Jahaan, Aakash and Nikki who are part of a dance troupe.
While Aakash is rich, Jahaan has to make do with whatever he earns from his job as a dancer.
New: Chori Chori is heartwarming
Also see: Hungama: A confusing comedy      
3 Deewarein: Without compromise      
  Madan Mohan's music to live again
All Aakash wants to do is dance; all Jahaan wants is to get rich quickly. So he accepts a well-known dancer's offer to strip-dance for rich women. Good friend Aakash does one show with him; then he tries to convince Jahaan he is taking is the wrong path to success.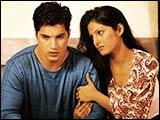 But Jahaan has gone too far. He goes solo. He meets Sharon, a woman in her forties, in one of his shows. He makes a deal with her and they start meeting on her terms. But soon he starts developing feelings for his 'client' and confesses as much to Aakash. The fact that he doesn't know much about the lady makes her even more attractive. And that's when he learns the identity of his 'client.'
Oops! has a sensitive subject and would have made a good film had it been handled well.
The first half is all about Jahaan wanting to make big bucks and doing whatever it takes to reach his goal. But if he is so poor as he says he is then how come he owns a sleek-looking expensive motorbike? Tijori's direction is full of such loopholes.
The sets are tacky; in fact they are not even as good as some of the sets seen in television serials these days.
As far as the dialogues are concerned, the less said the better. Some of them did not even make any sense!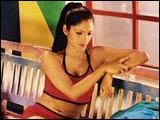 The second half, which deal with the repercussions of the decisions taken by each character, could have been interesting if it was sensitively handled. What Tijori does instead is drag out a boring and unconvincing climax that is clearly inspired from Farhan Akhtar's Dil Chahta Hai.
As for the performances, one wonders why a talented actress like Mita Vashisht signed this film at all. Is that what happen when good offers stop coming in? Ditto Kiran Kumar.
Newcomers Kiran Janjani as Jahaan, Vikas Sethi as Aakash and Adyahsa as Nikki deliver their dialogues without emotion or expression. Not that one can really blame them; the dialogue are rather limp!
'Oops!' is what you say when you make a mistake, Tijori said in an interview. Is that what he said after he made this film?
CREDITS
Cast: Kiran Janjani, Vikas Sethi, Adyasha, Mita Vashisht, Kiran Kumar, Mink Singh, Amit Singh Thakur
Producer, director, script: Deepak Tijori
Music: Ravi Pawar
Lyrics: Ajay Jhingran
Cinematography: Thomas A Xavier
Art direction: Kumar Sagar