Home > Movies > Report

Inme bahut masala hai: Yash Chopra

Syed Firdaus Ashraf in Mumbai | July 31, 2003 18:16 IST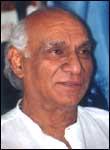 Filmmaker Yash Chopra is rewriting Bollywood's music history. Twenty-eight years after Madan Mohan passed into the ages, Chopra is using music created by the late composer in his next, yet-to-be-titled project, which stars Shah Rukh Khan in the lead role.

"Many of Madan Mohanji's tunes have remained unused. He composed around 500 tunes, which were not used in any Bollywood film. When I came to know about this, I felt I must take his music for my new film," says Chopra.

Madan Mohan, who passed away in 1975, scored memorable songs in films like Woh Kaun Thi, Haqeeqat, Ada, Mausam, Parwana, Adalat and Anpadh.

The veteran filmmaker describes how he got the brainwave. "Madanji's son, Sanjeev Kohli [Kohli, who was formerly with the music company HMV as its senior marketing manager, has now joined Chopra's Yashraj Films as its chief executive officer], was discussing his dad's unused music with me. That's when I decided I must listen to these tunes. When I heard them, mujhe laga inme bahut masala hai and that I could definitely use them. I then asked Javed Akhtarsaab if he could pen songs for the tunes. He readily agreed. We decided to go ahead with the project."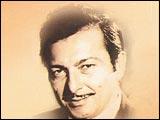 When asked why he never worked with Madan Mohan when the composer was alive, Chopra says regretfully, "That was very unfortunate. I am happy, however, that I am now working with his music even though he is no longer with us."
Chopra's favourite tune by the legendary music director is Lag ja gale from Woh Kaun Thi. 

Kohli feels his father's music has always been ahead of his times. "He could blend Western and classical music very well. Despite the passage of time, his music is still relevant. Good melody is always good. That is why remixes of old Hindi film songs are doing so well," he says.
Will the new generation accept his father's music? Kohli said, "My father's music for Laila Majnu [starring Rishi Kapoor and Ranjeeta] released after his death and went on to become a super hit. It was same case with Mausam [starring Sanjeev Kumar, Sharmila Tagore] which was released after my father's death."


What do you think about the story?








Read what others have to say:





Number of User Comments: 12








Sub: the eternal Madanji

Madanji's (according to me, he is the God of Melody) music is so divine and sacred, that you feel, you are entering the sanctum sanctorium ...


Posted by radhika









Sub: madan mohan, the great-forever

People say dead people are like God But for me Madanji himself is God. I read people describing him as "Emperor of Ghazals" But for ...


Posted by Radhika









Sub: The Eternal Madanji

14th July is the saddest and most cruel day in my life, as this day snatched away the beloved Madanji from this world. But Madanji ...


Posted by Radhika Ganesh









Sub: I hope he does a Justice

I feel using someone's CREATION in his/her absence does increase your responsibility a hundred times. Madan Mohan, who has given three different tunes to one ...


Posted by Amit









Sub: Madan Mohan and Yash chopra

There can not be anyone better than Mr.YASH CHOPRA who can use his tunes in a best possible way. All the best for next SRK ...


Posted by SHIRISH






Disclaimer