'Khaali Peeli has the wits of a kindergarten school play,' sighs Sukanya Verma.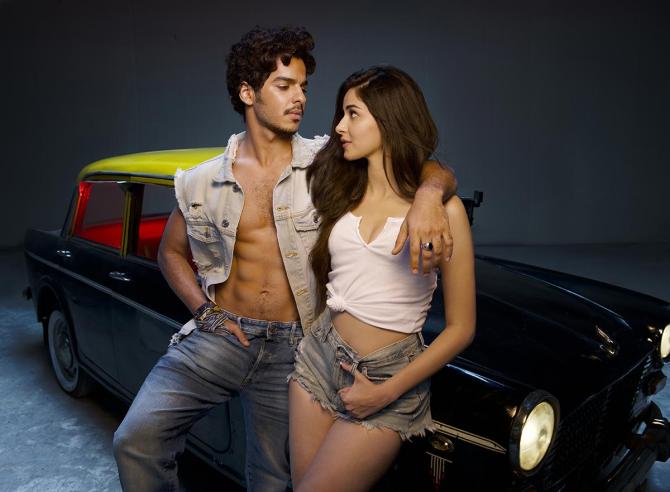 A boy and girl on the run, bump into each other. Each then recounts what transpired 35 minutes earlier. This pattern follows until the climax where a situation presents itself and the scene cuts to five minutes, 10 minutes or 10 years earlier.
By the end of Khaali Peeli, I had survived so many flashbacks and had so little fun, the only thing that still made sense is its title.
Khaali Peeli, here punning on Mumbai's iconic kaali peeli taxis, loosely translates to without rhyme or reason. Two of the most romanticised things about the city -- Bollywood and tapori lingo appears to be the only reason for this hack job -- directed by Maqbool Khan -- to even exist.
It's the sort of baloney that recycles every done-to-death stereotype of the masala genre in the most lacklustre manner, be it the clichéd firing of bullet by the baddie, camera focusing on shocked expressions of the leads while third party intervention ensures all's well that ends well or how the hero and heroine always find a costume friendly revelry as refuge to escape the villain's sidekicks.
These tricks are so outdated; it's embarrassing to watch unless it's a clever parody. And Khaali Peeli, which has the wits of a kindergarten school play, certainly doesn't make that grade.
Speaking of puerile, childhood sweethearts calling themselves Blackie and Red Riding Hood are separated by a surly gangster, Yusuf Chikna, (a bored looking Jaideep Ahlawat.)
He's a runaway, selling movie tickets in black and harbouring thug aspirations. The kind who grow up into street-smart cabbies while running atop or across trains in the tradition of Bachchan potboilers, keeping with co-producer Ali Abbas Zafar's Gunday sensibilities.
She's a product of the brothels, promised to Chikna's creepy client sworn to celibacy until she is old enough to marry him. More like a wolf in no clothing (played by an unnerving Swanand Kirkire) eyeing Red Riding Hood who can draw precise sketches of his prey in their decade later avatar beforehand.
Blackie and Red Riding Hood (What were their human names again?) are Chikna's life insurance policies gone rogue after their grown-up versions, (Ishaan Khatter and Ananya Pandey) try to fit into parts Anil Kapoor and Madhuri Dixit would do justice to even in their sleep during anything-goes-80s.
Throw in a dreary upright cop hot on their chase (Zakir Hussain doing the same old in the same old) and what have you?
A painful reminder that you've shelled out a sweet 299 bucks to endure creativity that sounds like 'Wohich Blackie hai, bachpanwala' and imparts lessons like a good father is better than a godfather.
Ishaan and Ananya, bless their enthusiasm, have a ball play-acting. If the latter sounds like a parrot rattling off trashy street talk by memorising Rangeela, Ishaan exudes the air of an adolescent who believes he has become Rajni by lighting a smoke before the mirror.
It's silly, it's shallow, it's Khaali Peeli.
Khaali Peeli is available to stream at pay-per-view on Zeeplex.
Rediff Rating: