'The women, warts and all, are fascinating and frustrating for their flaws.'
'As much director Alankrita Shrivastava wants them to chart their course on their own terms, she pauses much too frequently to throw in a little pity party,' observes Sukanya Verma.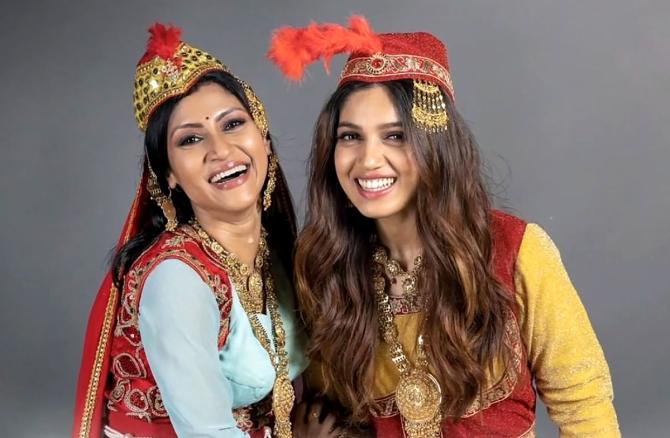 If Lipstick Under My Burkha looked at female sexuality and rebellion in the face of patriarchy and misogyny, Writer-Director Alankrita Shrivastava's Dolly Kitty Aur Woh Chamakte Sitare just wants to let her be.
Repression isn't so much of an issue here as are the dilemmas of resisting propriety.
A woman's role is so deeply entrenched in society, it takes a fair bit of unsavoury experience for her to break out of the shackles of conditioning and stigma.
Dolly Kitty Aur Woh Chamakte Sitare, now streaming on Netflix, is the journey of two cousins as they go through their share of bittersweet until they are finally sure of themselves.
Not every single man in Dolly Kitty is as inconsiderate as Lipstick but their significance is still limited to the backdrop.
Pink homes, pink offices, pink autos, the solidarity and sisterhood it means to perpetuate is consciously unsubtle. But the women, warts and all, are fascinating and frustrating for their flaws.
As much Shrivastava wants them to chart their course on their own terms, she pauses much too frequently to throw in a little pity party.
Especially Kajal aka Kitty (Bhumi Pednekar) who has moved to Noida from her hometown of Darbhanga, Bihar, in pursuit of greener pastures.
Prone to attract unwanted attention, the Hanuman Chalisa chanting babe-in-the-woods quits a factory job to join a call centre for sweet talking lonely creeps.
If the grisly nature of her brand new work place hits her hard, Kitty's curiosity and gullibility unsuspectingly bare her to uncomfortable truths behind big city razzle dazzle.
One sweet, sympathetic caller (Vikrant Massey's affability is perfect for the part) may or may not be the Prince Charming she has in mind. Nothing about her coming-of-age feels new or revolutionary.
But Bhumi wears her vulnerability attractively. She can make you care for her troubles even when acting reckless or walking right into a trap.
But it is her cousin Dolly (Konkona Sen Sharma) the drama hinges on.
Juggling home and sarkari job, her first impression is of a woman incapable of imperfections. She crows about the fancy flat they plan to shift into soon, her model married life, the cool air conditioner and easy-peasy loan grants.
On looking closer, we discover a woman in denial, stuck in a marriage that gives her no pleasure or peace, ill-equipped to understand her younger son's cross dressing preferences, unwilling to confront the estrangement from her mom while engaging in crooked dealings to fulfill materialistic goals.
Dolly has her agency and doesn't mince words before a husband (a fine Aamir Bashir) who seems to see through her while acknowledging his own failings but saying nothing.
She is most hard on her cousin whom she freely judges while turning a blind eye to her own transgressions.
But after a young delivery boy (Amol Parashar) enters the picture, Dolly struggles to put the mask back on.
Few actors are as quick on the uptake as Konkona Sen Sharma.
It's a smooth shift from constantly sweeping things under the carpet to taking them head on, but it is the strength she is displaying in making life's trickiest decisions that show her mettle in ways the movie cannot.
Dolly Kitty Aur Woh Chamakte Sitare is essentially a human story, but Alankrita Shrivastava is eager to make it a human interest one.
In a bid to accommodate all her observations and opinions about feminism, gender, geography and politics while raising questions about alternate sexuality, Noida's realty woes, anti-Romeo squads, a vagina installation symbolising women empowerment that is eventually broken down and normalising sexualised professions, things get a tad sanctimonious and heavy handed.
Dolly and Kitty are the key players, but not the only interesting characters of its premise.
Aamir Bashir's convoluted husband with incestuous tones, Vikrant Massey's backstory, Kubbra Sait clichéd gal pal to the rescue, Neelima Azim's compulsions to abandon daughter Dolly are treated cursorily.
By neglecting the complexity that surrounds the titular duo, Shrivastava cuts down the layers of their person. And a couple of those precious sitare.
Rediff Rating: