It's not easy to get a chance to direct a film in Bollywood.
Maqbool Khan knows that only too well.
After working in the film industry for 23 years, he's just on his third film, Khaali Peeli.
Yet, he remains optimistic.
"Making films is not completely in our hands. We made a lot of plans, but they did not work out. But don't give up. Work hard. That's what I have been doing," Maqbool tells Patcy N/Rediff.com.
How did you think of the idea of Khaali Peeli?
My writers Yash Keswani, Seema Agarwal and I were discussing... we wanted to do something based in Mumbai, which would depict Mumbai life.
The first thing that comes to your mind when you think of Mumbai is 'Kaali Peeli' (referring to the black and yellow taxis in the city).
So we made kaali peeli the character of the film along with the guy who owns it; he is a street smart taxiwallah.
There's a girl from the same background, who lives in a chawl in south Bombay.
She runs from there, and then this two meet and the mad ride begins.
In a nutshell, my film is like Bhendi Bazaar meets Guy Ritchie.
How did Amitabh Bachchan inspire your film?
The '90s era was very fascinating, and we wanted to incorporate that.
My writers and I have grown up watch Amitabh Bachchansaab's films; his entry would be so fascinating.
Even now if you go to single screens, people start clapping and whistling at Ranveer Singh's entry in Simmba.
That is the kind of feel we wanted for our film.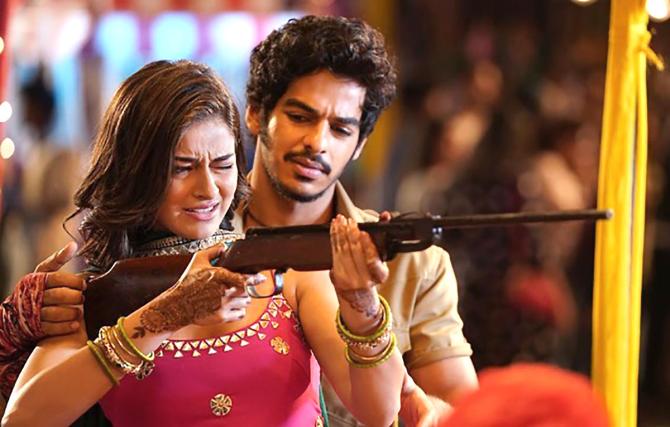 How did you finalise on Ananya and Ishaan?
We wanted to create a typical Bollywood masala film, which would also cater to the younger generation because they have not seen the kind of films I am talking about.
So how do we cater to them?
That's why we had young actors like Ishaan and Ananya. Also, really cool, peppy music by Vishal Shekhar.
How did you get to direct this film?
Himanshu Mehra, the producer of this film, works out in the same gym as me.
I just sharing my ideas.
One day, I showed him a promo that I shot for a television show.
He asked me if I had anything that I could narrate to him.
I gave him the idea of Khaali Peeli. He heard it and immediately said he was doing it.
He took me to his partner Ali Abbas Zafar, and I narrated it to him. He liked the idea, but asked to make a few changes.
The script was tweaked and Ishaan was on board in the next 15 days.
I knew he was super busy then. He was getting offers left, right and centre and was reading a lot of scripts.
If he didn't like a script, he was refusing upfront.
So before narrating the script, I told him that if he did not connect with it within 10 minutes, he could ask me to stop.
After an hour-and-a-half of narration, he was on.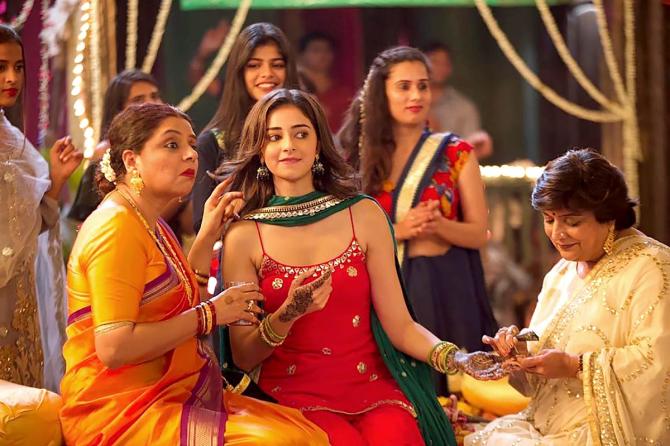 Ananya must have never spoken tapori language ever. What made you choose her?
For Pooja's role, we wanted a beautiful girl. When you watch the film you will know why I wanted a beautiful girl.
I had seen Student Of The Year especially for Ananya.
I liked her comic timing; I had genuinely laughed in those scenes.
I spoke to Ali about getting her on board.
He agreed but had the same question you did: How will she speak tapori language from a chawl?
She is a very polished and well groomed girl, but she had to say words like 'shaaney' and 'lookhey'.
I wanted her to be completely crass.
She took a week to discuss with her family.
I had told Ananya that don't worry, you just make up your mind, the rest I will manage.
We did a workshop for almost a month and a half.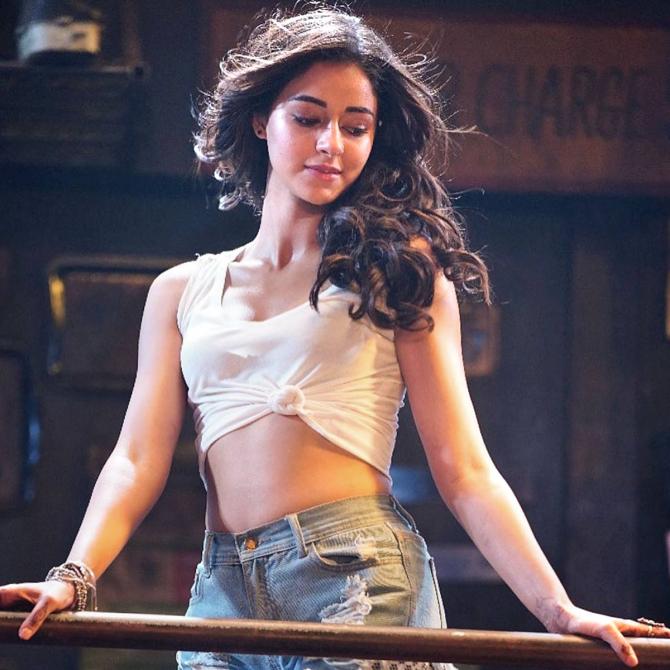 How easy was it to get Ananya to speak the typical Bambaiya language?
Ishaan and Ananya really worked hard.
Whenever I would call Ananya for the workshop, she would repeat one line of dialogue a hundred times.
She's a very good learner.
If you tell her how to say the dialogues, she will close her eyes and listen to it and get the tone right.
She copies you exactly.
The rest we handled on the sets.
What effort did Ishaan have to put in?
Ishaan had this boyish image in Dhadak and Beyond The Clouds.
But in my film, I wanted him as a macho, angry, young man.
He really worked hard in the gym and transformed his physical appearance.
When the first teaser came out, I got the biggest compliment from his team.
They were sceptical whether Ishaan would look like a macho taxi driver, who punches people.
Both Ishaan and Ananya have put in their heart and soul into this film.
The kind of location I was shooting in, like Bhendi Bazaar, and controlling a crowd of 5,000 people, if not for these two young, energetic actors, it would not have been possible for me to pull off a film like this.
It's not easy to perform in front of 5,000 people, who are standing right behind the camera.
You have to remember the dialogue even when the crowd is shouting and saying things to you.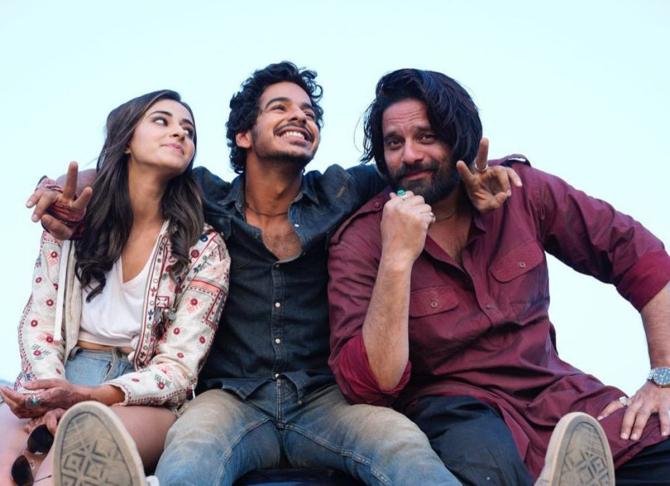 Jaideep Alhawat plays an important role in the film.
I had seen Gangs of Wasseypur, where he played Manoj Bajpayee's father.
I liked his personality.
I bumped into a couple of times in restaurants and whenever I saw him, I felt that even if this person stands on screen, his personality will do the talking. He doesn't even have open his mouth.
Jaideep is the villain in the film and my reference was Bachchansaab from Satte Pe Satta, where he played the double role of a nice guy, Ravi and a contract killer, Babu.
Babu was my reference for Jaideep.
You are a huge Bachchan fan&...
Kaun nahi hai?
I have seen all his old movies from the '80s, especially films like Amar Akbar Anthony, Muqadar Ka Sikander, Don...
I did a film, Dus. I was the associate director.
Abhishek Bachchan starred in it.
I told him, 'I think I'm the biggest fan of your dad.'
We were shooting the Dus Bahane song in Mehboob Studio, I think it was Abhishek's birthday that day.
The Big B had come to pick him up in the night. He was wearing a beanie, a white pathani and chewing gum. He looked like a rockstar.
Kitna swag hai us aadmi mein!
Abhishek introduced me to him and it was the biggest moment of my life.
There is a lot of Bachchansaab's inspiration in this film.
In fact, when you see Ishaan standing sometimes, he does it exactly like Bachchan. I did not tell him, he naturally stood like him.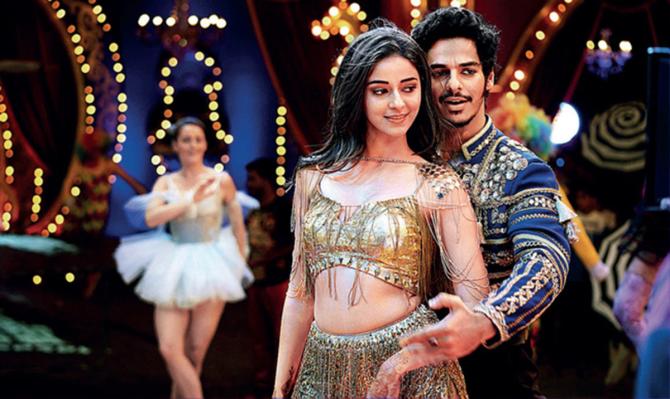 Your song Goriya saw some controversy because of the line 'Beyonce Sharma Jayegi'.
It's been changed to Tere dekh ke nakhre yeh duniya sharma jayegi and there is no controversy anymore.
We never thought it would go in this direction or that people would react like that.
We are all responsible people attached to this film; Ali has a certain name.
He has always given clean, family films.
We will never create unnecessary controversy.
That was taken out of context and when we realised it, we changed it.
'Goriya' is not addressed to a fair girl. In India, 99 percent of times it is to address a girl.
Like Gori tera gaon bada pyara, Goriya re goriya mera dil churake le jaa, Churake dil mera goriya chali...
It doesn't mean it's for a fair girl.
The boy is a taxi driver, who is trying to impress a girl by saying 'teri performance dekh ke Beyonce sharma jaayegi'.
In no way was it intended to demean or hurt anybody's sentiment.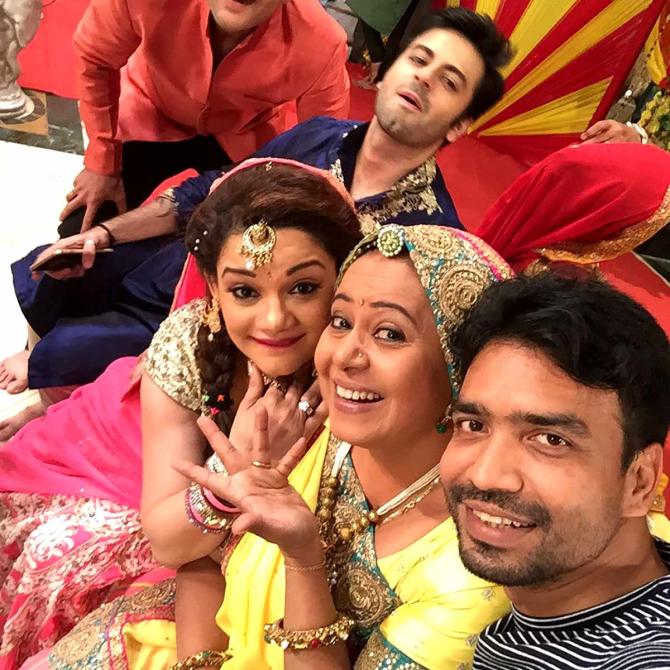 Tell us about yourself.
I am from Dholpur in Rajasthan.
From Bandit Queen to Paan Singh Tomar, these films are shot in my city kyun ki woh daakuon ka ilaaka hai.
I was interested in films since childhood.
I knew I would join films, tabhi toh Bachchansaab ka nasha itna chadaa hua tha.
I had no film connection.
I came to Mumbai often in the '80s, but permanently shifted in 1993.
Anubhav Sinha used to make music videos then and his younger brother was my gym buddy.
I started assisting Anubhav Sinha for the next 10 years.
Then, he told me to try out something independently.
That's when I started directing television serials for Balaji Telefilms.
I mostly did scenes or the first episode and then handed it over. I am good at setting up a series.
The longest series I did was Diya Aur Baati Hum. I did that for three years.
My first film was Kabootar, followed by Lanka.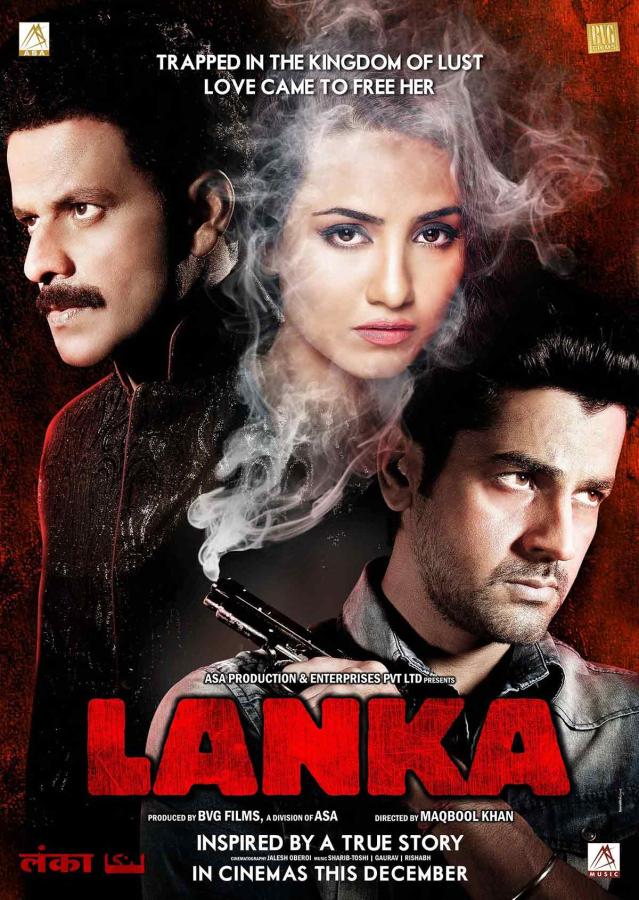 In 23 years of your film career, Khaali Peeli is just your third film.
I am still young, I feel like I just started.
I will be here for a long time.
At 80, I will still be making films.
Making films is not completely in our hands.
We made a lot of plans but they did not work out.
But don't give up. Work hard. That's what I have been doing.