At 70 minutes long, London Confidential is a crisp watch, notes Joginder Tuteja.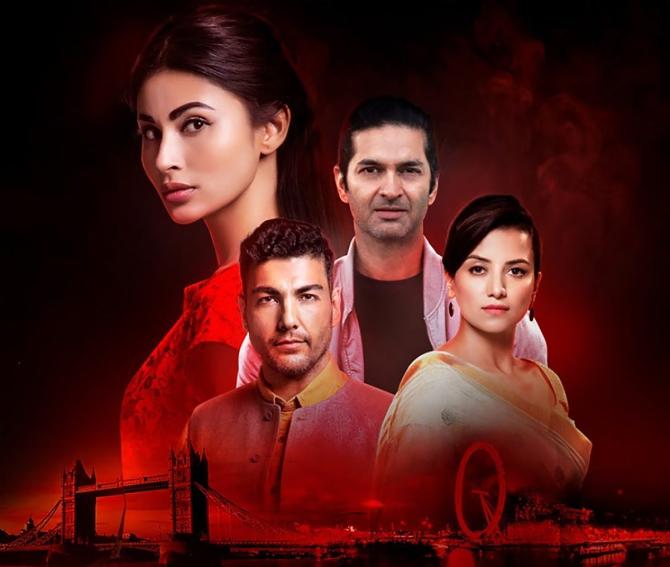 London Confidential is neither a full length feature film nor a short.
It is not a Web series either.
It is a mini film of sorts with a running time of about 70 minutes and has been shot entirely during the lockdown.
Created by author and journalist S Hussain Zaidi, this one is not as much about the coronavirus, but more about an Indian spy who is a mole working for the Chinese government while stationed in London.
Even as Mouni Roy, an agent at the Indian high commission in London, works with another agent (Purab Kohli) to solve the mysterious death of a fellow agent as well as the 'raaz' that he was carrying that would have exposed another Chinese virus, there are more troubles ahead.
Bodies begin to fall left, right and centre and honey traps are the order of the day.
For the Indian high commissioner (Kulraj Randhawa), it is top priority to find the mole at her mission even it is a race against time.
One of the suspects at the high commission is in a homosexual relationship.
Another key suspect earns 2,000 pounds a month, but spends 10,000 pounds a night on strippers.
A high profile personality is in an extra marital relationship with his Sanskrit student.
While an understanding husband (Sharad Kelkar) pleads for his wife (Mouni) to spend some time with him.
The Chinese have their own agenda.
They don't want a war and while a key agent of theirs runs martial arts classes, an operative working for the Indian agency tries to decode the secret that is embedded in a painting sent over the dead spy.
With a lot of this and more running together in London Confidential, there are layers to be explored.
All of this could have been even more enthralling had more time been taken in putting the film together.
Given the current scenario related to China, it is understandable that Director Kanwal Sethi must have been working against deadlines to pull this through. However, in the process, one does feel that some scenes could have been fleshed out better.
The action sequences seem to have been knit together in a hurry.
Certain outdoor scenes have either been filmed through guerilla shoots or have been patched with shots that are presumably taken indoors.
But the scenes where you get to be on London's streets, there is definite authenticity maintained. Credit for that must go to the consistent cinematography in line with the grayish palette that one associates with films coming from this part of the world.
Mouni Roy shows conviction in playing her part and is in a different avatar from her earlier Bollywood performances in Gold and Made In China.
Purab Kohli is a natural as usual.
Kulraj Randhawa is quite assured with her performance and has a meaty part to play.
Pravessh Rana has a rather small part to play, but is decent.
Sharad Kelkar and Mohan Kapoor (as the senior R&AW officer) do well in their special appearances.
All in all, London Confidential can be given a watch due to its crisp running length.
Rediff Rating: