Barun Sobti and Sachin Khedekar make this thriller worth watching, says Namrata Thakker.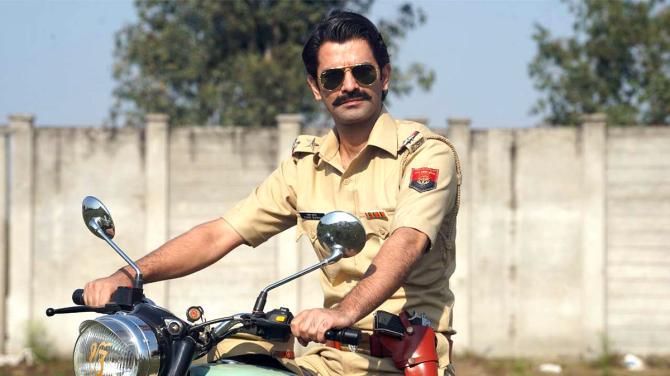 Directed by Randeep Jha, Halahal is a murder mystery set against the backdrop of a medical college scam.
The film is loosely based on the infamous Vyapam scam which shook the nation in 2013.
When Archana, a bright medical student, is found dead on Ghaziabad highway, her family is jolted, especially her father, Dr Shiv Sharma (Sachin Khedekar).
When he is informed of his daughter's burnt body, he reaches the police station but is aghast when the officer in charge declares it a suicide even without having the autopsy report in hand.
By the virtue of his profession, Dr Shiv is quick to question the officer regarding the body and other details but doesn't get any concrete answers.
He knows something is amiss and decides to stay back in a hotel, without his family, to learn the truth behind his daughter's death.
Joining him in this quest is a corrupt police officer Yusuf Quresh (Barun Sobti). He loves taking advantage of his uniform and making a quick buck. He comes on board after Dr Shiv agrees to pay him handsomely.
The rest of the story is about these two men going to great lengths just to uncover the truth.
Initially, Barun's character has shades of grey but as the film progresses, he comes out looking better than most characters in the movie.
In fact, the makers have done a fine job of highlighting how no one is either good or bad. There's always a bit of grey in everyone.
After making his mark on the small screen, Sobti is undoubtedly making his presence felt in the web space.
He delivered a solid performance in Voot Select's Asur and has once again proved his mettle as an versatile actor with Halahal.
Right from his attitude to his Haryanvi dialect, Sobti is bang on with his performance and doesn't leave much roam for error.
He also brings in some humour, which isn't obvious but quite refreshing.
Sachin Khedekar is equally good.
All his scenes with Barun and their equation is an absolute delight to watch.
Unlike Barun, Sachin's character goes in a different direction after starting off, as a frustrated and angry father, hell bent on unravelling the truth even if it's means taking on the big players.
So yes, both the lead characters shine bright in this predictable murder mystery.
I say predictable because you know how Archana gets killed and who the culprits are from the very start.
What you don't know is how the two main characters will react in certain situations. You don't know if Yusuf is actually worth trusting or if he will backstab Dr Shiv to make more money.
The whole medical college scam is also easy to guess.
But yes, there's a catch and a big twist at the end.
Still, Halahal does lack in a few departments.
Most of the supporting characters aren't etched out well or for that matter given much screen time, making Halahal not a very crisp or taut thriller.
It's story could have been more engaging too.
The movie rests on Barun Sobti and Sachin Khedekar's shoulders and they have done justice to their respective characters.
Rediff Rating: