Hostages 2 is not as crisp and engaging as season one.
But the show is still worth watching because of Ronit Roy and a few other fine performances, notes Namrata Thakker.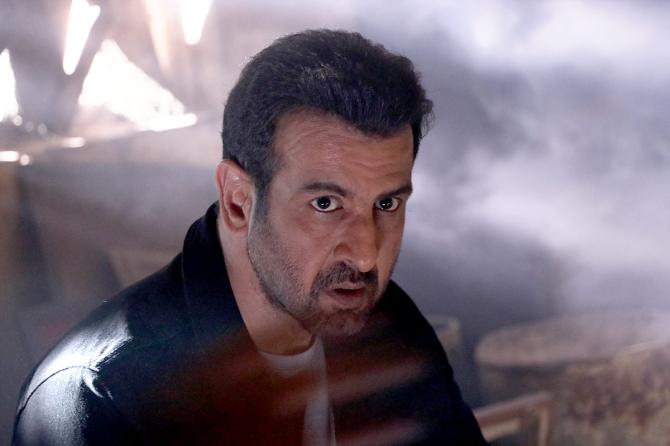 The second season of Hostages, though a decent watch, is let down by too many sub-plots and irrelevant characters.
Ronit Roy, who gave a solid performance in Hostages, is back with the show's second season.
As Prithvi Singh, he is once again impressive in the mystery drama which introduces us to many new characters this time around.
Divya Dutta, Dino Morea, Shibani Dandekar, Shweta Basu Prasad and Kanwaljit Singh join the cast, but only Dutta makes a mark with her performance as Ayesha Khan.
The season two takes off exactly from where the first season ended. Prithvi manages to capture Chief Minister Handa (Dalip Tahil) and gets ready to leave the country in order to save his wife Saba (Shriswara).
However, his plan goes awry when Handa tries to escape. Though Prithvi gets hold of him, he ends up getting stuck in an old mansion along with Handa, Saba, his brother-in-law Aman (Ashim Gulati) and few others.
Subramaniam (Mohan Kapur) finds out that Handa is alive and follows Prithvi to the old mansion.
As Subramaniam and Prithvi fire shots at each other, the police gets alerted and arrives at the scene to investigate the matter.
Things turn worse as Subramaniam and one of the police officers become hostages. Before Prithvi can do anything, an entire police force is stationed outside the mansion.
And Prithvi once again finds himself in a hostage situation, but this time unintentionally.
How Prithvi emerges from this mess along with his family forms the rest of the story.
The first few episodes are quite slow and therefore fail to engage you thoroughly.
However, as the show progresses, the story becomes interesting and mysterious. While Ronit Roy stands tall amongst all the actors, Divya Dutta is equally good.
Though Ronit is the one carrying the show on his shoulders, Divya definitely ups the intensity quotient with her act. All her scenes with Ronit are a delight to watch.
Dino Morea plays the antagonist in the second season and it is good to see him on screen after a very long time.
Despite limited screen time, he does a good job of playing a cold-blooded murderer. The show could have been more dark and gritty if Dino was given a lengthy, meatier, role.
Shibani Dandekar as Isha Andrews hardly brings anything to the table. Her role doesn't seem relevant and her acting doesn't impress either.
Then, we have Shweta Basu Prasad who plays a journalist hell bent on exposing the truth regarding a fishy million dollar oil.
Shweta nails her part, but somehow her character doesn't seem in sync with the story. And that's because the makers have thrown in too many sub-plots in the show.
Characters, new and old, show up directly in the final episodes which seems forced and unwanted.
Overall, Hostages 2 is not as crisp and engaging as season one. But the show is still worth watching once because of Ronit Roy and a few other fine performances.
Rediff Rating: