If you can bear with it till the third episode, Grahan will be a rewarding experience, says Moumita Bhattacharjee.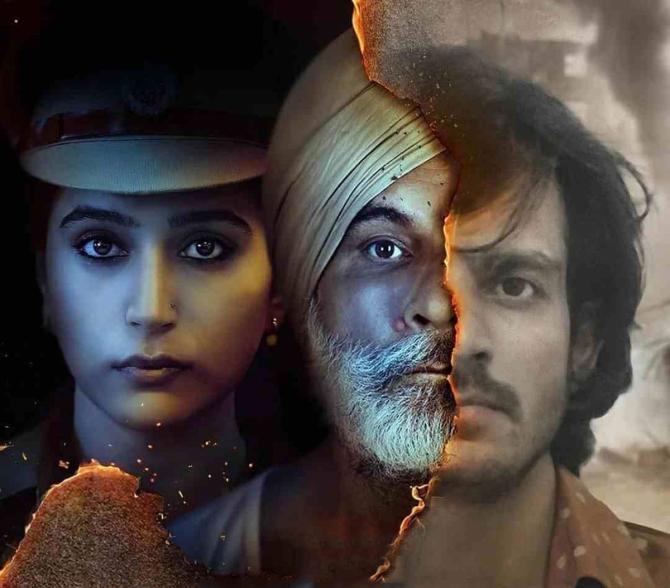 The 1984 anti-Sikh pogrom has been depicted on screen several times.
Those horrific days in early November 1984 still haunt millions of Indians.
Grahan talks about its aftermath.
The series has its heart in the right place, but is defeated by sluggish execution.
SP Amrita Singh (Zoya Hussain) is in charge of a special task force to investigate the anti-Sikh riots.
The investigation leads her to a discovery about her father Guru Sevak (Pawan Malhotra) which shatters her.
She digs deep to find out why her father did what he did because she can't believe it was just rage.
How she follows the breadcrumbs and establishes the truth forms the rest of the story.
Based on Satya Vyas' Chaurasi, the series moves back and forth from 1984 to 2016.
The initial episodes test your patience. Everything works at a snail's pace.
After the third episode, the series picks up and from there on, the story unravels in such a way that it compensates for the lacklustre start.
The stories of the victims will affect you and so will the gory riot scenes.
You feel no sympathy for the perpetrators who have now transformed and dedicated their life to the service of the very people they orphaned those days. Those scenes are beautifully written and portrayed.
The performances are neat, raw and effectual.
Pawan Malhotra plays the timid and guilt-ridden father to perfection.
He mostly performs through his eyes and facial muscles which proves what a genius actor he is.
Anshuman Pushkar, who plays his younger self in 1984, looks the part and acts well too. The young strapping guy in love look really suits him.
Zoya Hussain is aptly cast as an SP, but as a daughter, she falls short of emoting at the right places. Her inner turmoil needed more room to bloom because only then will the viewer understand her conflicted behaviour.
Grahan is an influential series, but it tests your patience.
If you can bear with it till the third episode, it will be a rewarding experience.
Grahan is streaming on Disney + Hotstar.
Rediff Rating: