'No one's comparing and everyone's taking the song as mine... that's a battle won.'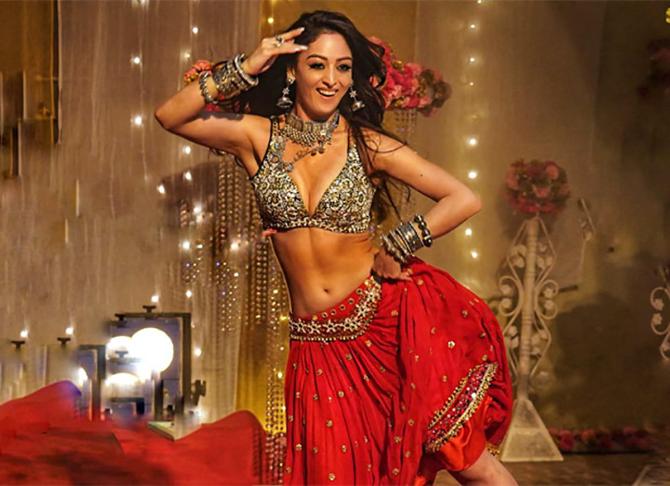 We've been seeing a lot of Sandeepa Dhar in Web series like Abhay, Mum Bhai, Bisaat, Chattis Aur Maina.
Chattis Aur Maina sees her dance like never before.
The actress has danced to five top Bollywood songs, including Munni badnam hui, in the romcom Web series.
Sandeepa shares her experience with Patcy N/Rediff.com and says, "No matter what you do, the first thing people will think about is Malaika and the way she performed in the song. She has done such a fabulous job; how can I match that?"
You are seen in three Web series -- Mum Bhai, Bisaat and now Chattis Aur Maina. How do you select your projects?
I look for good stories and good characters.
I want to do as many different characters as I can.
I want to delve into as many different worlds as I can.
I've been trying to do roles where women are strong, where they're not bechaari and dukhyari. These are women who know what they want and are not shy going after their goals.
Of course, it's very important to have the right producers backing the project because there's no point doing something very nice that doesn't reach as many people.
In Chattis Aur Maina, you got to dance to some of the best dance songs in Hindi cinema like Munni badnam hui. How difficult was that?
It was challenging on different levels.
Firstly, because we are in a pandemic, I didn't have much time to rehearse.
There are five songs in the series and I had only two days to rehearse.
Then, I'm attempting an iconic song like Munni badnam hui.
No matter what you do, the first thing people will think about is Malaika and the way she performed in the song. She has done such a fabulous job; how can I match that?
I had a great team supporting me.
The way Mangy (Mangesh Khedekar, choreographer) and Shraddha (Pasi Jairath, director) presented me in the songs is pretty cool.
What kind of feedback did you get for Munni badnam?
The response was overwhelming because people weren't expecting song and dance in a Web series.
This is the first time something like this has happened.
I was talking to Satish Kaushikji, and he mentioned this. He really liked the show and complimented me. It feels great that a well-known director-actor from the industry called me up to tell me this.
Everyone has liked the way I have danced in Munni badnaam hui. They have liked the way the song has been conceptualised; no one has said, 'Original better tha.'
The fact that no one's comparing and everyone's taking the song as mine... that's a battle won.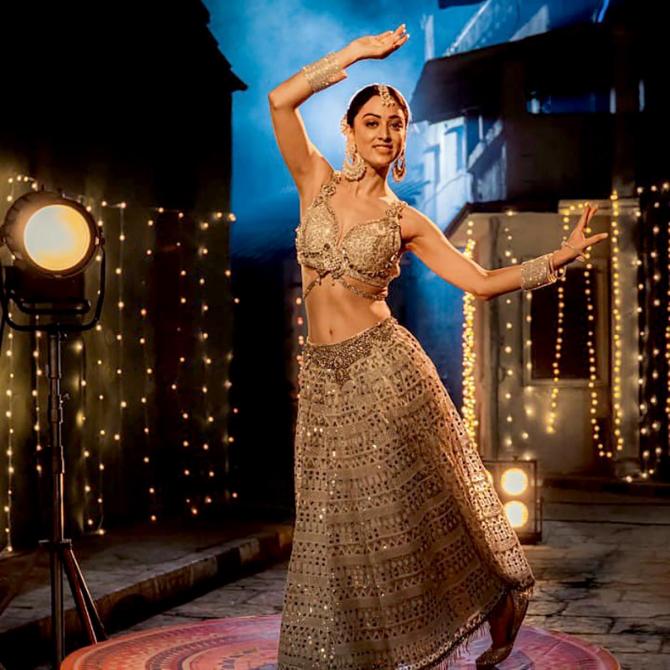 How did you train for Kathak, belly dancing and Bollywood dancing in two days?
I was petrified because I have never done belly dancing before and I was supposed to do this entire song -- we remixed Ja re ja o harjai (from Kalicharan).
But Mangy trusted me and we managed it.
When I watch it now, I feel I could have done better. But for the time frame that I had, it's good.
Usually, you need a few months to learn a new dance form, but we managed it.
It turned out well. My years of core exercises paid off.
I had to do Kathak in a song and I was really scared because I am a trained Bharat Natyam dancer.
You cannot mess with Indian classical dancing. I did not want to give anybody the opportunity to say, 'Yeh galat tha (This was wrong)'.
Since I'm a dancer, I'm very critical when I watch other people doing Indian classical dance.
A Kathak dancer taught me the basic technicalities and hand movements. I had a few hours to learn that, so it was very stressful.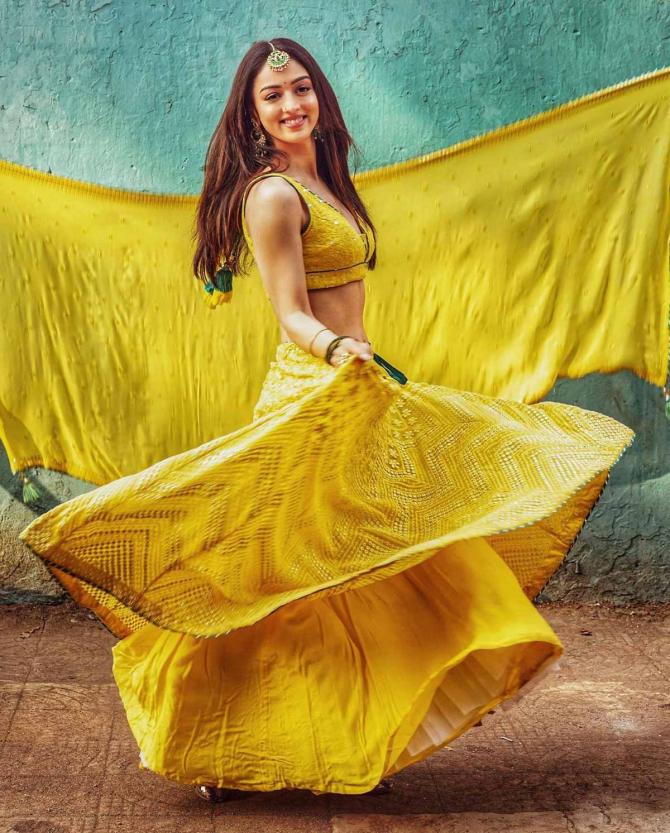 Chattis Aur Maina is a quick-watch romcom series, but it could have been a film.
I think the idea behind this was to create a show which would be an easy watch.
Each episode is 10-12 minutes; you can watch it while having lunch or while going to work.
It's for quick consumption.
You look really hot in it. How do you maintain your figure?
There is a lot of dancing involved.
One of the reasons my abs look good is the amount I have danced in the series.
Usually, we shoot songs over two to three days, so it's much easier. But, in this series, we have shot each song in like 12 hours. So, for 12 hours, I was continuously dancing!
By the time I finished this series, I lost five kilos.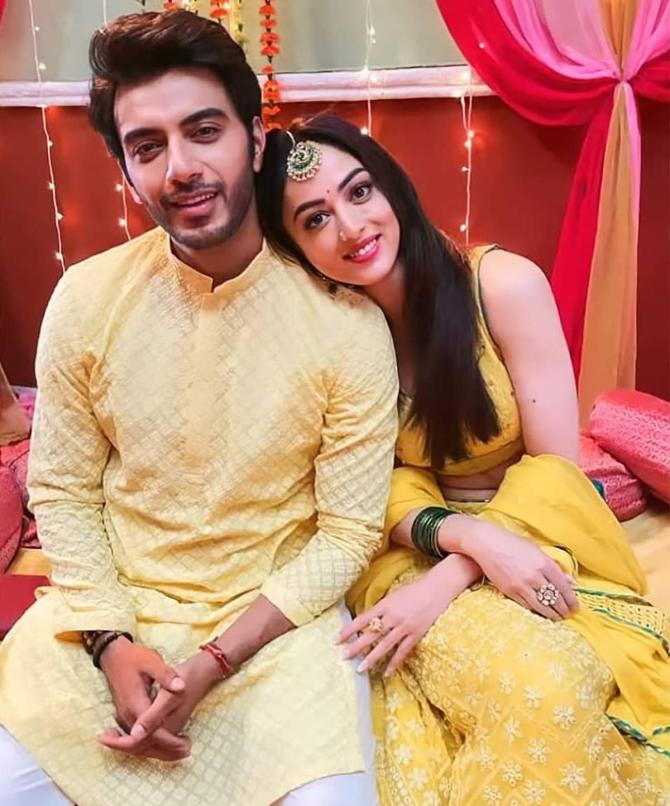 How was it working with Shraddha Pasi Jairath?
The main reason I did this was the script.
I really liked the way it was written by writers Pankaj Machvi and Ashutosh Chaturvedi. It's so progressive of them to think like that.
We need more men to write like this because it's so refreshing to see that the woman doesn't have to give up her career in order to be with the man she loves.
The man is not asking her to leave her goals for him. He's supporting her throughout.
Of course, I think a female director brings a certain amount of sensitivity to the subject. The way she has directed the romantic scenes between Chattis and Maina would be very different if a male director had directed it.
I started my career with a female director -- Vidhi Kasliwal's Isi Life Mein...! produced by Rajshri Productions. Then, I worked with only men.
I think women bring a certain amount of depth and emotional understanding.
The scenes are written very differently.
Like, there's this shoe scene towards the end, which has so much significance. Just that one scene says so much about Chattis and Maina's relationship.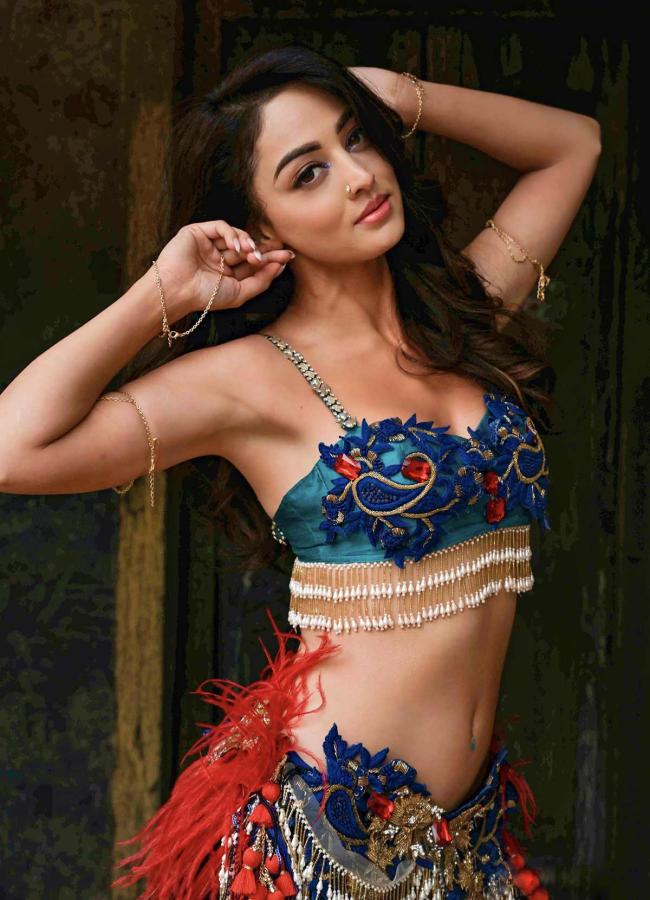 Tell us about yourself.
I studied at St Xavier's College, Mumbai. I used to do ads for pocket money.
One day, I got a call from the casting director for Rajshri Productions. Sooraj Barjatya was looking to launch newcomers and they asked me to audition.
Up until then, I had never tested for a film.
I had no intention of becoming an actor.
I had barely done any theatre in college.
I had no clue what acting was.
I went for the audition with the thought that I would be going to the office that made Hum Aapke Hain Koun...!I was a huge fan of the film.
I thought Sooraj Barjatya would be there and he would meet me. I was very naive.
After the audition, I didn't think I would get it.
When I finally got the film, I got the call from Sooraj Barjatya himself and that was shocking!
I was in my last year of graduation. My plan was to work for two years and then get an MBA degree, but the film offer threw my plans haywire. I contemplated whether I should do the film or not.
My parents said I should give it a try. I could always go back to studying if I didn't enjoy it.
Rajshri is an amazing banner to work with. My parents met Sooraj Barjatya and they are huge fans.
While shooting for the film, I realised that I really enjoyed acting and that I wanted to pursue it professionally.
That's how the journey began.
After the film released, I won a scholarship to study dance at the Australian Dance Company. So I went to Australia.
My parents wanted me to finish my education, so I did my MBA as well.
I also auditioned for a musical called West Side Story and got the part. I travelled with them.
When did Dabangg and Heropanti happen?
Every year, I used to have three months of vacation and I would come to India.
In the first year, I did Dabangg.
The second year, I did Heropanti.
I was only able to do short parts because I didn't have the dates.
In 2019, I came back for good and did the Web series, Abhay.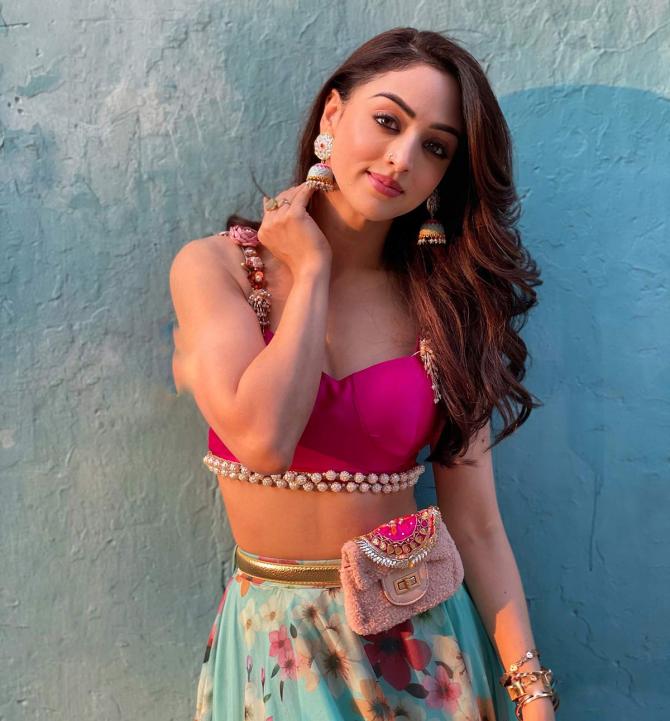 Isi Life Mein...! did not do well. Was that hard for you?
Yes. We spent 135 days shooting for that film, so obviously it was really close to me. When it didn't do well, it hurt.
But I don't dwell into sadness for too long. I got over it quickly because I got so much appreciation for it.
And then, I was distracted by the scholarship and moving to Australia.
I didn't have that much time to dwell in the sadness because it brought me so many things.
Of course, you feel bad initially and I went through my low phase, but I have a strong support system in my family.
It's very important to embrace failure because that's heartbreak.
As an actor, my chest of treasures is my experiences in life.
Heartaches are actually the best thing that can happen to an artist because then you have much more to draw upon while acting.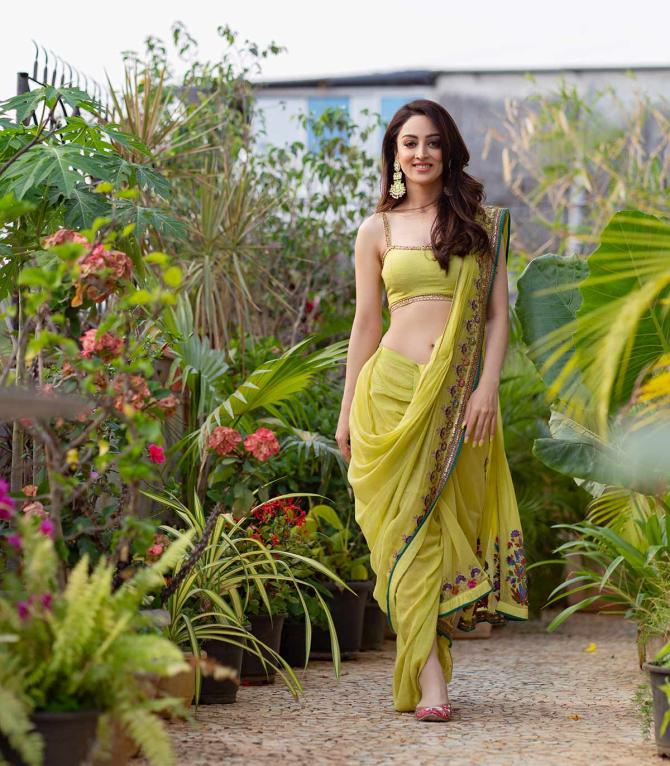 When did you start learning dance?
I was born in Srinagar. We left Kashmir when I was a month old.
We moved to Bangalore because my dad was transferred there. I did my schooling in Bangalore.
Then, my dad moved to Mumbai, so we followed him here.
I started my dance journey with Vani Ganpathy. I learned Bharat Natyam for eight years with her.
Then I joined Shiamak Davar and I enjoyed learning jazz and contemporary dance. I taught there for a bit too.
Then Terrence Lewis happened when I was in college.
I want to learn different dance forms from different people, I find it very exciting.
What are your forthcoming projects?
My film Firrkie, starring Neil Mukesh and Kay Kay Menon and directed by Ankush Bhatt, was supposed to come out, but, with the pandemic, its theatrical release has been put on hold. It's a thriller.
There is also a Web series called Maiee.