Footfairy is a must watch for anyone who enjoys a psychological crime thriller, feels Moumita Bhattacharjee.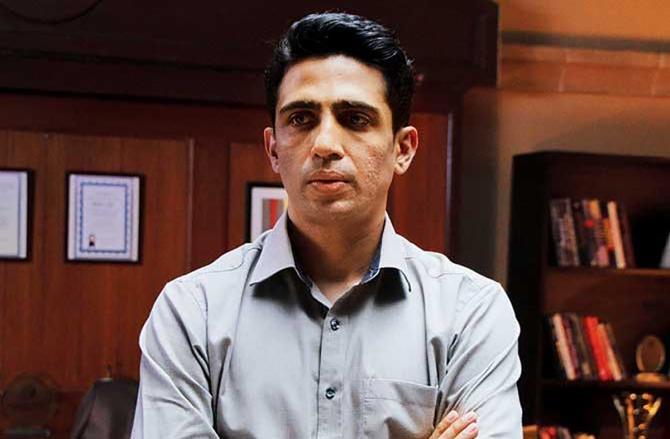 Investigative thrillers are always fun.
They make you think for a long time and the moment you feel you have arrived at a conclusion, there's a twist.
Footfairy is intriguing as well as shocking.
It's sufficiently paced with ample twists and stays true to the way police officers investigate serial murder cases. That's what makes it an incredible watch.
Vivan (Gulshan Devaiah) and his associate Harsh (Ashish Pathode) are investigating a culprit who kills women and chops off their feet as a souvenir.
The culprit likes to be called Footfairy and enjoys every bit of attention as he hides his tracks well.
With nearly nil evidence and no leads, Vivan gets increasingly frustrated and when the killer closes in on his people, he loses his cool.
Does he nab the culprit?
Writer-Director Kanishk Verma does a few things extremely right with the premise and treatment.
For one, there is never a dull moment.
It includes the audience in the investigation as well since you follow Vivan and his thoughts.
You are as much a part of it as the police officers.
That means all through its runtime of almost two hours, you are hooked.
In fact, in one scene when a mistake leads to the culprit getting away, you feel the disappointment as much as Vivan.
The momentum is another asset of this movie.
It is pacy at the right amount without being rushed or huffed.
After a while, you get accustomed to the rhythm which works beautifully for the experience.
Since it faithfully follows the style of a real investigation, there is no unnecessary drama or heightened emotions, or needless punchlines.
The director lets the story do its thing.
In such thrillers, directors feel obliged to pump up the background music to arrest people's attention. But Kanishk Verma didn't see a need for that.
The only time the tempo spikes up is when a suspect is around and that makes it even more interesting. The anticipation really gets to you.
What could be a deterrent here is the movie's ending.
Also, I really want to know where the actors dub for OTT shows and movies. They sound so fake and rehearsed that it mires the feel of the movie.
At times, they don't even sound like themselves.
The performances are nuanced and not a single character is without a purpose.
Gulshan Devaiah takes time to grow on you because he isn't the usual brooding police officer with a dark past.
There's no back story here, just the investigation.
So his character takes a little time to become one of us but when it does, you feel everything Vivan feels, even the moment of epiphanies.
His chemistry with Sagarika Ghatge is really effective and manages to add another dimension to the narrative.
All in all, Footfairy is a must watch for anyone who enjoys a psychological crime thriller.
Rediff Rating: