Mee Raqsam is an ode to fathers who guide their children to the path where dreams come true, notes Sukanya Verma.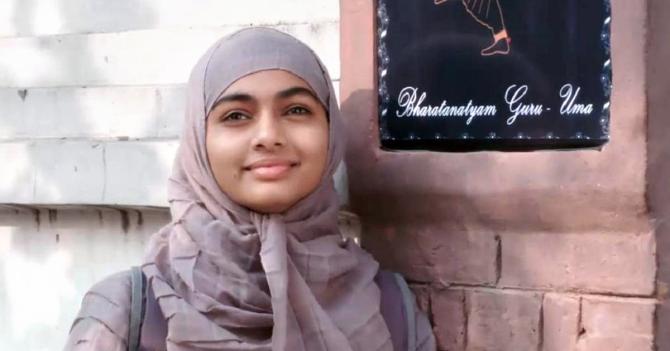 'Basti mein apni Hindu Musalman jo bas gaye
Insaan ki shakl dekhne ko hum taras gaye.'
Legendary poet Kaifi Azmi's disappointment over India's growing communal disharmony feels more pertinent than ever as it finds an expression in the tender father-daughter story of Mee Raqsam (I Dance).
Set in Kaifisaab'S hometown Mijwan in Uttar Pradesh's Azamgarh district, written and directed by son Baba Azmi and presented by daughter Shabana Azmi, Mee Raqsam honours his secularism and spirit through the mild-mannered rebellion of a father encouraging his daughter's artistic pursuits at the risk of evoking the ire of the conservatives in his community or confront the prejudices of Islamophobes.
Just like her recently deceased mother, Maryam (Aditi Subedi) harbours a keen interest in Bharata Natyam.
Sensing her wish to learn the dance form, Maryam's dad (Danish Husain) signs her up for classes on the other side of the neighbourhood while asking her to remain discreet about this development.
The divide already exists -- in geography and religion -- but comes out in the open once the word gets around.
While Maryam's teacher (a graceful Sudeepta Singh) is supportive, a snobbish patron of the arts continuously derides her efforts.
Maryam's father, a humble tailor, is regularly threatened and, ultimately, made to feel an outcast in his own community.
'How can a Muslim girl learn an Indian dance?'
If one side (Naseeruddin Shah brings heft to his special appearance) of the argument objects to a girl bringing shame to her religion by dancing, the other (Rakesh Chaturvedi enjoying the patronising a tad too much) underlines the ugly outsider-Indian argument that colours hyper-nationalist aggression of these times.
Baba Azmi's restrained depiction of these intolerant responses as well as compelling performances by its main and supporting cast ensures Mee Raqsam is a pleasure to watch.
The cinematographer in him composes the scenes to perfection capturing Mijwan's quaint mood and embroidery culture across a muted palette,=.
Told in less than two hours, Mee Raqsam doesn't overstay its welcome but leaves a few facets neglected.
Subplots are implied, but never dwelled into -- like the attraction between Maryam's cousin and the autorickshaw driver, Ashfaque (an endearing Kaustubh Shukla). The latter's flamboyance is a nice touch to the proceedings, especially when he proposes a business of sunglasses for pets, 'Goggies for Doggies'.
A deep-rooted aversion to change or a fanatical adherence to tradition has been earlier explored in films as diverse as Bend it Like Beckham and Chocolat, but Mee Raqsam isn't concerned so much with change of heart as it is with the message of not bowing down to pressure.
Although Maryam and her father's triumph of spirit progresses in a fairly predictable order of events and ends in a concert and speech as is stereotypical of this genre, the genuineness of their affection and quiet moments of understanding around quarrelsome relatives (a fantastically authentic Shraddha Kaul, Farrukh Jafar) makes us care for their dreams.
It is the excellent Danish Hussan whose sheer goodness and strength of character towards the soft-spoken talent of Aditi Subedi that stand out in this little gem streaming on ZEE5.
Mee Raqsam is an ode to fathers who guide their children to the path where dreams come true.
Paths where you are free to dance like Maryam and free to call a bigot a bigot as fearlessly as Baba Azmi./p>
Rediff Rating: