If you want to watch a meaningful movie that will feed your soul, watch Ram Singh Charlie, recommends Namrata Thakker.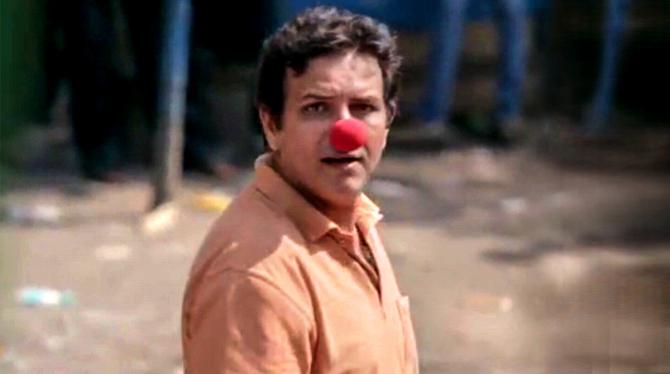 Kumud Mishra carries this intense drama on his able shoulders quite beautifully.
In his last outing Thappad, Kumud Mishra won our hearts with his earnest and endearing performance as a supportive father to Taapsee Pannu';s character. Despite limited screen time, the actor made his mark and got everyone rooting for him.
The same can said about his act in Director Nitin Kakkar's film, Ram Singh Charlie.
Mishra plays the lead and that's what makes Ram Singh Charlie worth watching.
When Jango Circus shuts down overnight, Ram Singh Charlie and his family struggle to make ends meet.
Ram Singh, who is born to perform in the circus and doesn't know anything else, navigates through the hardships of life without giving up.
From dressing up as a chicken and playing cricket to pulling a rickshaw around the narrow lanes of Kolkata, Singh does all kinds of odd jobs, but realises that he truly belongs in a circus. So he continues working to save money and start his own circus.
Throughout this journey, his wife (Divya Dutta) supports him unconditionally.
As Ram Singh Charlie decides to fulfill his lifelong dream of opening his own circus, he reunites with some of his old circus crew who are more family to him than colleagues.
The movie explores the relationship that Charlie shares with his fellow circus artists and that's truly heartwarming.
Though Ram Singh loses his way in between all the curveballs that life throws at him, his wife steers him to the right direction without ever coming across as preachy.
Ram Singh Charlie doesn't offer anything extraordinary, but its story tugs at your heart.
It is relevant, relatable and subtly inspiring.
It reminds us that life itself is a big circus. Therefore, the show must go on and so should you no matter what.
The makers have done a fine job of executing this simple story in a way that it doesn't make you sad or depressed, but it does make you feel for the characters, especially Ram Singh Charlie.
Kumud Mishra is the heart and soul of this film. His performance is effortless and you wonder why we don't see him more often in full-fledged roles.
Divya Dutta also pulls off her part beautifully.
All the supporting actors have played their roles well.
The only problem I had was with the film's ending. Somehow, it seemed vague and I felt Charlie's character didn't get a proper closure.
The film is intense, full of emotions and slow paced in comparison to the usual Bollywood masala entertainers.
If you want to watch a meaningful movie that will feed your soul, go ahead and watch this one.
If you are a Kumud Mishra fan, don't miss the movie at all. And if you aren't, you'll probably become one after watching his nuanced performance.
Rediff Rating: