Dhamaka doesn't always hit the right buttons and Kartik Aaryan is a puny choice for a role of enormous calibre and incessant focus, rues Sukanya Verma.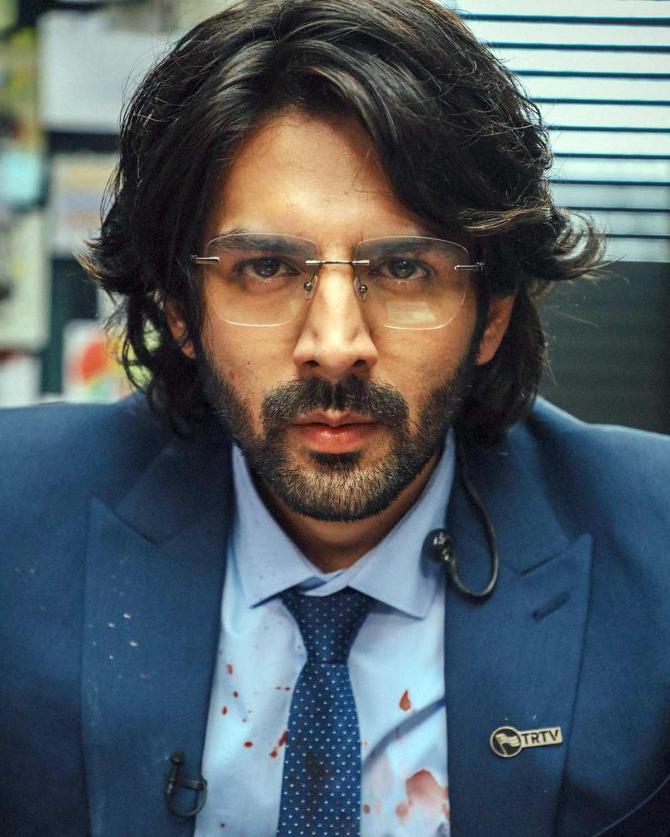 Anchors are actors seeking an audience eager for drama, a ruthless broadcast editor tells her jittery anchor, not so much as a justification or necessity but as a cold estimate of demand and supply in an intense moment of Director Ram Madhvani's Dhamaka.
It's a terrible truth that is either lapped up by an overwhelming number of gullible watchers, humoured by those committed to generating WhatsApp feeds or entirely shut out by a handful who know better.
Once a transparent medium designed to state truth and facts in an impartial and straightforward tone, televised news has universally lost face and credibility by valuing profit over purpose, mischief over meaning and manufacturing scripted sensations and ear-shattering crusaders whose sole purpose is grabbing eyeballs.
At a time when political clout appears to precede professional allegiance more than ever, Madhvani blends in the lows in journalism and the urgency of a terror threat to lament at the state of corruption in a disconsolate real time thriller. It's a significant subject but doesn't always hit the right buttons.
Though a loyal remake of the South Korean A Terror Live, which tells you the rot is pretty universal, Dhamaka embraces the Bollywood way of storytelling, which means every emotion, deception and redemption has to be accounted for, leaving little space for nuance.
'Pehle channel, phir journalism', directs a hard-nosed voice in command while also insisting on 'Sad music badhao' and 'I want that blood.'
The irony of giving into the same formulism is lost on Dhamaka.
Before confining itself inside a claustrophobic studio box and its strictly cyan, teal and gray detailing populated by alert cameras and a hawkish boss, a PDA-packed social media between prime time news host Arjun Pathak (Kartik Aaryan) and his reporter wife Saumya (Mrunal Thakur, channelling Preity Zinta's brand of effervescence in a guest appearance) plays out like a reminder of the happier times until the rosy flashback cuts to him holding a divorce file.
Demoted on both -- personal and professional front -- now working as a radio host for the same media conglomerate where once he was star anchor, Arjun's monotony is rudely interrupted by a distraught caller.
In the same vein as A Wednesday, this common man voices his woes, puts forth a demand and promises a threat.
Unlike A Wednesday, we don't know his identity nor feel moved enough by his protests when objecting to the government's complete lack of accountability. No surprise that his big reveal is one of the tamest points in the script.
Lest we overlook two sides of the same coin, Arjun jumps at the opportunity to reclaim his small screen glory and negotiates with an equally unscrupulous boss (Amruta Subhash) while his estranged half covers the repercussions of the caller's dangerous actions live on location.
Only Arjun is nowhere as cunning as he would like to believe.
A mere cog in the wheel, the rotten system he imagines to exploit and control is one step ahead all along.
Dhamaka insinuates at Arjun's deceitful past but is much too protective of the hero persona and grants him regular benefit of doubt.
If the moral confusion colouring him isn't feeble enough, Kartik Aaryan is a puny choice for a role of enormous calibre and incessant focus.
His shaggy hair demeanour lacks the emotional heft and volatility to convey the urgency and erratic graph of a complicated character and the challenges spurring him every second.
On the other hand, Amruta Subhash's coldblooded authority is a brazen delight. Playing it openly dirty, her unapologetically self-seeker doesn't shy from using the personal card if need be.
There's a fleeting moment to suggest the toll it has taken on her mental health but it's hardly a glimpse of weakness. Every second of this fabulous actress is a scene stealer. If at all there's a complaint, there's too little of her.
I wasn't too thrilled by the extreme turn of events of A Terror Live's conclusion, which diluted the impact of individual tragedy for mass scale destruction. With Dhamaka in its title, the remake was hardly going to be any different.
Dhamaka streams on Netflix.
Rediff Rating: