'After Gully Boy, many interesting projects started coming my way. But things really changed with the Filmfare.'
'Now, people notice me.'
'It's a good space where you don't have to tell people who you are.'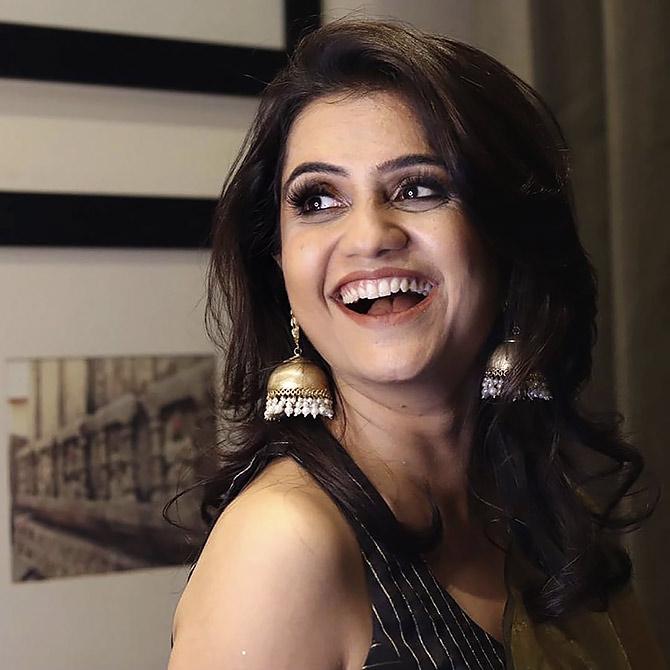 "During Filmfare, no one recognised me! Ranveer used to joke that you have lied about your age because you wanted to do this role," Amruta Subhash tells Ronjita Kulkarni/Rediff.com with a laugh.
Zoya Akhtar's Gully Boy gave her a fine role no doubt, but also one that would make another actress her age think twice about taking up. For starters, she had to play mother to Ranveer Singh, who is just nine years younger than her.
Yet, she grabbed it and lived out her dream of winning a coveted Filmfare award.
The film, and the award, changed the direction of her career.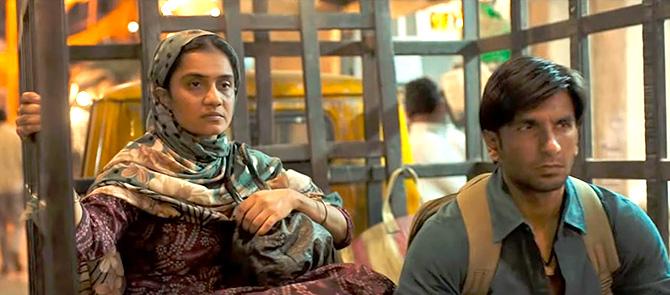 Her home, on the other hand, has not seen the perks of stardom yet.
Amruta lives in a modest two-room apartment in a double-storied building, close to Matoshree, Maharashtra Chief Minister Uddhav Thackeray's home in Kalanagar, Bandra, north west Mumbai. Her window faces the beautiful green fields of the MIG grounds where cricketers practice their game.
There is a telling wall hanging with the words, 'Never judge a book by its cover' on the wall along with a board of newspaper clippings about Amruta and her husband Sandesh Kulkarni, a prominent writer-director in Marathi cinema.
The couple have lived at this address for 20 years; the house was a gift to Pune girl Amruta from her actor mum Jyoti Subhash when she started her career so that at least one struggle would be taken care of.
Her mother, incidentally, played her mother-in-law in Gully Boy and she is one of the reasons why Amruta chose to become an actress.
"My mother would do different characters and different plays, and I would watch her since childhood. I was like ' ghar mein toh ma alag hoti hai', but when she goes on stage, she transforms. So I would be like, who is she? How does she change so much? That was very attractive for me," Amruta says, looking back.
What was her first acting assignment? Amruta demonstrates in this video:
"I was always shy. Mein peche peche rehti thi, so no one would ever cast me. In school, I starred in only one play, where I played a police officer and my only dialogue was at the end, when I said, 'You are under arrest!'"; Amruta laughs, shaking her head.
Then theatre legend Satyadev Dubey came into her life and changed it.
"I was mesmerised by him," Amruta recalls, and relates a magical moment:
After Amruta returned from the National School of Drama, she started working with an experimental group.
"My first play was directed by Sandesh Kulkarni, who was my friend then and my husband now," Amruta smiles. "That play -- Sathecha Kay Karaycha -- gave me all my roles. It really helped me because I did not have to take my photographs around to get work, I could just show them my work."
"There's a saying that behind every man, there is a woman. I believe that behind a successful woman, there is a man too. Sandesh has played a big part in shaping of my career as a director and writer," Amruta adds.
While doing Marathi theatre, Amruta would audition for films as well.
One such audition landed her Shwaas, the touching 2004 Marathi film that was India's entry for the Oscars that year.
"Because of my background -- not only my mother, but also my mama G P Deshpande, who is a well-known Marathi playwright -- I had this knack of understanding good content from the beginning. That is very important for your career. I feel the main role is not everything. Sometimes you need to pick some roles which challenge you, whatever the length," she says.
Then she elaborates: "There is a film called Astu, where I enter after the interval. My screen time is hardly 10 minutes, but it got me my first National Award."
Amruta's first Hindi film was Nandita Das's Firaaq in 2008, another critically-acclaimed film.
Why didn't she try her hand in Hindi cinema earlier?
She explains in this video below:
Did she ever feel she was missing out on the bigger platform?
"I remember I had gone to Ramu's office (Ram Gopal Varma) and gave my photographs. But that did not get me work. Later when I did work with him, it happened because a common friend suggested my name," she remembers.
"It is not that I didn't want it. I did, but that initiative wasn't there. Like, I always wanted a Filmfare. That was my dream. The National Award was my dream and Astu completed it."
From 2008 to Gully Boy, was she happy with the work she was getting?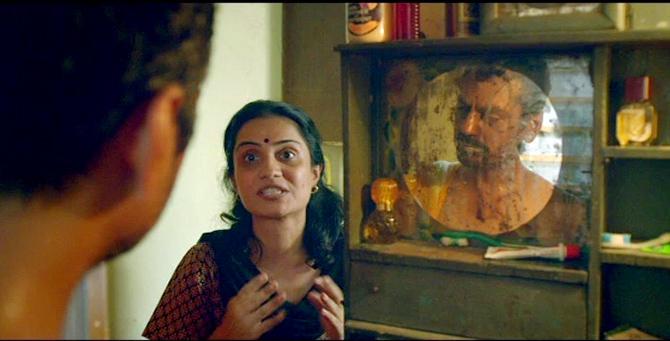 Gully Boy is the only film that Amruta did not have to audition for.
Zoya Akhtar had seen the actress in films like Raman Raghav and Island City, and was very keen on working with her.
Her first reaction when she saw Amruta was: 'Oh, you're young.'
Still, she handed over the script, and Amruta gives her reaction to it in this video:
Playing the mother of a Bollywood hero at 43 can get daunting, especially in an industry that loves to stereotype.
"I had discussed this with (Anurag) Kashyap and he said that for an actor, a mother can be a protagonist also. But I will not do mother roles for a few years. And by the way, I'm very good at saying no to work! Jitna kaam I have said yes to, I have said no many more times," she laughs.
Plus, her sister-in-law Sonali Kulkarni's career gave her insights as well.
"Sonali played Hrithik's mother in Mission Kashmir and after that, Dil Chahta Hai happened. So maybe when I took this decision, this was in my subconscious," Amruta says.
There was another factor in Gully Boy that made Amruta nervous: Vijay Raaz!
Amruta plays his wife in the film, who suffers in silence when her husband brings home a second wife.
While Raaz's towering talent is well known, Amruta is totally a director's actor, and this interview is proof of that.
She takes instructions very seriously, and looks at the camera throughout the interview, not making a mistake even once. At one point, she coughs and asks for a retake. After a sip of water, she rewinds a bit, and picks up the same thread of conversation as if there was no interruption at all.
She picks one of her most poignant scenes from Gully Boy and narrates how Vijay Raaz helped her through it:
Amruta got a lot of support from Ranveer Singh, and she narrates it here:
Amruta has worked with her mother quite a few times before, but this is their first Hindi film together.
She talks about their working relationship here: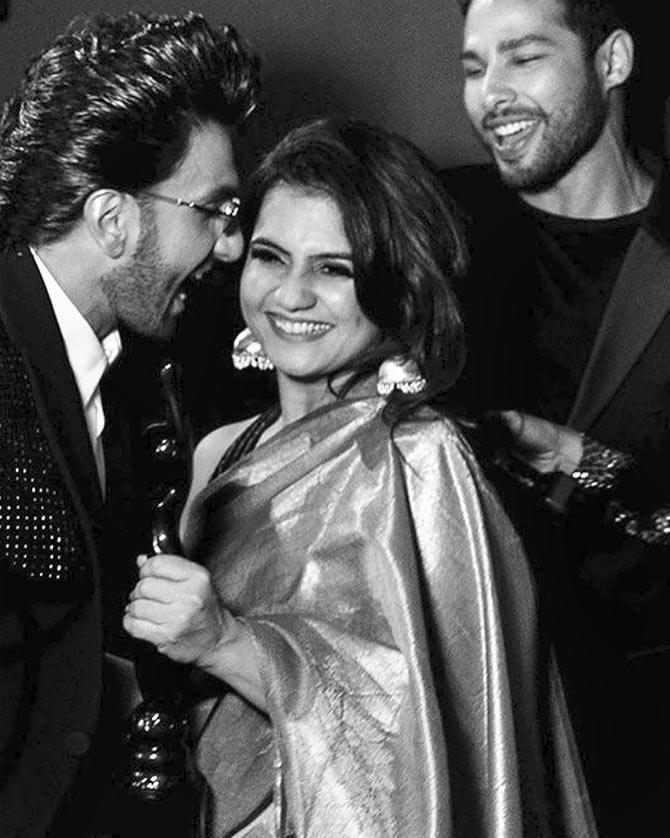 How did Gully Boy change Amruta's life?
"After Gully Boy, many interesting projects started coming my way. But things really changed with the Filmfare," she says. "Now, people notice me. It's a good space where you don't have to tell people who you are. Also, people, who are doing interesting work, are in touch with me. Like Anurag Kashyap, Zoya... I want to work with Anubhav Sinha. There is also Alankrita Shrivastav, with whom I am doing my next film."
"Vidya Balan had got my number from Zoya and she called me and said, 'Where were you, girl?!'"
"There are popular and critic awards. I want both. You cannot slot me anywhere, I want to break every slot, every typecast," she says firmly.
Amruta relives the Filmfare moment, saying, "If you dream a dream so many times, you feel that you have lived it. Filmfare was like that. But I was nervous because I am a very shy person. I have to work on that."
She talks about the winning moment here: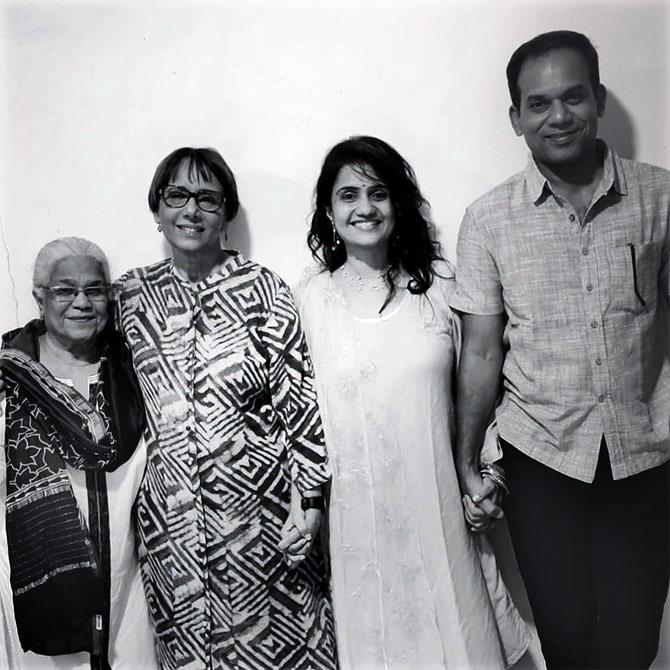 The Filmfare trophy takes pride of place on a centre table, decorated with lillies, in Amruta's home.
"I am really taking care of those lillies," Amruta says, and you can see the effort because she has placed some in a vase, and other in a bowl so that they last longer.
Those lillies, Amruta says, are from the late Smita Patil's sister Anita.
"Anitaji also sent a chunni that belonged to Smitaji and said that if Smi was there, she would have been very happy that a Marathi girl has reached where you have. So consider this as Smi's blessings," Amruta says, her eyes lighting up.
Right after Gully Boy, Amruta was seen in Sacred Games 2, where she played a no-nonsense R&AW officer. Her look and character was totally in contrast with each other.
"I always wanted to have a banduk in my hand!" Amruta laughs and tells us more: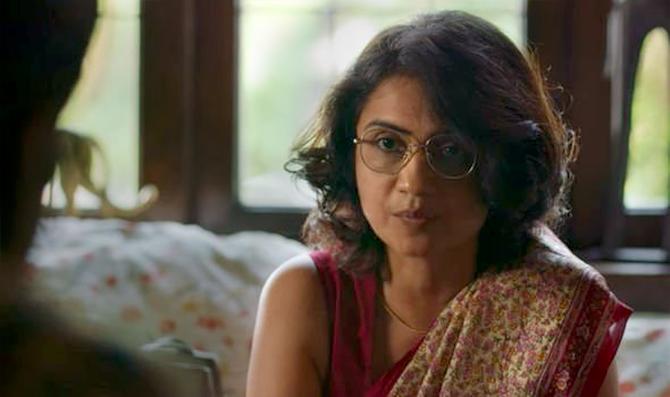 How different are Zoya and Anurag as directors?
Amruta imitates their distinctions well in this video:
How does Amruta unwind?
"I do fun exercises like cycling. I do a lot of meditation. I sing. I read a lot. I write."
She has written a book, Ek Ulat Ek Sulat, in Marathi, where she wrote about her psychotherapy journey. This journey started when her father slipped into Alzheimer's and Amruta tried to cope with the fact that the person she loved the most could not recognise her any more.
"I don't run away from depression. If I feel sad, if I feel like crying, I cry very freely. People say crying is a weakness, but it is actually a strength. We should not suppress it. I don't want to be a fake strong girl," she says with a laugh.
"When I came into the industry, there were many complexes. You must look like this, have a certain height, and all that would intimidate me. That would make me shy and I would stay in the background. That's why I would not get roles."
Amruta has had her share of insecurities, and she talks about it here:
"I did a lot of work in Marathi so my financial status wasn't that bad. But yes, that insecurity would be there from time to time. Fortunately, my mother was also in the field, so she bought this house for me. My state wasn't that weak, but it teaches you something as well. These are the days that make you strong."
"And then when you get a Filmfare after all that, it's a lot of fun!" she laughs.