Pucker those lips and blow out a loud whistle for Priyanka Chopra, applauds Sukanya Verma.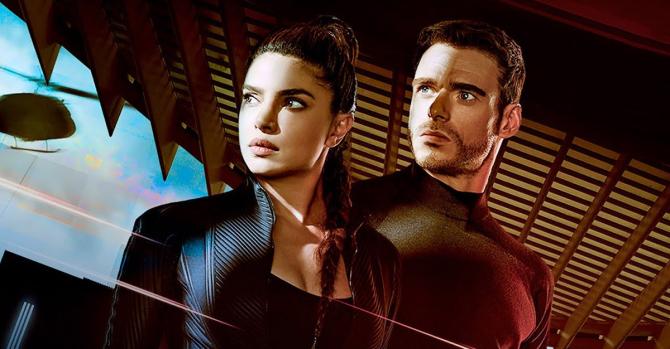 An upside down camera in slow motion glides inside a luminous luxury coach racing against the golden hour light in hues of amber and honey.
All is still and safe until a curvaceous figure walks in the frame and burns down its sublime harmony.
Dressed in a sexy, scarlet cut-out dress, this epitome of sensuality and sass peers at her object of attention through rose-tinted glasses and flashes a killer desi girl smile.
Only now, she speaks a load of other languages -- Mandarin, Italian, German, you name it -- but her action speaks louder.
Within seconds, the scene goes from red hot to bloody red.
Pucker those lips and blow out a loud whistle for Chopra, Priyanka Chopra.
Armed in slick sophistication and stellar spunk, Priyanka Chopra Jonas wears her global stardom lightly and slips under the skin of a 007 style agent so seamlessly, the mind goes wild imagining the possibilities.
Peddling off old-fashioned Hollywood cheeseball action without blinking an eyelid, there's inexplicable pleasure in watching PC in punk mode.
Sample this: It's a 22 Beretta aimed at your nuts.
Of the two episodes Amazon Prime Video shared with us from the total six to go on air on a weekly basis, there isn't much of her in the pilot but her introduction sequence alone and the display of pure PC power in the second are a promising indication of Citadel's ambitions up ahead.
Masters of scale and Avengers daddy duo, the Russo brothers, Anthony and Joe, along with writer and creator David Weil refuse to limit their vision to a specific region or nation, wherein a Citadel is an independent espionage force taking on universal evil in the hope of achieving worldwide harmony.
For 100 years, this obscure agency has quietly controlled the fate of historical and political events until an all-powerful syndicate Manticore led by Dahlia (Leslie Manville) and its conflicting ideology shakes the very core of Citadel.
It's up to Citadel's star agents Mason Kane (Richard Madden) and Nadia Sinh (Priyanka Chopra Jonas) to save the world.
Retrograde amnesia is only the start of challenges laid out before this duo. And that they have history, given all the flirty vibes emanating the air whenever they're together, adds spice to the sauce.
Oblivious to the sinister plans brewing in their absence though, one has gone the domestic way while the other lives in fear of a least culpable crime.
Bernard (Stanley Tucci), the cocky, smartass bully of a colleague forms their strongest connection until Manticore catches on.
Though the first two episodes are predominantly character set-up, there's a satisfying amount of action to keep the momentum going.
Fans of the world-saving genre may notice 007, Mission Impossible, John Wick-brand of high-octane chases, grisly hand-to-hand combat involving confidential nuclear codes, two-faced diplomats, bounty hunter twins against incessant twists and turns at a globetrotting pace.
Clichéd at it may be, Citadel's fine assortment of cool, composed, cheeky actors lend it wholesome life.
Priyanka is on fire but Richard Madden's slow burn effect and gentle masculinity take their time to reveal the vulnerability behind those blazing blue eyes.
Ever a sparkler, Stanley Tucci's brazen confidence and ruthless professional are a treat to watch as is British old hand Lesley Manville's aggressive turn. Especially when she backs her hypocrisy with hostility in statements like, 'We will strike back in force against any entity that threatens our democracy.'
Hits home? It's a good thing we have a Citadel cropping up in our backyard soon.
Citadel streams on Amazon Prime Video.
Citadel Review Rediff Rating: