'A lot of people ask me about joining politics and I tell them that just because my father is politician, doesn't mean I should be a part of it.'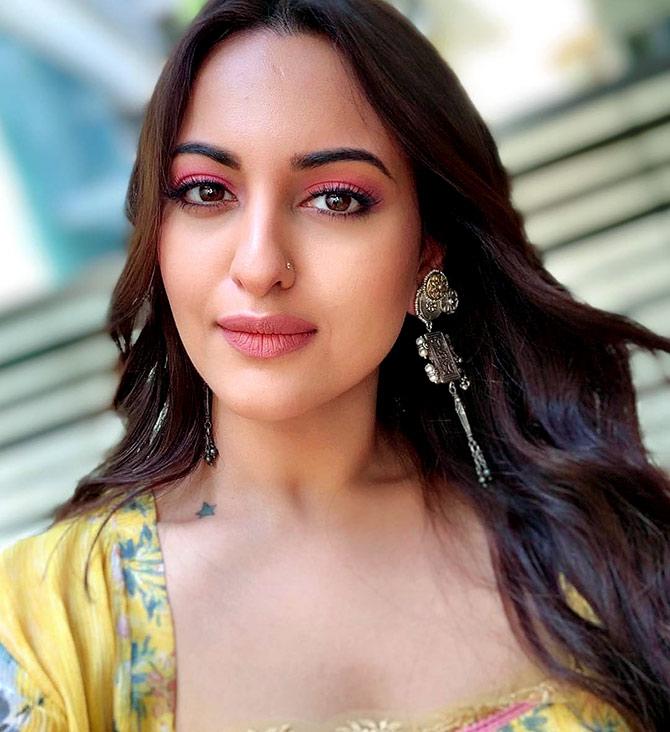 Sonakshi Sinha is very excited.
"A very beautiful, strong character has come my way. I was so happy to be part of Kalank because of the kind of world that Abhishek (Varman, director) has created, and the people that I got to work with," she gushes.
The actress is very busy these days, and has as many as four releases this year.
First up, is Kalank, where she stars with Alia Bhatt, Varun Dhawan, Madhuri Dixit, Sanjay Dutt and Aditya Roy Kapur.
Still, Sona has a regret.
"My only regret is that I don't get to dance with Madhuri ma'am because my character is such that she will not indulge in song and dance because of the situation she is in," she tells Patcy N/Rediff.com
What was your first reaction when you heard the script?
It was mind-blowing!
The story is amazing, it is a drama.
My character is strong, resilient, sacrificing, loving, caring and nurturing.
To be able to play all that in a film, where there are so many actors and where every character contributes to taking the story forward, was special.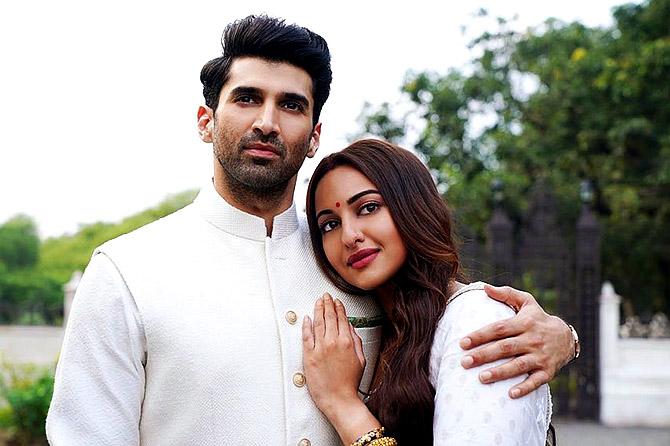 With a huge cast like this, there is a risk that some characters may not get much screen time.
That is part of the writing. The characters are etched out properly. They take the story forward, and that is all we should be concerned about.
I don't think it should bother (anyone) who is getting the bigger screen space and who is not.
If everyone speaks like that, no one will do multi-starrers.
Agar George Clooney bolta Brad Pitt ko zyada screen space mil rah hai toh Oceans 11 aur 12 toh nahi banti na (If George Clooney said Brad Pitt got more screen space, Oceans 11 and 12 wouldn't have been made).
It is not about the smaller role, it is about what you make of the role as an actor and how much you contribute to it.
Which is your favourite multi-starrer?
Shaan, Kabhi Kushi Kabhie Gaam...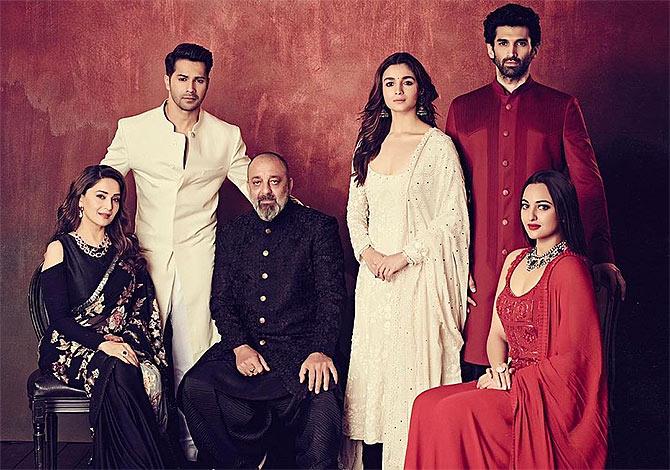 How was it working with Madhuri Dixit?
This is the first time I am working with Madhuri ma'am. As an actor, all of us have looked up to her at some point of time, and been in awe.
Even today, she is so graceful and beautiful.
I won't even talk about her talent, she has proved it all.
I am just so happy that I get to be in the same film as Madhuri Dixit. I think that is one off my bucket list.
My only regret is that I don't get to dance with Madhuri ma'am because my character is such that she will not indulge in song and dance because of the situation she is in.
What did you learn from her?
You can learn just the way she is, her dedication towards work after being in this industry for so many years.
I hope and pray that I can also continue like that.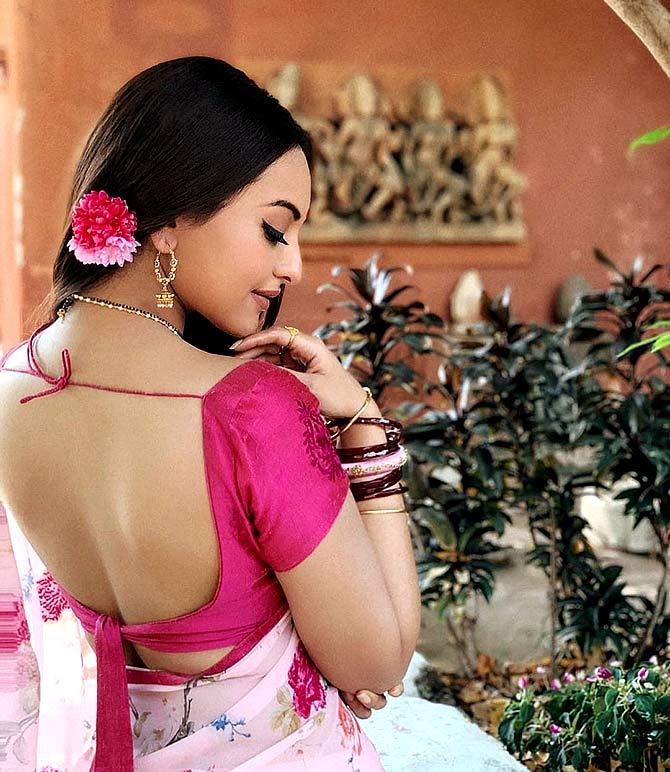 You do larger-than-life films like Kalank and Dabangg and then films like Noor. Do you consciously choose films like that?
No, I don't.
But I am very happy that I have been able to strike that balance because as an actor, it gives me different things to learn.
The fact that this balance is there means a producers and directors know they can fit me in these kinds of roles. That's an achievement for me.
I enjoy all kinds of roles.
I am a very spontaneous actor and very instinctive when it comes to choosing my roles.
When I hear a script, I have to immediately like it. Otherwise, I won't say yes to it.
There are films where your role was appreciated, but it did not do well at the box office.
You do feel bad when you don't get a (hit at the) box office.
But these things are not in your control, so I don't stress about it.
By the time the film releases, you have already moved on to your next film and you're putting your energy, time and effort in that.
Any regrets?
However a film may have done at the box office, I don't have any regret of working in it.
I have worked with such wonderful directors that the experience is important.
When the Kalank poster came out, people compared it to your look in Dabangg.
So in Indian (clothes), I will look like this only.
I am the same person. If you give me earrings, bindi and a sari, I will look the same.
What is important is that my role is nothing like Dabangg.
You have learned fashion design. Will you use that training in your films?
I always use my skills.
Sometimes, you need urgent stitching or something comes out... I do all the repairs on my own.
I have not styled my characters yet, but I give small inputs like what nose ring we should use, or hairstyles, as I know what suit mes better.
But I have worked with fantastic stylist and designers and so I try not to interfere in their work.
Of course, I won't do anything that I am not comfortable with.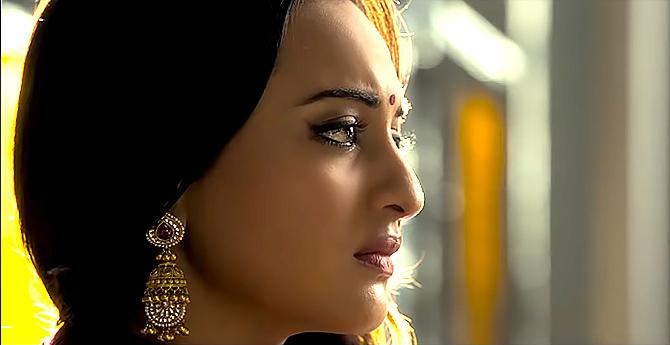 How is the Dabangg 3 shoot going on?
I shot a song for two days and now, I'm back to promote Kalank. After this, I will go back.
We shot the song is Maheshwar. Coincidentally, I shot the song Radha Nachegi from Tevar at the same place. It was like déjà vu.
This is the first time I will be dancing on the Dabangg title track.
We miss Vinod sir (Khanna). If he was there, the family would have been complete (Vinod Khanna plays Sonakshi's father-in-law in Dabangg).
It feels very nice going back on the (Dabangg) sets, it is literally like homecoming.
It has been nine years since I worked in Dabangg and now, we're doing the third installment of the film. Life has come full circle.
Most of the team members are same. There are obviously some additions to the cast. Plus, Prabhu sir is directing the film.
You have three films in hand now.
I am going back to this kind of working after a long time, and am looking forward to it.
I enjoy being busy.
Apart from Dabangg, I am doing Bhuj (Bhuj: The Pride of India), where I play a real-life character for the first time.
What is Bhuj: The Pride of India about?
The ladies in Bhuj made an entire runway in one night for a plane to land.
A lady gathered 300 women and convinced them to build the runway, while bombings were going on.
It is a beautiful story that needs to be told.
This role was offered to me twice, in different films, but I wasn't able to do then it because of my commitments.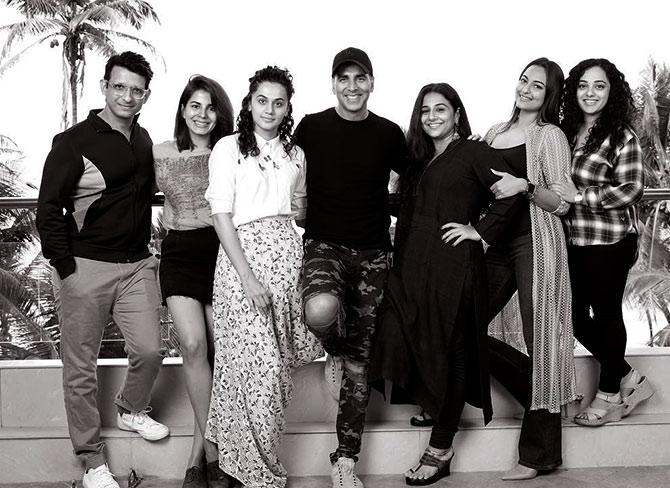 How was it working with Akshay Kumar in Mission Mangal?
We got along like a house on fire.
I was working with Vidya Balan for the first time and she is so much fun!
You started a production company with your brothers. What kind of content will you make?
They are handling it. When we have something concrete, we will announce it. As of now, there is nothing.
Are you interested in the digital platform?
I have not closed the idea. If I find something interesting, I will do it.
I just finished watching Mirzapur.
It is so brilliantly made. If there is something like that, which really catches my eye, I will certainly do it.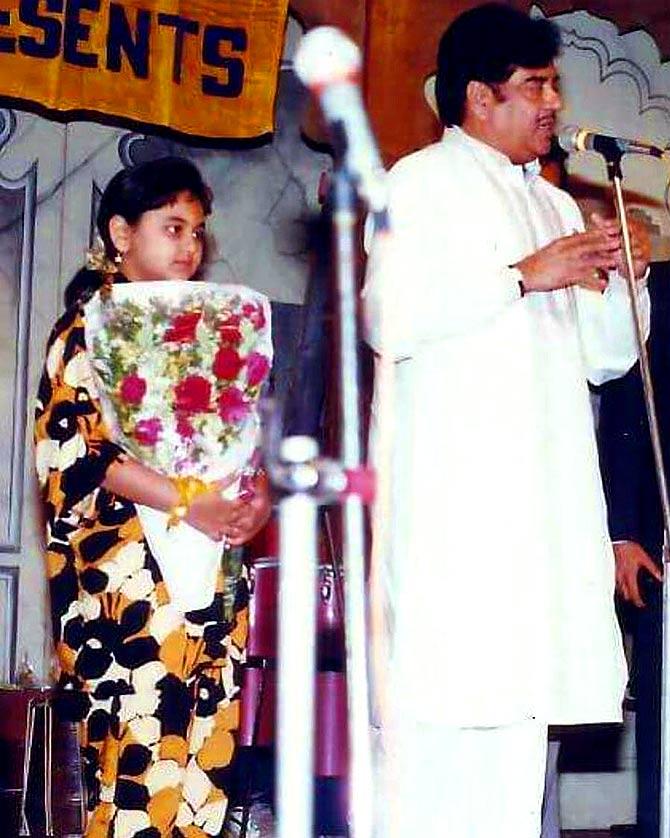 Will you be helping your father Shatrughan Sinha in his campaign?
That's like me asking him to come and promote my film.
How aware you about politics?
I am as aware as I should be.
It is something I don't have the aptitude for.
A lot of people ask me about joining politics and I tell them that just because my father is politician, doesn't mean I should be a part of it.
I am happy with films.
Your mother is taking an active part in politics.
I am so happy for my mother.
I have been pushing her and encouraging her for the longest time, but she is worried about her kids.
I keep telling her that we have all grown up, so she should step out and do something. I am really happy that she is finally doing it.
She is passionate about it and I feel politics needs good people like her.
She is so warm. She's a people's person.
The way she takes care of her family and home, I am sure she will take care of her constituency.