Priyanka Chopra didn't attend cousin Parineeti Chopra's wedding in Udaipur on Sunday, September 24, 2023, but she posted a beautiful message on Instagram.
'Picture perfect.. sending so much love to the newly weds on their special day! Welcome to the Chopra family @raghavchadha88... hope you're ready to dive into the crazy with us,' Priyanka posted, welcoming Raghav Chadha into the Chopra fold.
'Tisha you are the most beautiful bride ever.. we're sending you and Raghav all the love and blessings for a lifetime of happiness. Take care of each other and protect this beautiful love,' she added.
Though PeeCee didn't attend the wedding, her Sunday in Los Angeles looked relaxed, as she played with daughter Malti in the pool.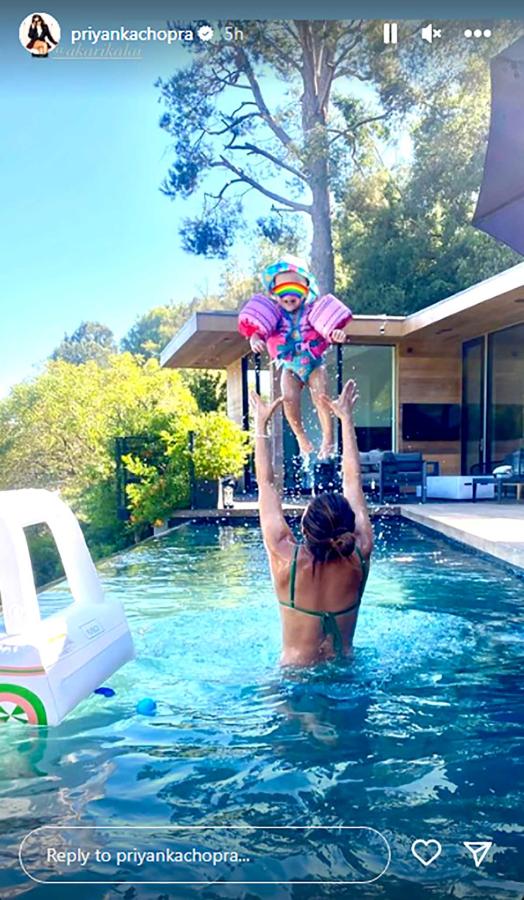 When the paps asked Priyanka's mum Dr Madhu Chopra about her niece Parineeti's wedding, she replied, 'Bohot badhiya (very good).'
When the paps asked why her daughter Priyanka had given the wedding a miss, Dr Chopra said, 'Woh kaam kar rahi hai (She is working).'
What gift did she give Parineeti-Raghav? 'Unhone sab mana kardiya,' Dr Chopra revealed, 'No lena dena (they said no gifts please).'
'Arey waise hi khubsoorat hai,' Dr Chopra praised her niece Parineeti's beauty. 'Aur achhi lag rahi thi.'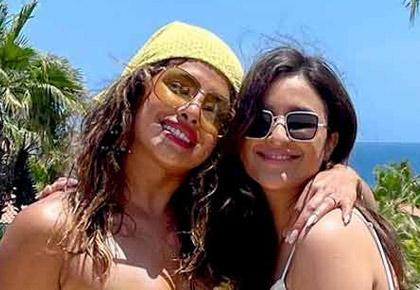 Rediff's resident Hollywood watcher speculates it is possible that Priyanka kept away from Parineeti's wedding because it would have made for bad optics.
Her brother-in-law Joe Jonas -- husband Nick's elder brother -- is in the midst of a very ugly divorce and custody battle with his English actress wife Sophie Turner.
Joe and Sophie's legal battles have given tabloids on both sides of the Atlantic much to report and speculate on.