'I got married to Reena secretly, with three witnesses.'
'My wedding was most economical.'
'I took Bus 211 and bought a ticket of 50 paise.'
'I got down at Bandra station, crossed the bridge and entered the marriage registrar office.'
'So my wedding cost me less than Rs 10!'
Aamir Khan gave us something to chew on when he screened his latest production Rubaru Roshni on Republic Day.
The documentary told three true stories, and taught the lesson of forgiveness.
Has Aamir forgiven his Thugs Of Hindostan Director Vijay Krishna Acharya for giving him one of the most embarrassing flops of his career?
The actor answers that and more in this interview with Ramesh S.
What is Aamir Khan working on next?
I have four good scripts!
I don't know which one I will take up, I haven't zeroed in on that 100 percent, but I will know within a month.
I will probably produce it too.
When I start preparing for my next film, I grow my hair and my facial hair, and physically start moving towards what my character needs.
Then, before the shoot, it becomes flexible to play with my look.
I will start preparing for my next film from February 1 because I have to look slim and lean.
There are two films (in consideration) and in both of them, I have to look lean.
Are you doing the Rakesh Sharma biopic?
I guess Shah Rukh Khan is doing it. And if he hasn't given any statement yet, wait for it.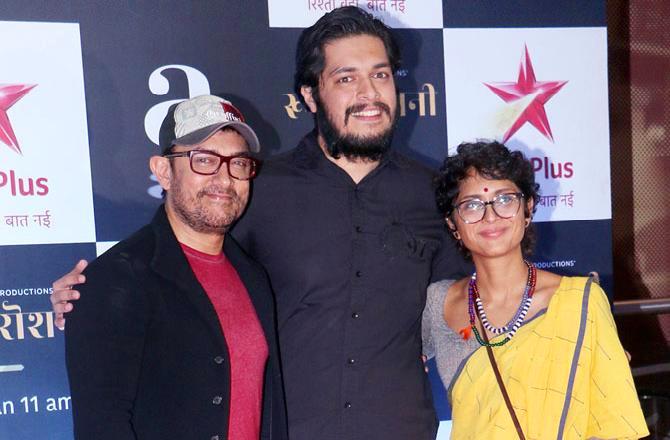 Talking about biopics, what about making a film on your life? Who do you think should play you?
My son Junaid can do my biopic.
Presently, is there any project for Junaid?
We are looking for something special for Junaid. I have seen his work and am quite happy with it.
Only when we get the right kind of story will he be launched.
I believe in screen tests, and he will have to pass it.
If he does a good test, he will be in the film. If not, he won't be.
He has been trained as an actor; he did two years of training and theatre at the American Academy of Dramatic Arts in LA. Then, he did plays for a year there.
He has been in theatre for more than three years now.
I would like to see him as a creative person and lead actor who plays characters because I have always believed in that.
You should play characters, not heroes.
I have always felt happy that whenever my films come out, people call me by my characters's names. That tells me my work has hit home and people see me as that character.
He looks more like Reena; only his height is more than mine.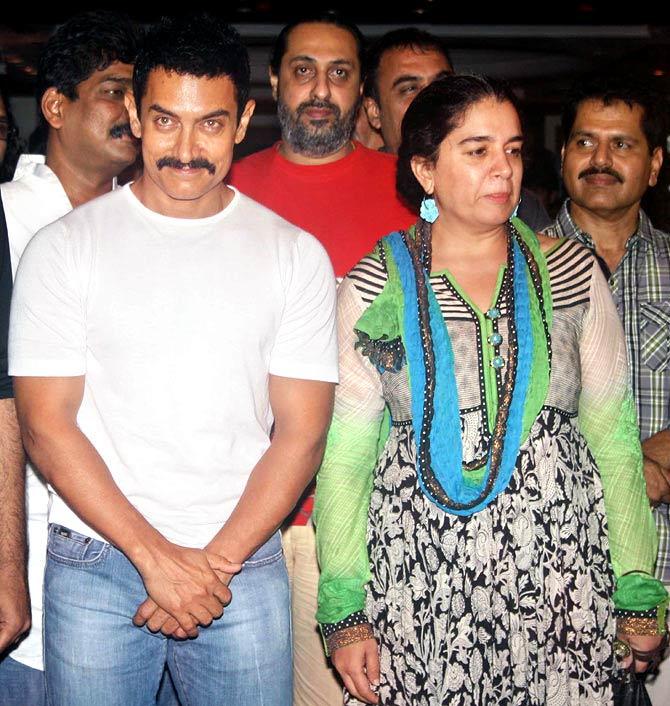 Since when have you known Rubaru Roshni Director Svati Chakravarty Bhatkal?
Svati knows me since 1984 because she is married to my school friend Satya (Satyajit Bhatkal).
I got married to Reena secretly through court marriage, with three witnesses. Two of them were Svati and Satya. The third was Satya's cousin Anand.
My wedding with Reena was most economical.
I took Bus 211 and bought a ticket of 50 paise.
I got down at Bandra station West, crossed the bridge, landed in the east and walked towards the highway.
I crossed that highway and entered Griha Nirman Bhavan, where there is a marriage registrar office.
So my wedding cost me less than Rs 10!
Tell us how Rubaru Roshni was made.
Svati shared her idea and wanted to make a film on forgiveness. She wanted to pick true stories that would demonstrate this idea.
She had told me about the three stories, but had not started her research. She had not even met the real people of these stories.
She briefed me about the real incidents involving Avantika, Rani Maria and Kia Schher.
When I heard it, I thought it was a very important concept.
We have forgotten the power of forgiveness as human beings.
We have forgotten how healing can happen with the help of forgiveness, but we ignore it.
It is very important to talk about it because you cannot go to the past and rectify something.
It is in my hands now and how I will react to it, whether I grieve about it or get angry.
But I have to do something in such a way that at least my future will not get ruined.
The past is not in our hands, but our future is.
Talking about forgiveness, Jainism follows this principle. What is your take on that?
Jainism influences me a lot in my personal life.
They have some amazing thoughts, like forgiveness, non-violence, and use only what you need.
It also says that everyone has a right to express their views, and one should respect that right.
Do you talk to your children about forgiveness and these values?
I do.
I talk to them about a lot of things.
When Satyamev Jayate aired on television, my children, my mom and I would sit together and watch the episode together.
Though I knew everything about it -- because I had made it -- it was our routine to watch it on every Sunday. Satya and Svati also joined us a lot of times.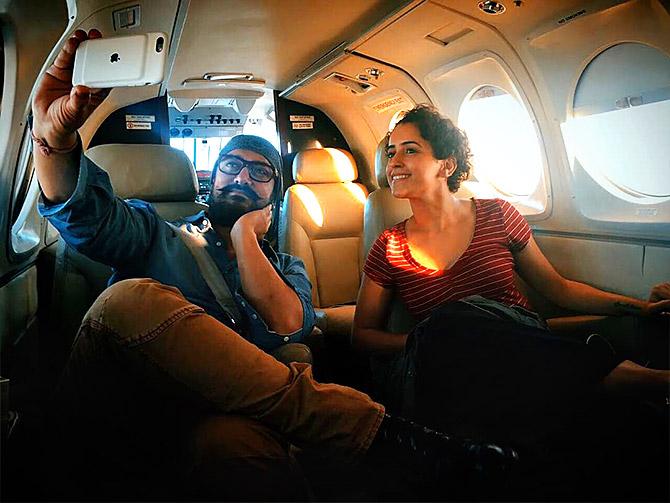 Did you get emotional after watching Rubaru Roshni?
Yes. I don't have anything against crying.
Like, if we don't mind when someone is laughing, in the same way, we should not mind when someone cries.
When we feel like crying, we should cry.
I cry a lot.
I also cry publicly.
For instance, Fatima (Sana Shaikh), Sanya (Malhotra) and I were travelling and Dangal's trailer was going to release. Someone said it would release at 11 am, so we watched the trailer on someone's phone.
I cried after watching it even though I had seen it before.
In fact, Sanya and I were both crying because we are a bit emotional.
I cry at the smallest things.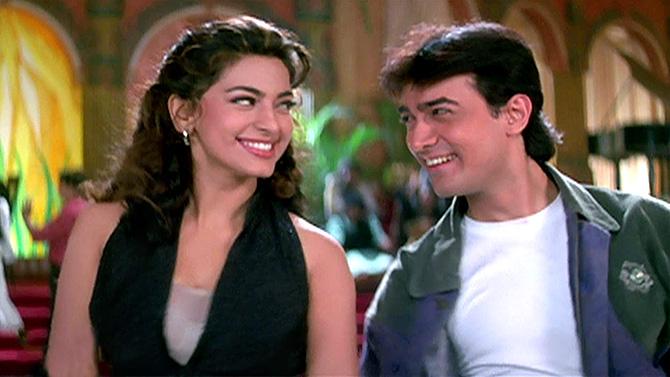 While shooting for Rubaru Roshni, did you remember any personal grudges in your life?
I had a fight with Juhi (Chawla) during the shooting of Ishq and did not talk to her for seven years.
It was a very small issue.
I think I was a little egotistic back then, so I decided not to speak with her again.
Even on the sets of Ishq, I would keep a safe distance from her. When she would come and sit beside me, I would walk out.
I never greeted her or bid her goodbye.
I don't know why I behaved like that.
I spoke to her only during shots for professional reasons.
When she got to know about my divorce with Reena, she called me up out of the blue and asked to meet.
Juhi had been close to Reena and me, and she wanted to sort out our differences.
She felt I might not pick up her call, but still she called me.
I was happy that she reached out to me; that touched my heart.
From that point, I got to know that the friendship between us hadn't been affected at all.
We might not have been on talking terms, but we had continued to care for each other.
Talking about forgiveness, what about your Thugs Of Hindostan Director Vijay Krishna Acharya?
(Laughs) There's no need to forgive him!
Every director I work with is good, like their intentions.
All of us aim to make a good film, but sometimes, it doesn't happen.
Film-making is difficult.
I'm a team player.
If my director has gone wrong, I have gone wrong with him.
We will learn from our mistakes.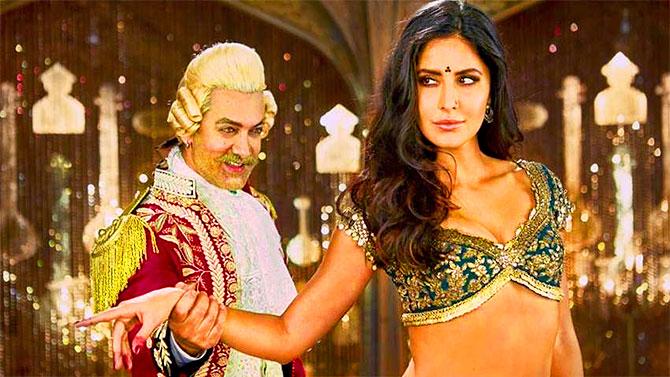 Do you take responsibility for the failure of Thugs of Hindostan?
The audience came to watch the film on my name, so it was my responsibility. To that audience, I feel fully responsible.
Do you think the bashing was too hard?
I have met a lot of people who told me they liked the film.
But I don't judge these things.
I think the audience has the right to say exactly what they want. They can be harsh in their criticism because that's their right.
Also, I didn't give a flop film for a long time (laughs), so people got an opportunity to take out their anger, which is good too.
It's been years since I had a failure.
How do you rise from such failures?
The only thing you can do is do a good film which I am planning now.
Are you considering sending Rubaru Roshni to the Oscars?
I don't think about awards, so my mind doesn't go in that direction.
But this is a documentary that the world should watch.
The category of foreign films (at the Oscars) is the toughest. About 90 countries in the world send their best films, so you are competing with the best of the best, whether it is from Brazil, Iran or Argentina.
So when you come to the top five, you have already won.
I remember the head of foreign language committee, Mark Johnson, who had produced Rain Man, told me once that all the five movies in the foreign language category were better than those in the main category. And the fact that you got selected is a big thing in itself.
Why do you stay away from awards?
I have been to award shows in the first and second years of my career. I stopped because I feel I have lost the value for that award. That's the best way I can put it.
It is lovely to have an evening where the creative community comes together and celebrates each other's work.
I understand it is a beautiful emotion, and I would like to be a part of that fraternity and that emotion, but I need to have some value for it.
There was a time when people in the jury had no idea about film-making. So if that person is going to tell me that I am a good actor, what is the value of that?
If Dilip Kumar or Raj Kapoor or Lata Mangeshkar tells me you are a good actor or have done good work, I will stand up and accept it because it gives immense value.