'Since both Ram Charan and NTR Jr are dancing in this song, I don't want one of them to feel one up.'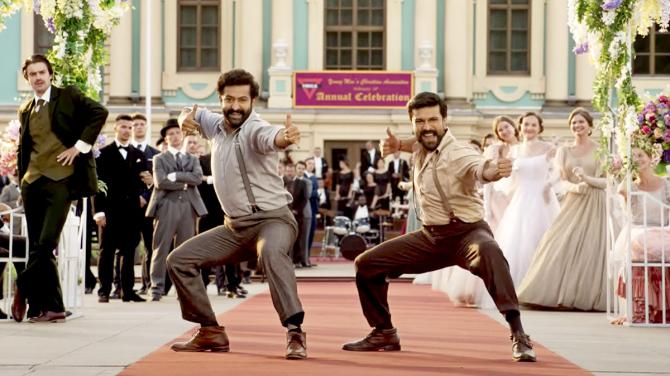 Prem Rakshith admits that Naatu Naatu is the most difficult song he has ever choreographed.
"We composed more than 110 steps," he reveals.
Besides that, there were around 300 dancers in the song, but they were used sparingly in the middle of the song, and at the end.
"When there are two lions dancing, why do they need background support?" he laughs, referring to Ram Charan and NTR Jr, who take centrestage in the song, and S S Rajamouli's film, RRR.
As Naatu Naatu enjoys international fame, thanks to its Oscar nomination, Prem Rakshith resumes his extremely busy schedule at home.
He doesn't even get Sundays off, as he shoots for the much-awaited Allu Arjun-starrer, Pushpa 2.
"If you see the making-of video, you'll see that I'm looking very disturbed with my white hair!" Prem Rakshith tells Ronjita Kulkarni/Rediff.com about the Naatu Naatu song, and explains why.
How did you react when you heard of the Oscar nomination?
When the Golden Globe award was announced, I was at home. I had just come back from a shoot, and suddenly, my wife told me the song got the award.
During the Oscars, Rajamouli's son Karthikeya called me.
Later, Rajamouli called out to me over the phone, "Prem master!"
That's a huge thing for me.
He usually calls me 'Prem', but him calling me "Prem master" made me very happy.
What is Rajamouli like as a director?
He is a very hard worker.
He's always working, from 5 am till night.
I met him in 2003, and have been working with him since 2005.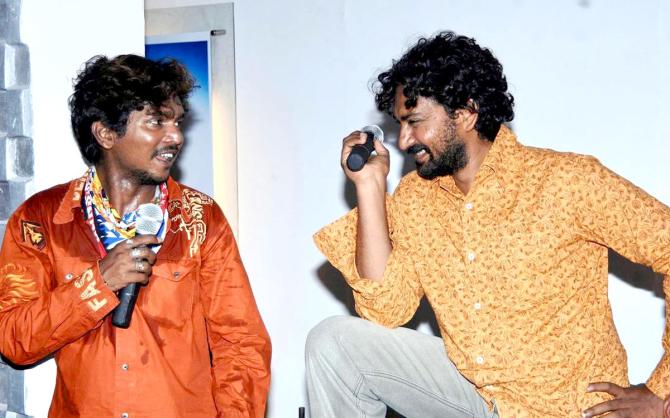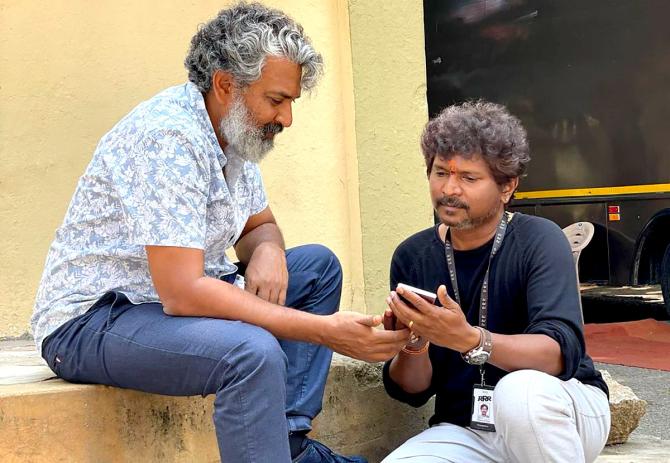 How did you meet him?
When I first came to Hyderabad, I don't know anyone.
I joined a (dance) class and coached students.
My monthly salary was Rs 5,000, and I would send Rs 4,000 to my family, who lived in Chennai: My parents and my brother, who is deaf and dumb.
The classes shut down, so I started giving home tuition.
I had three students -- one is Kala Bhairava (who is a singer today), Rajamouli's son Karthikeya and Simha (he is an actor now).
This is in 2003, so they were about 10-12 years old then.
I did not tell them I was a movie choreographer because I thought that if they know that, they will not hire me because they have a lot of respect for choreographers.
The classes would be held on Mondays, Wednesdays and Fridays, and those would be the only days when I would get food because I did not have sufficient money.
Rajamouli's wife Rama ma'am would call me and say, 'Master, come and have your dosas.'
I would go and quickly take five-six dosas and then the next day, there would be no food.
This went on for a while.
Once I was taking classes in Rajamouli sir's home and I could hear music from the floor above. They were playing a film song that I had just choreographed.
Someone told me that sir was looking for the choreographer for that song.
So I ran up, and told him I had choreographed that song.
He was shocked.
'Then why are you coming to my house for classes?' he asked.
I told him I needed the money.
He immediately gave me the Gala Gala Gala song from his next film Chatrapathi.
The reason I call him a guru is that while I composed the dance movements, I did not know about photography and camera angles. He taught me everything.
From a home tuition master, he has brought me to where I am today.
I have choreographed his films like Magadheera, Baahubali, RRR...
How did you conceive Naatu Naatu?
We composed more than 110 steps.
Since both Ram Charan and NTR Jr are dancing in this song, I don't want one of them to feel one up. They had to match each other, so all the movements had to suit them equally.
They are very good dancers, but they have different styles.
We rehearsed more than two months.
The shoot went on for 20 days.
The pack-up would be at 6 pm. After pack-up, they would rehearse till 10 pm. Then again, report on set at 5 am the next day.
How did you get them to do the steps so accurately?
Rajamouli sir used to freeze the frame to see if Charan and Tarak (NTR Jr's nickname) got the steps exactly right, if the foot movement was the same. If not, he would say, one more, one more.
How did you come up with 110 steps?
When I became a dancer in 1994, I decided to compose one step daily.
So from 94 to 2002, I did that. (Laughs)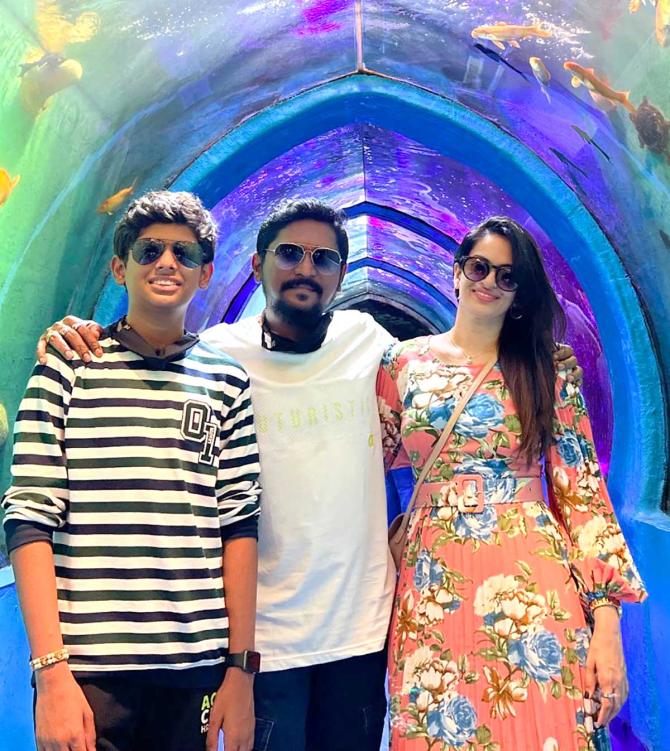 What was the toughest challenge while making this song?
This song was shot after COVID.
Actually, my wife Rajalakshmi got a problem with her eyes after COVID. One of her eyes lost its sight.
We had to go to Ukraine to shoot the song, so M M Keeravaani's wife (M M Srivalli) told me, 'Don't worry about her.'
She took care of my wife.
When I went to Ukraine, on the second day, I got a call from my wife, saying she lost sight in her second eye too.
My brain stopped functioning.
If you see the making-of video, you'll see that I'm looking very disturbed with my white hair!
I was very emotional because I love my wife.
There was so much pressure, but I continued shooting.
After I came back, she got steroids in her eyes and all that, she can see now, thank God.
My son Parikshith was only 12 years old then.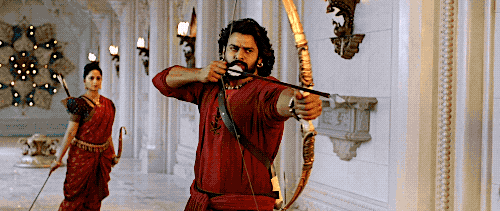 From a choreographer, you have become a concept director now. What does that mean?
If something looks good but is not perfect, I correct it... something like Grammarly (laughs).
Like, how should the actor walk, how to make it different... you have to think more than the dance master or the fight master.
Like that triple arrow fight scene in Baahubali 2.
It's such a poetic fight.
It looks more like a song.
How did you become a choreographer?
My parents walked out of our joint family and rented a small house. We didn't have any money then. This was in 1994, and I was around 16-17.
The first month was very tough because though my mother got a job as a tailor in a shop and my father got a job as a cashier in a trade union for dancers and dance masters, we had no money till their first salary came.
I used to go to the tailoring shop and help out by stitching buttons.
My father told me to get a union card and I did.
But I didn't get a job.
Someone told me to go to a Saibaba temple to pray for a job. It was 3 km away, so I would rent a cycle daily for Rs 3.50 to go there and pray, and then look for a job.
My brother stopped going to school because we had no money.
Once, at night, he started crying. He is deaf and dumb, so he put his hand on his stomach.
My mother said he had not eaten for three days; there was no food at home.
I used to be out the whole day, looking for work, so I didn't know.
I was shocked.
My mother had left behind all the gold when we left our house, and had only one thing with her: Her sindoor holder made of silver.
She gave it to me and I went out and found a medical shop. I told the shopkeeper, please don't mind, my brother has not eaten for three days. Please keep this and give me Rs 20.
That man did not know me but felt I was saying the truth.
So he gave me Rs 20 but didn't take the sindoor holder.
He said when you get money, return it. So I took that, and bought some rice.
The next day, I went to the Saibaba temple again and prayed.
I'm a Christian. I started praying to Saibaba because a friend told me that would help, and I said, okay, let me try it out.
I was actually born as a Hindu, but my grandmother got the entire family converted to Roman Catholic when I was in Standard 6. My real name is Thomas Satish.
So I told Saibaba that if I didn't get any work, I would kill myself because then my family would get Rs 50,000 from the union.
I looked for a job that day but could not find one.
I was very upset and cried for a long time.
I went to the union and told my father I was going to a friend's house. I planned to kill myself that day.
But as I was leaving, my father called me back. I thought, dying was also becoming a problem! (laughs)
He said there was a song in Hyderabad, and that one day of shooting was needed for that. There was no other dancer, so they asked me to go. I jumped at the chance.
I was going to Hyderabad for the first time in my life, and didn't know anyone there. I was only 17 then. I was given Rs 500, and I took the train there.
After that, I didn't come home for six months, as I got work continuously.
I became a dancer in 1994, and a 'master' (choreographer) in 2002.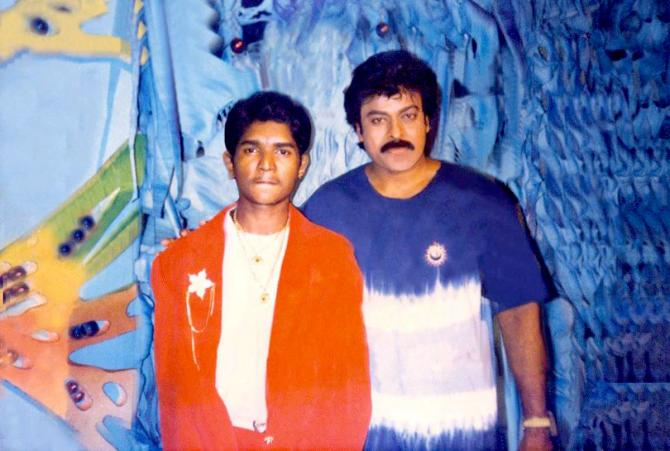 How did you learn to dance?
After six months (of being in Hyderabad), I got a movie called Makkal Aatchi.
In my earlier songs, there would be a lot of dancers. But here, there were only four dancers, and I was one of them.
The choreographer was Sampath Raj, and he's next to Prabhudeva.
I couldn't understand the steps; they were twice as fast as Naatu Naatu!
I just wasn't getting them.
So he called me out, and asked, who is this guy?
He started shouting at everyone for getting someone like me (who couldn't dance).
I got upset.
So I bought a tape recorder and some cassettes. I would practice to Prabhudeva songs.
I also started composing a new step every day, like I said before.
Within three months, I worked with Sampath Raj again, and I asked him, 'Do you remember me?'
I reminded him, and he was like, 'Arrey, you! You're a good dancer now!'
I can never forget that experience.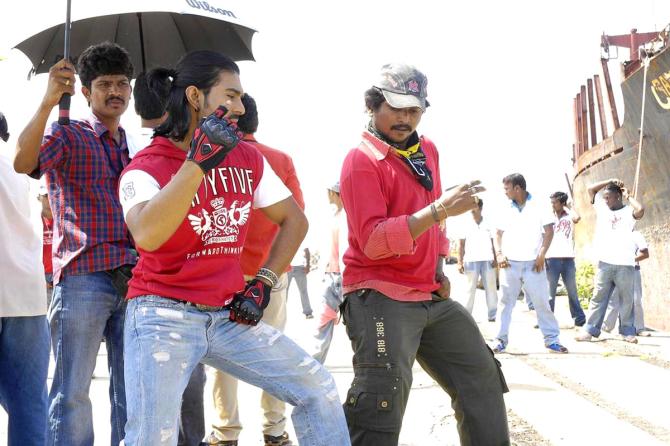 Who are your dancing idols?
Prabhudeva is God for all of us dancers.
Then, there's Michael Jackson.
Why did you change your name to Prem Rakshith?
Satish is a very, very common name in the dance industry.
When I became a master in 2002, I had to give myself a new name. So I named myself Prem Rakshit, and from that, I named my son, Parikshit.