'I think I have been lucky that I have found directors who take me for what I am and what they think I am capable of, rather than go on my previous films and see what I have done.'
Divya Dutta has seen her fair share of struggle in her 26-year career in the film industry, and she tells Patcy N/ Rediff.com all about it here.
But she's had her shining moments too.
In the second part of the interview, Divya lists the films that were close to her heart.
"I need that one director every time to give people a different vision about me," he says.
Veer Zaara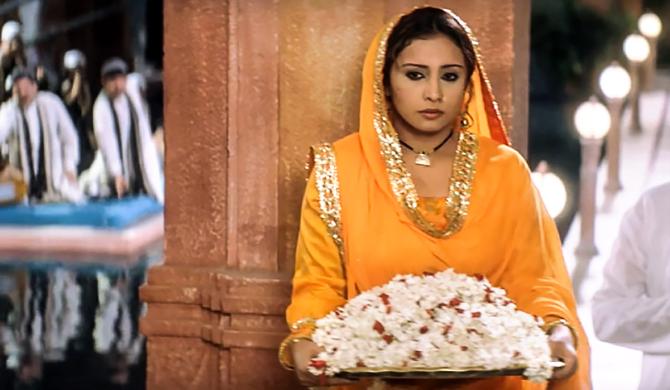 Veer Zaara changed people's outlook towards me. It was my first so-called commercial film.
I won a lot of awards but was very sceptical about doing this film because I wasn't Yash Chopra's heroine.
I had grown up fantasising of being Yash Chopra's heroine because I have loved his films.
I am die-hard romantic even today, only because of him and his films.
But I was playing Shabbo in it.
Aditya (Chopra) told me that I would always be remembered for this.
I still remember the premiere night and everyone asked, 'Who is that girl you brought?'
It was my reintroduction to the industry in spite of being here for about six, seven years already.
It was beautiful that amongst all the stalwarts in the film, I could hold my own.
It gave me pehchan... 'that Veer Zaara girl'... therefore, it is very special to me.
Delhi 6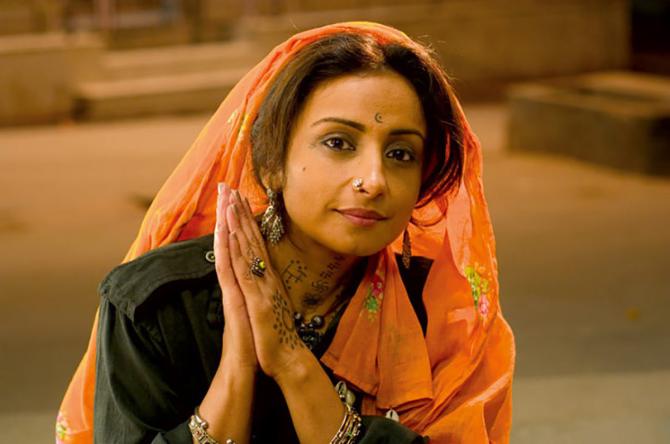 I had just finished Veer Zaara, and was flooded with offers of similar roles. Anything vivacious and chirpy was offered to me.
I had said no to all of them because I did not want to be Shabbo in every film.
So when Mr Mehra (Director Rakeysh Omprakash Mehra) came to me with Jalebi's role, I asked him, 'Is this a chirpy, vivacious, Punjaban role?'
He laughed and said no.
So I asked him why he wanted me to do it then.
He said, 'Because I think you can carry it off.'
I think I have been lucky that I have found directors who take me for what I am and what they think I am capable of, rather than go on my previous films and see what I have done.
Here was a woman I kind of discovered while working on her.
She was sensuous in her own right, vulnerable and hurt by how people behaved with her in the day time, and so differently at night.
She had a bindaas attitude, which I wasn't like at all.
There were these bold words I had to learn because she abuses at the drop of a hat.
The language wasn't mine, and I had to inculcate that.
For my first shot, the entire set was waiting and watching the scene -- there was Waheedaji (Rehman), Rishi Kapoor, Sonam (Kapoor), Abhishek (Bachchan) and Omji (Puri). The entire village was there, so I was nervous as hell.
I will cherish the memory of shooting for that film and for what it gave me as an actor.
Bhaag Milkha Bhaag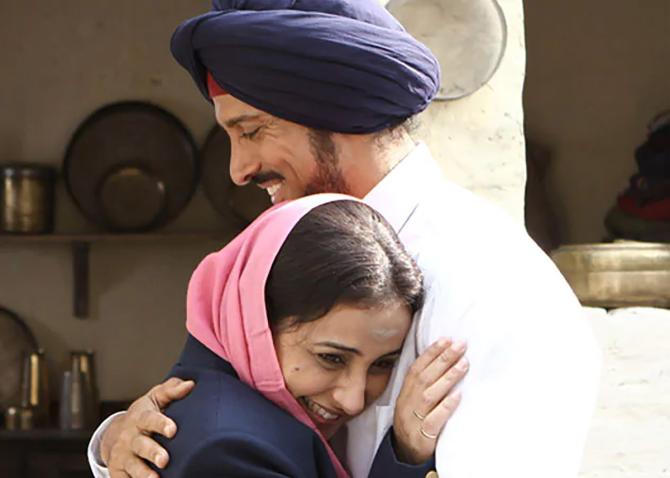 Again, this was somebody I am not.
I talk a lot.
But this woman Ishri Kaur is mute and who expresses even a minute expression with her eyes... not even eyes, her tears.
I remember when I was in Punjab, my mother had a lot of patients from the rural areas, and they would be like that. They would express through tears.
If they had to thank my mother, they would cry.
If they had to report something that had went wrong, they would cry.
As a child, I wouldn't understand.
But it stuck with me that there's a woman, who probably hasn't been given the freedom to express.
People still remember the last scene of the film where she's elated when her brother (played by Farhan Akhtar) wins, and she jumps for joy but she is crying even then.
So it was lovely and still on the edge because it had to have the right balance of emotions, so that they look different every time you do them.
I can't explain the kind of love I got for the film.
I was shocked, overwhelmed and honoured.
How many brothers and sisters, across the globe, reached out, I lost count.
Badlapur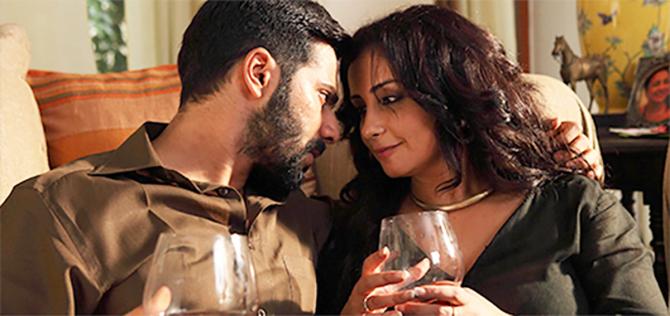 I think, sometimes, you just know what you are capable of. But you are not perceived like that by the others, even though they think you are very good.
I remember I had reached out to Sriram (Raghavan) when I had read that there was this lead opposite Varun Dhawan... there were four leads opposite him.
I told Sriram, 'Listen, I want to do this role with Varun.'
There was silence and then he said, 'Oh, yeah, actually, why didn't I think of you?'
I think he was both amazed and amused with my confidence.
He took his time and one fine day, I got a call from him.
He said, 'You are on board.'
Sriram is an excellent director.
He directs you so beautifully, and you don't even realise that you have been directed. He is so effortless.
I enjoyed that journey.
I played a sensuous role in that film, very different from what I had done earlier.
It gave me a different pehchan -- my previous was a sister role in Bhaag Milkha Bhaag, and everyone was flooding me with sister roles.
After Badlapur, I got back to getting sensuous roles.
I need that one director every time to give people a different vision about me.
Ram Singh Charlie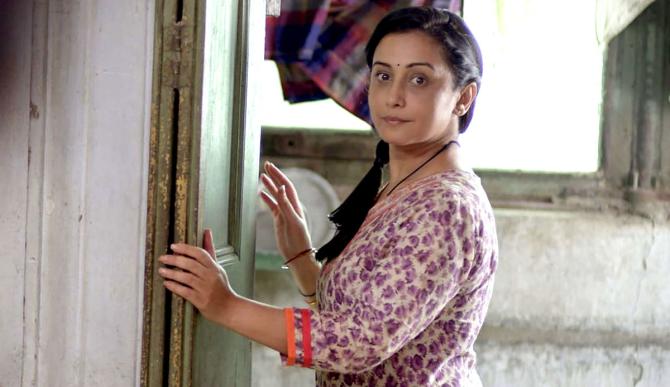 I loved the role in Ram Singh Charlie.
I just loved the story and the director.
I really wanted to this film but they thought I was a glamorous face.
I have done Shyam Benegal and Rituparno Ghosh's movies and I fit them well.
So I told Nitin (Kakkar, Director), 'If you think I'm good as an actor, you should fit me in.'
He said, 'Okay, then I need you without makeup.'
So I did a little cheating, and put a some base makeup. But he caught it and asked me to wash my face.
It was scary to be totally sans makeup because women are like vain, right?
But suddenly after my first shot, I just forgot it all.
And I don't think I have looked better in any other film because that skin glows with just the way it is.
The industry works on giving you an image, a branding.
But here was a director who said, 'You are very good with crying. I don't want you to drop a single tear in my film. You are very good with laughing, I don't want you to laugh.'
So it was like unlearning.
It was like going back to who I was, a raw Divya.
Since there were no dialogues, actually for me, I had to absorb the situations and react to them.
Fortunately, Nitin had created such an amazing ambience in the film and my co-actor Kumud (Mishra) was an actor par excellence.
The movies that really affected Divya:
Baghban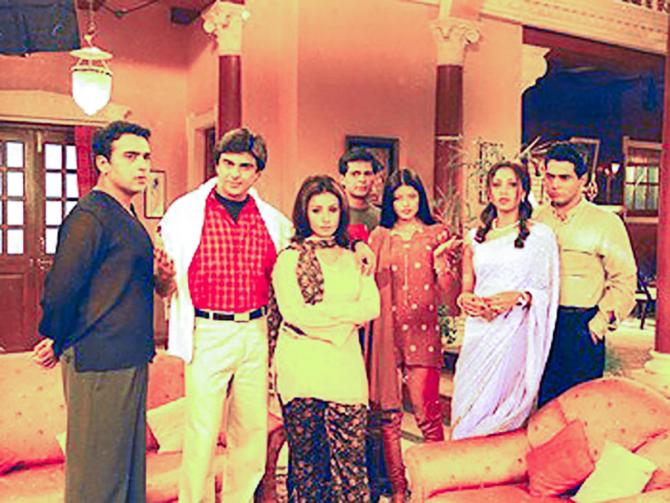 Baghban happened with me when I was very new.
I played a nasty daughter-in-law, to somebody I have idolised all my life: My Amitabh Bachchan.
When I did those mean scenes with him, I came back and was actually crying.
My mother asked what happened.
But I didn't know.
She asked, 'Scene achcha hua?'
I said, 'Bahut achcha hua.'
Then I realised that I could not detach myself from the role I had done.
Instead of being nice to somebody I adore, I was being nasty and I didn't know how to disconnect.
But it's thanks to Mr Bachchan, who kind of realised what I was going through and put me at ease.
It's the greatness of a superstar, who is sensitive to the people around him.
He eased me out so beautifully without me even knowing about it.
Sleeping Partner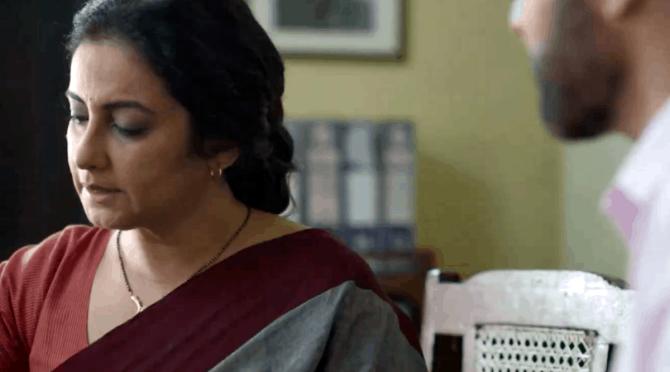 I did a short film called Sleeping Partner about marital rape.
The unit was fun and I was having a blast.
You know, you are doing a very serious scene but everyone's putting you at ease and you're joking, you do the scene and get away with it.
But after I came home, my chest felt very heavy.
The next day, I started howling for no reason.
Then I realised that somewhere, it had shook my subconscious really badly and it impact my psyche without my knowledge.
The trick is to know how to detach oneself.
I do some really intense roles and it's not good to bring them home.