'She is is so entertaining! You can just keep watching her.'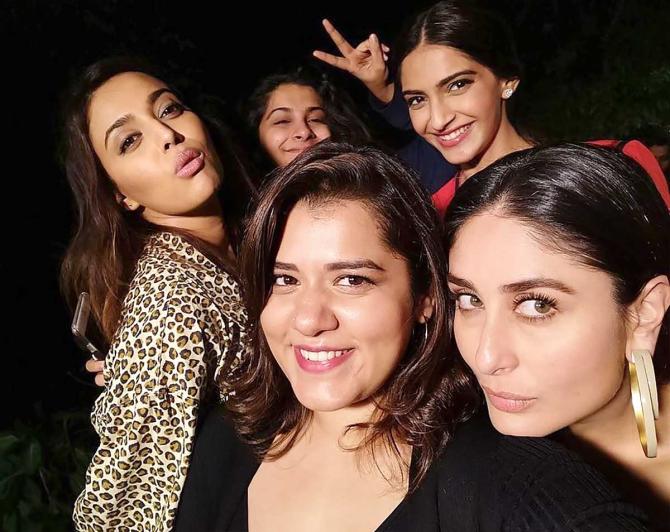 "Kareena makes every age that she hits look good. Forty is the new cool because Kareena has hit 40!" Swara Bhasker exclaims.
As Bebo reaches a new landmark in her life, her Veere Di Wedding co-star can't stop raving about her.
"She is a star and that has nothing to do with where she was born. I always say about her that, wherever she would have been born and whatever job she would have done, she would have been a star," Swara tells Rediff.com Contributor Sameena Razzaq.
When did you first meet Kareena?
The first time we met was when we were doing a reading for Veere Di Wedding, I think when the cast was finally locked.
I think it was the first time I was meeting Shikha Talsania also.
Kareena had just had Taimur and I was very impressed to see her back at work.
She was focused and in the moment.
She's the most fun person I have worked with.
Once we started working together, there was a certain vibe.
I really enjoyed watching her at work.
She was really professional for a star of her stature, someone who has worked for so long in the industry.
She respects the director for his vision and conducts herself so professionally that I was genuinely impressed.
She introduced me to the importance of profiles, a valuable lesson I will never forget.
She has a wicked sense of humour and a wonderful vocabulary. Soon, all of us on set were talking like her!
She has a hilarious take on everything.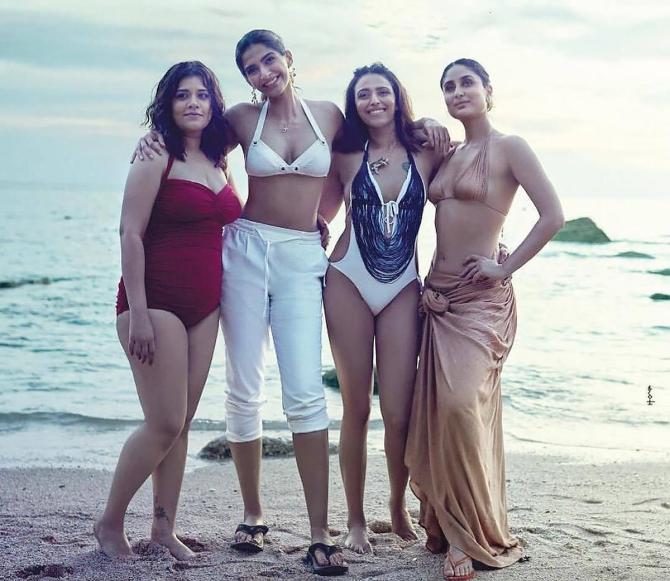 What is it about Kareena that catches your attention?
She is the most charming woman I have worked with and met.
She is a true blooded heroine.
She is a star and that has nothing to do with where she was born.
I always say about her that, wherever she would have been born and whatever job she would have done, she would have been a star.
She just has that quality of attracting people to her; people just watch her in awe.
It is not something cultivated or something she puts on. It not an act. It's just the person she is.
She has a really magnetic personality.
You call Kareena a masala film. What does that mean?
She is a masala film because she is so entertaining!
You can just keep watching her.
The things she says, she sounds like a masala film.
I mean watch any of her interviews, listen to her talk, she is absolutely hilarious!
She has really fun punch lines.
She comes up with these hilarious words and I keep telling her that I have picked up her entire vocabulary.
I sound like a gareeb version of Kareena.
Guffing is her favourite word. Every time she would see me eating, she would say, so you are guffing.
She cannot do without the word 'guts'.
She keeps changing them, and I don't know what it is these days. I haven't met her in a while.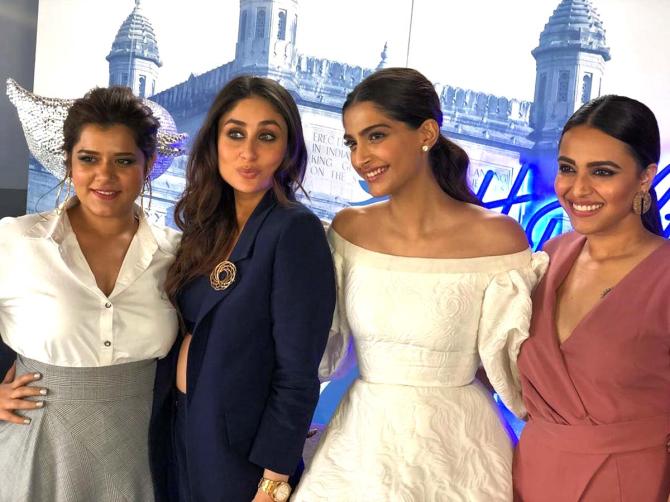 What does Kareena fuss about the most?
I didn't see her fussing about anything.
She knows what she needs to do.
She knows what she has to look like.
She knows what the look is.
She is always on time.
Sonam and Kareena would reach before me and they used to really rag me.
Any pet peeves?
We did not have an incident at all.
She is like a girl, who has gone to hostel.
She has a wicked sense of fun.
I remember once, she caught me eating Maggi and promptly complained to Rhea (Kapoor, Producer).
I was like, did you snitch on me?
And she said, 'Yaa, if you gonna be guffing madly on a shoot, I am going to tell the producer!'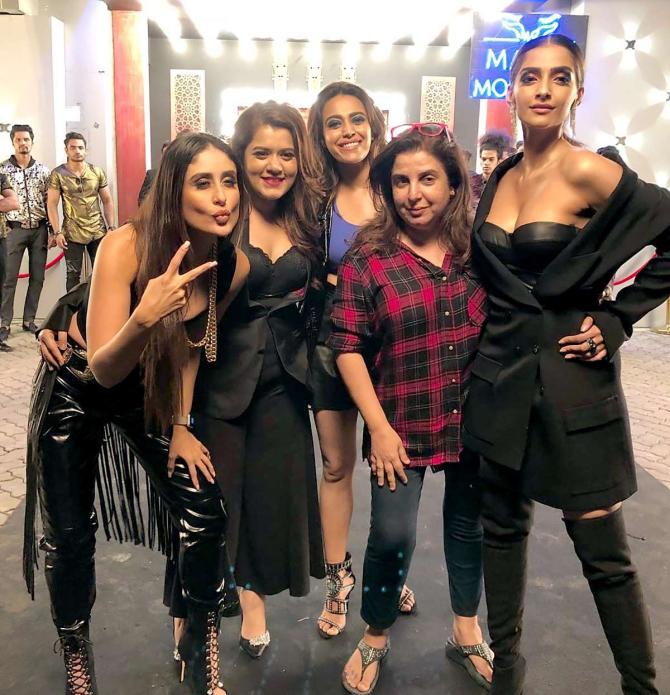 Were you apprehensive about working with a big star like Kareena in Veere Di Wedding?
I don't think there was any apprehension.
The script was written in a way that everyone had a distinctive role.
We didn't need to feel insecure about our roles because everyone had a good one.
Everyone had something distinct to do and added to the film in a way that would be remembered.
There would be days when she had to go back to Mumbai and miss a couple of rehearsals. But she would come back on the morning of the shoot and pick up the dance steps in like five minutes. And it would be something I would have been struggling for days!
What did you discover about Kareena?
I don't want to claim to be closer to her than I am.
Two things really struck me and won my admiration.
One was that she doesn't take herself too seriously. She is very chill.
She doesn't throw her weight around on set.
Secondly, she's very candid in her praise. She used to tease me and call me a 'thinking actor'.
She had named me Masaan and would say, 'Masaan has arrived, everyone start acting, thinking actor is here.'
I remember when we were doing promotions, and somebody asked her a question. She took the names of roles that all three of us had done and said that she could not do those roles. Like, she said Swara has done Nil Battey Sannata and I don't think I can do that role.
I thought it's very rare for an actor to praise a co-actor like that.
I don't know if I have praised anyone like that.
It is nice to see that kind of generosity.
What's Kareena's work ethic like?
She is very disciplined.
She did not miss her evening workout even for a single day.
She is super, super strict about her diet.
She loves food, but is so strict about her diet. That kind of discipline is excellent.
Rhea confirmed that there would be a sequel to Veere Di Wedding.
I hope so, I am also following what Rhea says on social media.
I haven't met any of these people in a long time, so I am getting my news from the same sources as you.
Your favourite Kareena film?
Jab We Met.
It's a charming performance.
It gave Bollywood a new, fun kind of heroine with guts.
I also liked her in Dev and Chameli.
She was brilliant in Omkara -- that sheer idealism of a woman in love, the innocence... I think she played Desdemona so beautifully.