Keeping it short and so sweet at the 90th Annual Academy Awards.
Host Jimmy Kimmel may have made sure the speeches remained short this year -- the shortest speech would win a Kawasaki jet ski! -- but they were still worth listening to.
Here's a look at some of the best speeches of the night.
Oh, and Mark Bridges won the jet ski for his 36-second acceptance speech after winning Best Costume Design for Phantom Thread.
Frances McDormand (Lead Actress, Three Billboards Outside Ebbing, Missouri)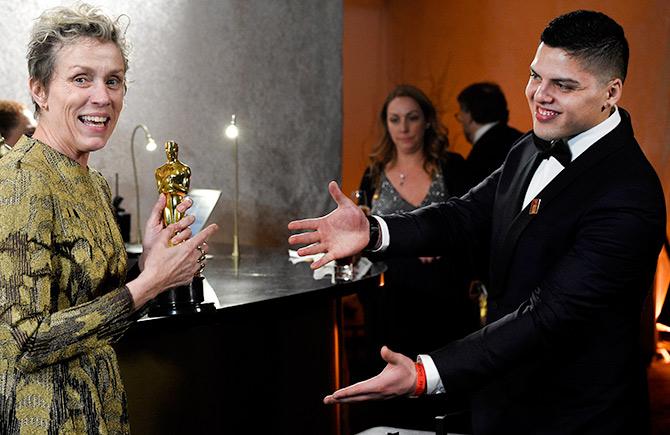 IMAGE: Frances with her son Pedro McDormand Coen. Photograph: Kevork Djansezian/Getty Images.
Okay, so I'm hyperventilating a little bit. If I fall over, pick me up cause I've got some things to say.
So I think this is what Chloe Kim must have felt like after doing back-to-back 1080s in the Olympic halfpipe. Did you see that? Okay, that's what it feels like.
I want to thank Martin McDonagh, look what you did.
We are a bunch of hooligans and anarchists but we do clean up nice.
I want to thank every single person in this building. And my sister Dorothy. I love you, Dot.
And I especially want to thank my clan, Joel and Pedro McCoen. These two stalwart individuals were well-raised by their feminist mothers. They value themselves, each other and those around them. I know you are proud of me and that fills me with everlasting joy.
And now I want to get some perspective.
If I may be so honoured to have all the female nominees in every category stand with me in this room tonight, the actors -- Meryl, if you do it, everybody else will, c'mon -- the filmmakers, the producers, the directors, the writers, the cinematographer, the composers, the songwriters, the designers. C'mon! Okay, look around, everybody.
Look around, ladies and gentlemen, because we all have stories to tell and projects we need financed.
Don't talk to us about it at the parties tonight.
Invite us into your office in a couple days, or you can come to ours, whatever suits you best, and we'll tell you all about them.
I have two words to leave with you tonight, ladies and gentlemen: inclusion rider.
Gary Oldman (Lead Actor, Darkest Hour)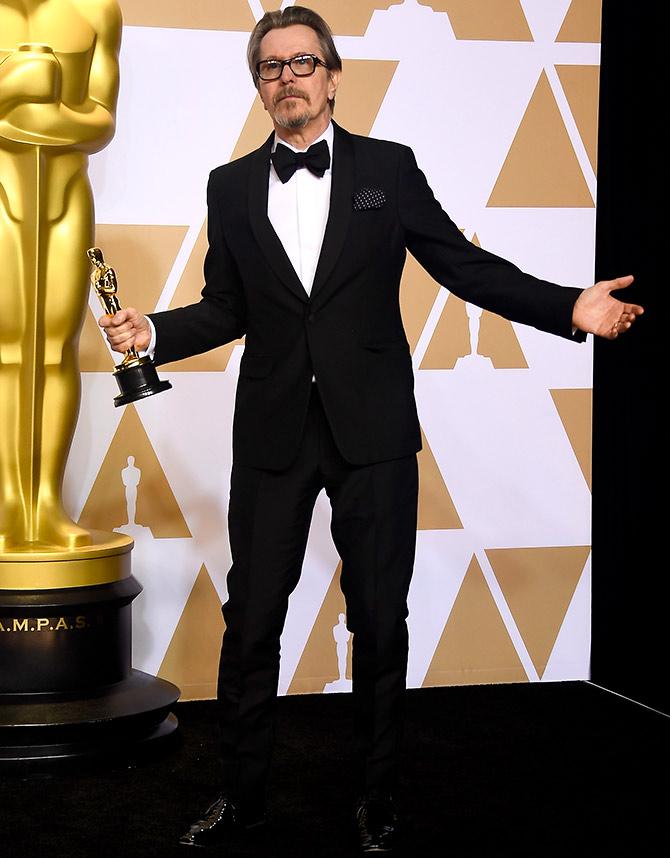 Photograph: Frazer Harrison/Getty Images.
Well, my deepest thanks to the Academy and its members for this glorious prize.
I owe this and so much more to so many.
I have lived in America for the longest time, and I am deeply grateful to her for the loves and the friendships I have made and the many wonderful gifts it has given me: my home, my livelihood, my family and now Oscar.
The movies, such is their power, captivated a young man from South London and gave him a dream.
And Douglas Urbanski, my dear, dear friend and brother, you have helped keep that dream alive.
Joe Wright, thank you for this. It only took 20 years for us to work together, but it was well worth the wait.
Thank Kazu, Lucy, David for your artistry.
Thank you everyone at Working Title and Universal Focus for your herculean efforts and support on this film.
Thank you, Eric Fellner, Tim Bevan, Lisa Bruce, Anthony McCarten. Danny and her amazing team, and of course, Jim Osborne.
I would just like to salute Sir Winston Churchill, who has been marvelous company on what can be described as an incredible journey.
And my wife Gisele, for travelling that road with me and being at my side. Thank you, Alfie, Gullie, Charlie, William. My remarkable, remarkable fellow nominees and my dear friend out there, Denzel. And obviously, I'm not going to win the ski.
I would like to thank my mother who is older than the Oscar. She is 99 years young next birthday. And, she is watching this ceremony from the comfort of her sofa. I say to my mother, thank you for your love and support. Put the kettle on, I'm bringing Oscar home.

Guillermo del Toro (Best Director, The Shape of Water)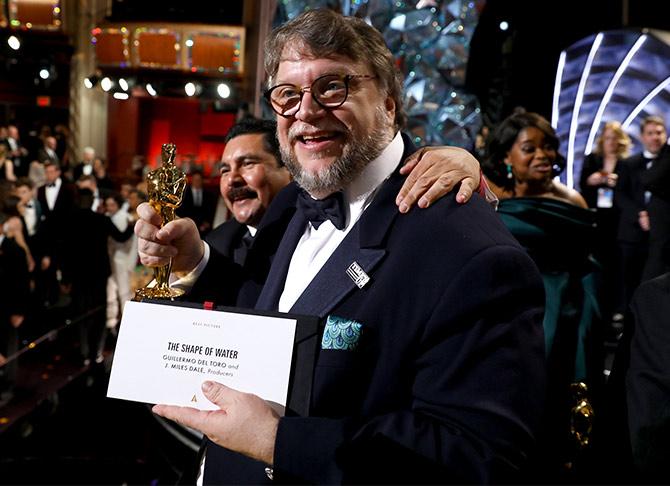 Photograph: Matt Sayles/A.M.P.A.S via Getty Image.
Thank you.
I am an immigrant like Alfonso and Alejandro, my compadres. Like Gael, like Salma and like many, many of you.
And in the last 25 years, I've been living in a country all of our own. Part of it is here, part of it is in Europe, part of it is everywhere. Because I think that the greatest thing our art does and our industry does is to erase the lines in the sand. We should continue doing that when the world tells us to make them deeper.
The place I like to live the most is at Fox Searchlight because in 2014, they came to listen to a mad pitch with some drawings and the story and a maquette and they believed that a fairy tale about an amphibian god and mute woman done in the style of Douglas Sirk, and a musical and a thriller was a sure bet.
I want to thank the people that have come with me all the way: Kimmy, Robert, Gary, Wayne and George, and my kids.
And I wanna say, like Jimmy Cagney said once, "My mother thanks you, my father thanks you, my brothers and sisters thank you. And I thank you, very much."
His film also won the Best Picture award.

Guillermo del Toro: Thank you, thank you very much. Growing up in Mexico as a kid, I was a big admirer of foreign film. Foreign film, like E.T., William Wyler, or Douglas Sirk, or Frank Capra. And a few weeks ago Steven Spielberg said, if you find yourself there, find yourself in the podium, remember that you are part of a legacy, that you're a part of a world of filmmakers, and be proud of it. I'm very, very proud.
I want to dedicate this to every young filmmaker, the youth that is showing us how things are done. Really they are. In every country in the world.
And I was a kid enamored with movies, and growing up in Mexico I thought this could never happen. It happens.
And I want to tell you, everyone that is dreaming of a parable, of using genre or fantasy to tell stories about the things that are real in the world today, you can do it.
This is a door, kick it open and come in. Thank you very much.
J. Miles Dale: This movie… (music begins to play)
Jimmy Kimmel: What did you want to say? I'll tell them.
J. Miles Dale: I just wanted to say that, this Guillermo, it's his heart. And it's everything. We thank him for letting us be a part of it.
Sam Rockwell (Supporting Actor, Three Billboards Outside Ebbing, Missouri)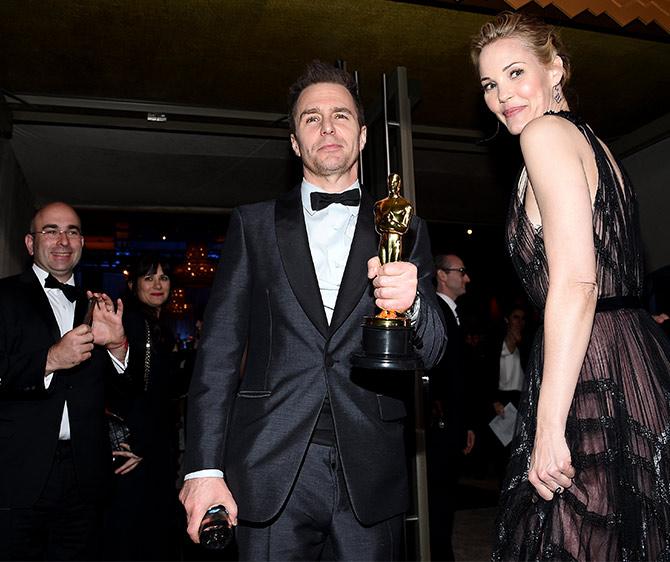 IMAGE: Sam with his partner Leslie Bibb. Photograph: Kevork Djansezian/Getty Images.
Thanks. Okay, run that clock, Jimmy. I want to get that Ski Jet or whatever that was.
I'd like thank the Academy, never thought I'd say those words.
Willem Dafoe, Richard Jenkins, Christopher Plummer, Woody Harrelson: you guys rock. You inspire me. And you always have.
When I was eight years old, I was called into the principal's office and my father was looking very solemn. And he said, "We gotta go, it's Grandma."
We got in the car and I said, "What's wrong with Grandma?"
And he said, "Nothing, we going to the movies."
My mom and dad's love of movies became my love of movies, so thank you for that, Mom and Dad. I love you.
Thank you, the formidable Frances McDormand. We're at the convention, Frances.
The fantastic Woody Harrelson. You guys are my heroes. The rest of this incredible cast and crew, incredible! Fox Searchlight, everyone involved in Three Billboards.
Everyone who's ever looked at a billboard.
Martin McDonagh, I wouldn't be standing here if it wasn't for you. I want to do 10 other movies with you, I love you.
Rhonda, Elise, Jason, Liz Mahoney, Liz Himmelstein, Terry Knickerbocker, all my good friends and my beloved Leslie Bibb. You light my fire, baby. I love you.
Peace out. This is for my old buddy, Phil Hoffman. For my old buddy, Phil Hoffman.
Allison Janney (Best Supporting Actress, I, Tonya)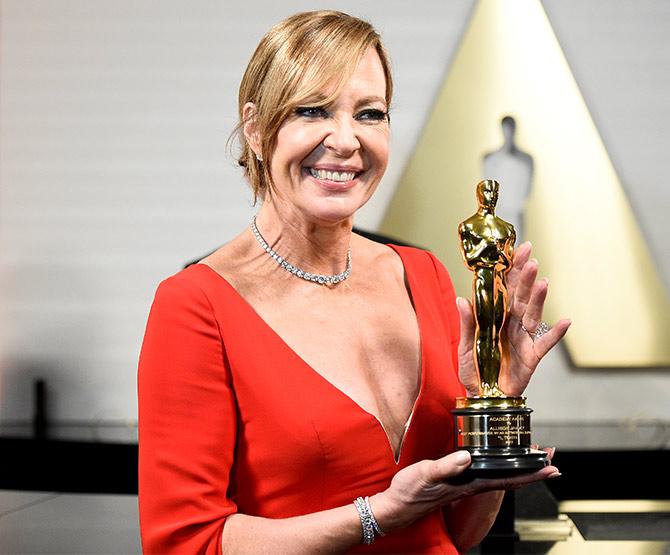 Photograph: Kevork Djansezian/Getty Images.
I did it all by myself. Okay, nothing further from the truth.
Thank you to the Academy, my fellow nominees, you represent everything that is good and right and human about this profession. You are all extraordinary.
Steven Rogers, look what you did. Look what you did. You are a brilliant writer. Thank you for the gift of LaVona. I did not see this coming, you did. You give new meaning to the word "friend."
To my I, Tonya family: the magnificent Margot Robbie, the fearless Craig Gillespie, a cast and crew and bird that elevated my work.
To Tom and Bryan, Neon, 30West.
My team Janney: Leslie Siebert, Chris Henze, Ilana Reiss, Karen Samfilippo, we've been together a long time. Thank you for all of your work.
Joanne Woodward, I want to thank you for your encouragement and generosity that gave me the confidence to think I could pursue a career in acting.
To my mother and father, Jay, my family, my family of friends, the staff at GADA, you know who you are, I love you. And this is for Hal. You're always in my heart.
Thank you very much.
James Ivory (Adapted Screenplay, Call Me by Your Name)
Photograph: Alberto E. Rodriguez/Getty Images.
Well, I'll try and keep it --- I'll make it as fast I can, before the music plays.
My rule number one for a screenwriter, who adapts a novel, is first thank the author.
Andre Aciman, who wrote the story about first love, and who's here tonight.
A story familiar to most of us, whether we're straight or gay, or somewhere in between, we've all gone through first love, I hope, and come out the other side mostly intact.
Though maybe not without the benefit of loving parents, like the Perlman's in this film.
I want to thank our sensitive and sensible director, Luca Guadagnino, as well as my neighbours in Upstate New York, Peter Spears and Brian Swardstrom who offered me this job.
Of course, I want to thank the film's wonderful emotion-filled actors, I wouldn't be standing up here tonight without their inspired help.
And I wouldn't be standing up here without the inspired help I received from my life's partners who are gone, our writer Ruth Jhabvala, who received this award twice, and our fearless producer Ismail Merchant.
Working with them for close to 50 years at Merchant/Ivory led me to this award. And my profound thanks to the members of the Academy.
In voting for me, you are remembering them.
And finally, my thanks to Sony Classics, to Michael Barker and to Tom Bernard for getting behind this film in such a princely way.
Thank you very much, everyone.
Jordan Peele (Original Screenplay, Get Out)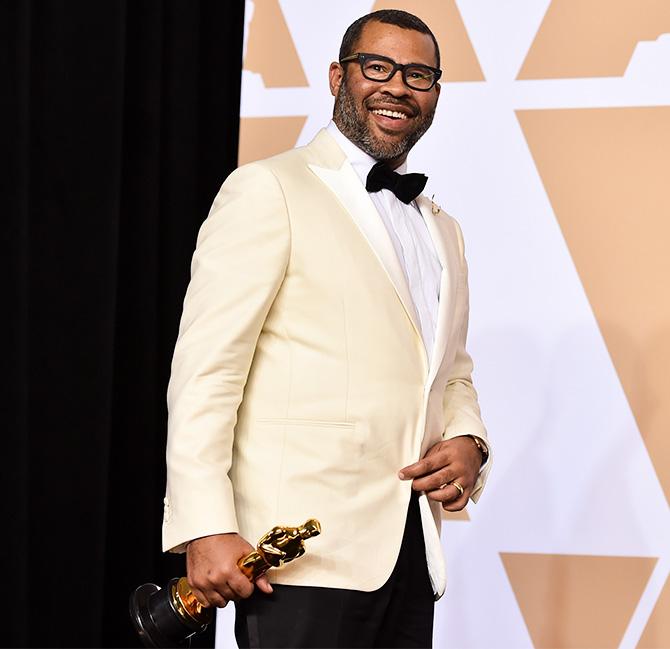 Photograph: Alberto E. Rodriguez/Getty Images.
Okay, thank you.
You guys are going to mess up my jet ski, hold up.
This means so much to me.
I stopped writing this movie about 20 times because I thought it was impossible.
I thought it wasn't going to work.
I thought no one would ever make this movie. But I kept coming back to it because I knew if someone let me make this movie, that people would hear it and people would see it.
So I want to dedicate this to all the people who raised my voice and let me make this movie. Donna, Ron at Universal, everybody, QC, Sean, Ted, Bea, Jason at Blumhouse. You guys, thank you so much.
To the cast and crew, I love you, thank you so much.
My wife, who supported me through this whole process.
My mother who taught me to love even in the face of hate.
And to everybody who went and saw this movie.
Everybody who bought a ticket, who told somebody to buy a ticket, thank you.
I love you for shouting out at the theatre, for shouting out at the screen.
Let's keep going, Brian Roberts, thank you.
I love you all, thank you so much.