As Tamil superstar Vijay turns 47 on June 22, Subhash K Jha picks his five finest performances.
Naalaiya Theerpu, 1992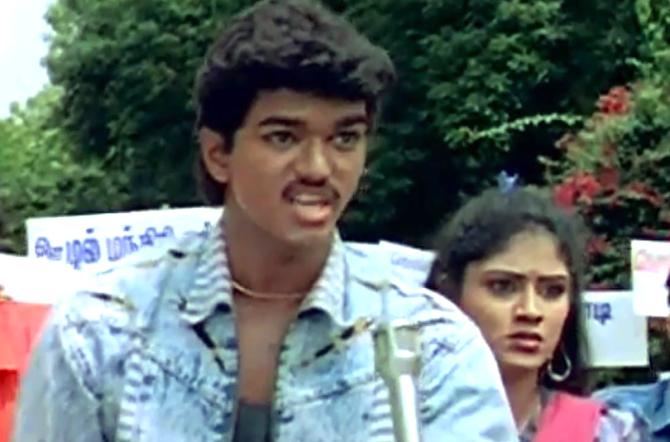 Vijay's first film as an adult actor was an emotional mother-son story, featuring Srividya as his mother.
The actor, who never speaks to the media, once told a co-actor that this is the only film in his career where real tears rolled down his cheeks.
The film -- about an abused wife and a devoted son -- made Vijay an instant star.
It was produced and directed by Vijay's father, S A Chandrashekar, and written by his mother Shoba.
After watching the film recently, I wondered why Vijay didn't do more emotional films.
Thuppakki, 2012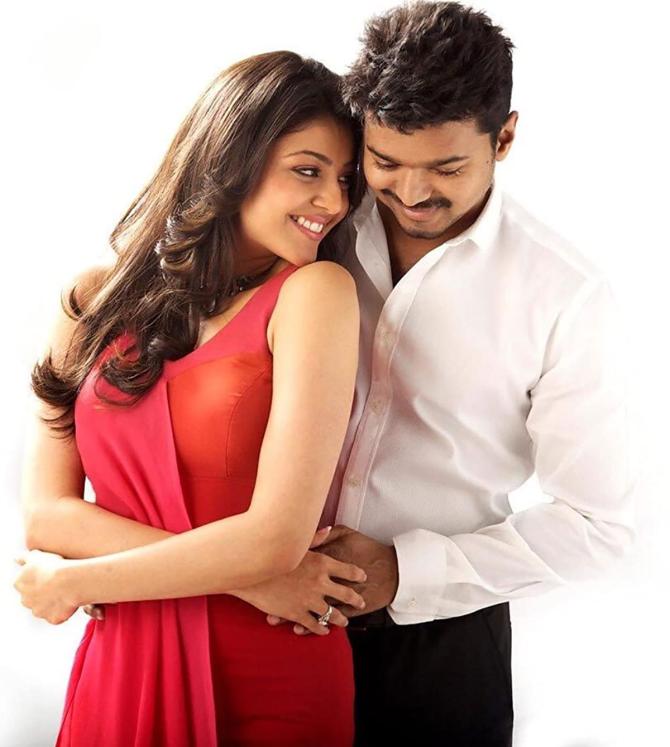 A soldier's duty is never done.
Sounds familiar?
Akshay Kumar reprised the part in Holiday, the Hindi remake of this film, but it was Vijay who nailed it.
In a huge rush of adrenaline, he re-defined the superhero's space without the cape or the mask.
Some Islamic organisations objected to the film, which went on to become a big winner at the box office.
Mersal, 2017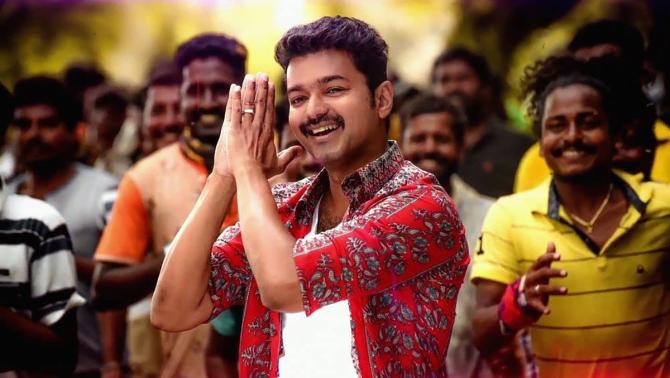 There are three Vijays in Mersal.
Three stars for the enjoyable Vijay-starrer, one each for the three roles he embraces.
Indeed, Vijay's self-love is celebrated by the rest of the smitten cast, who in the true Tamil-Telugu tradition of hero worship, keep glorifying him to a point where no criticism is permissible or even plausible.
While the entire cast, including the three leading ladies, cannot stop singing Vijay's praise, he himself seems to be a fan of the legendary M G Ramachandran. How do I know? He has MGR's pictures on the wall and even visits a theatre showing an MGR film.
Indeed, Rajiniknath and, now, Vijay are the inheritors of the Tamil political cinema that MGR patented in his heydays.
In Mersal, Vijay takes on healthcare with vengeance.
There are aggressive contemptuous references to the Establishment's failure to provide medical facilities for the poor and needy and we have Vijay wagging his disapproving finger at the prime minister with the words -- and I translate poorly -- 'In Singapore, the ill get free treatment although they charge seven percent GST whereas in India they charge 29 percent GST and still don't provide free healthcare.'
I dare any Bollywood superstar to be so openly critical of government policies. It takes guts for a matinee idol to talk politics.
Bigil, 2019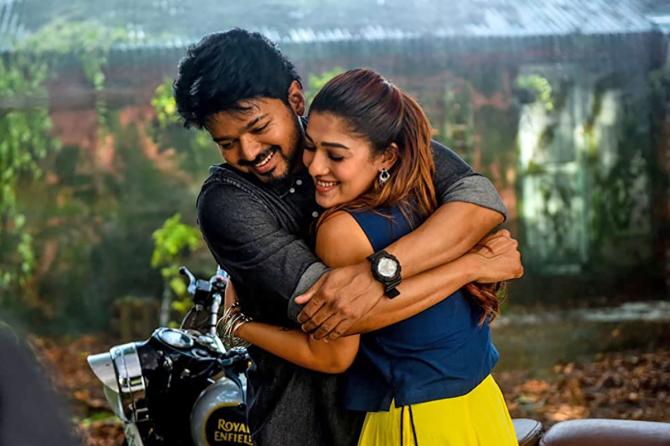 Bigil, which means 'whistle' in Tamil, lives up to its title.
There were wolf whistlers in the theatre every time Vijay came on screen.
I couldn't hear the dialogues; I suspect we are not meant to.
Considering he has two roles, Vijay is on screen almost the entire running time of three hours.
He plays an angry football coach, not unlike Shah Rukh Khan in Chak De! India, except that Khan never danced, sang and fought goons (in the one fight sequence in Chak De, he let his hockey team beat up the goons).
Vijay never stops.
The career dilemma for a superstar who must deliver what his fans want is resolved by positioning Vijay as a star with human frailties on display.
He is a football coach and prone to bouts of identity crisis because of a troubled relationship with his father.
As his own father, Vijay is not too convincing.
His body language suggests no age. Only suppressed rage.
The son Bigil (aka Michael) is Shah Rukh Khan's Chak De avatar reborn. There are flashes of genuine warmth in Michael's interaction with his all-women's football team which, though representational (one is an acid victim etc), manages to make a statement about why women are left behind in the field of sports.
Director Atlee doesn't allow Vijay's stardom to diminish even as sections show the actor struggling with issues that go beyond patriarchal arrogance.
It would be too much to expect humility in Vijay's performance but he comes closer to vulnerability in this film than any other.
Master, 2021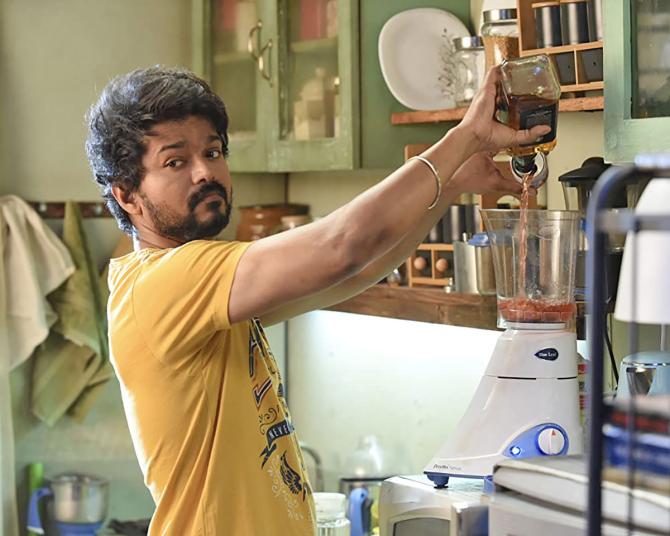 It takes a Vijay to bring the audiences back to the theatres.
COVID be damned, Master proved to be a monster hit at the southern box office.
It's streaming on OTT now but the fire-and-brimstone impact of a demigod striding across the screen as he takes on the villains is lost at home.
To enjoy a Vijay starrer, you have to watch it with his fans as they shriek their approval every time he breaks a bone or breaks into a dance.
This time, I have to admit the script supports the Tamil superstar's iconic image with twists and turns that are frenetic but not incoherent or disjointed.
There is none of that disdain for the rules of storytelling that we have seen in the other Vijay-starrers.
On the contrary, I'd say this is the superstar's first genuine stab at socio-political relevance.
At one point, Vijay smirks and says, 'Some here may not like me but there are millions out there who do,' drawing attention to his popularity that threatens to seep into politics.
Vijay plays JD, a college lecturer hero-worshipped by his students even though he is notorious for his drinking habits.
After 6 pm, he is out of his senses, boast his admiring pupils, speaking of him in folklore fashion, as though alcoholism was a form of meditation. Which if you are Vijay, it probably is.