'There are 15 songs in Manmarziyaan.'
'For the first time in the history of Anurag Kashyap, there are two dancing numbers.'
'Luckily, people are not taking this as a serious Anurag Kashyap cliched film.'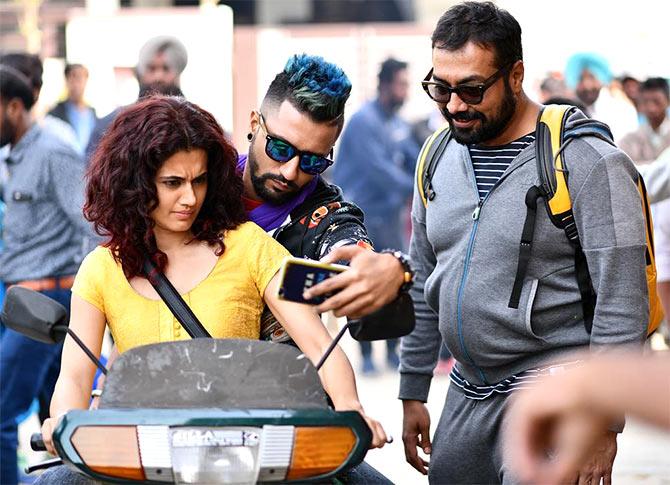 Taapsee Pannu has had an amazing year with back-to-back releases.
Mulk received some mixed reviews, but opened up a debate on how this great nation treats its biggest minority.
Mulk was followed by her Telugu film, Neevevaro.
This week, Anurag Kashyap's much-awaited Manmarziyaan releases.
Wearing a white silk dress with oxidised jewellery, Taapsee tells Rediff.com contributor Urvi Parikh, "With Vicky, I have amazing chemistry and biology whereas with Abhishek, I have awesome physics and chemistry."
What feedback have you got from the Manmarziyaan trailer?
People have been messaging me saying what have you done?
Coming from a series of serious roles and films, maybe people expected me to be this righteous person doing some sorted things.
And then, suddenly comes this girl, who is all over the place.
That came as a breath of fresh air, which was a surprise and shock for everyone.
Luckily, people are not taking this as a serious Anurag Kashyap cliched film.
People are laughing at my lines, which is amazing.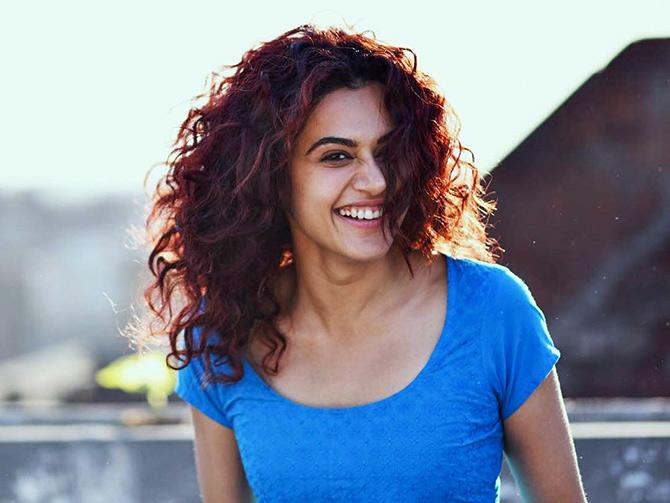 Can you relate to your character, Rumi?
Anurag Kashyap believes I play myself in the film -- only the name has been changed from Taapsee to Rumi.
The story, he thinks, is (writer) Kanika Dhillon's biopic.
He has been calling up her friends and asking, 'Who is the Vicky in her life?'
But I disagree with Anurag sir.
I am not Rumi.
I have the brains to think about what I am doing. Rumi doesn't think.
The music of film has received a thumbs up...
(Interrupts) The narration of this film happened with the music.
Kanika was explaining the script and the music was playing simultaneously.
It's the first time that I heard a narration of a film with songs.
I heard four or five songs during the narration.
When we went on the sets, Anurag sir told me there were more.
He said it is a musical love story; there are 15 songs in the film.
For the first time in the history of Anurag Kashyap, there are two dancing numbers, which have been choreographed.
This is Anurag Kashyap 2.0.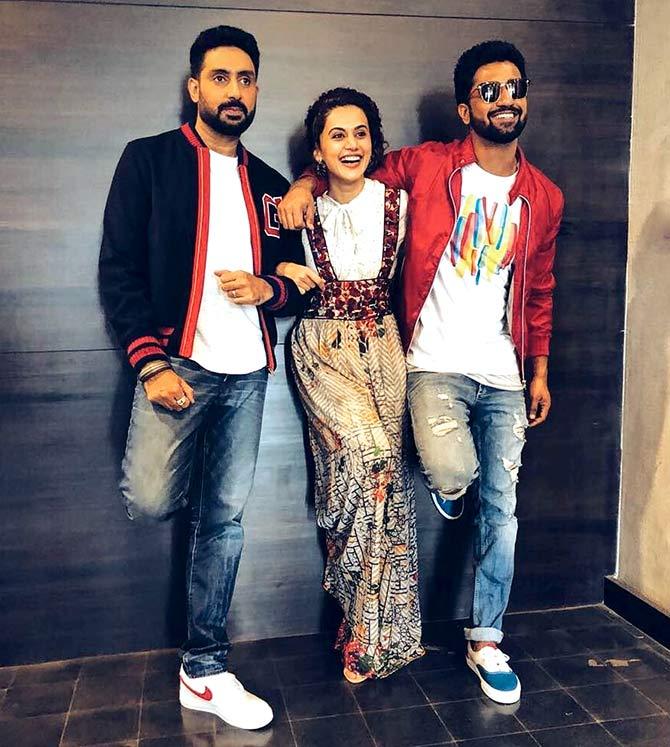 What was it like working with Abhishek Bachchan and Vicky Kaushal?
Abhishek and Vicky look like brothers; they can easily pass off as siblings.
Work wise, they are as different as chalk and cheese.
Vicky is spontaneous. We never rehearsed our scenes.
We would go directly to the sets and shoot.
According to Anurag, Vicky's character DJ Sandzz is his alter ego.
He thinks I am Rumi, so he did not give any description about the scenes.
He would just tell us the locations and the scene number and we would have to do it.
But with Abhishek Bachchan, it was the opposite.
He is more of a sorted and matured person, so was his character.
He was slightly relaxed while the scenes between Vicky and me were very high on energy.
With Abhishek, the scenes had thehraav (calm).
Abhishek likes to rehearse his things, like Mr Amitabh Bachchan.
And I am very bad at rehearsing.
Main kharch ho jaati hun usme (I get drained in rehearsals). I had to adjust to that.
With Vicky, another thing is that I had to be on my toes, alert.
He is such a good actor and so spontaneous that I would think, 'Taapsee, be alert nahi toh yeh scene le jayega tere naak se aur pata bhi nahi chalega (watch out, else he will steal the scene from under your nose and you won't even know).'
You have to have that consciousness when you work with good actors.
I was constantly intimidated.
With Abhishek, since he played a mellowed down character, he radiated a very positive energy.
This is something even Amitji has in him -- especially when you look into their eyes and perform.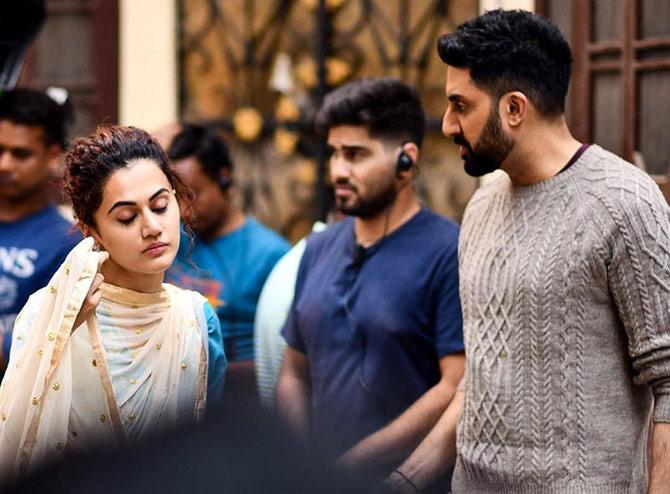 How different are Amitabh and Abhishek Bachchan?
Everything is different apart from their demeanour and voice texture.
Their approach as actors is different.
Mr Bachchan wants to rehearse everything to the T before he shoots.
Abhishek will rehearse slightly and then say let's shoot and see how it comes out.
Mr Bachchan wants everything perfect.
Abhishek is like a brat. I love his sense of humour.
You have an intense chemistry with Vicky Kaushal, whereas with Abhishek it is a subtle romance. How did you break the ice with them?
With Vicky, I have amazing chemistry and biology whereas with Abhishek, I have awesome physics and chemistry (laughs).
This is very scientific.
With Vicky, our chemistry had to show from the first scene.
With Abhishek, the chemistry builds through the film and there was time to develop it.
That is why with Vicky, it was necessary to break the ice.
I had to spend time with him before we started shooting. I had to know him well.
With Abhishek, I didn't have to break the ice because I have known him from before, when I was working with Mr Bachchan.
I am an expert in breaking the ice with people.
I can talk to a wrong number for 15 minutes! I am very good at it.
Vicky must be thinking I am mad.
He is a little shy and a laidback kind of guy. He takes time to open up.
When Vicky sent me the picture of his hairstyle, I was like 'Yeh kya lag raha hai' and we bonded from that point only.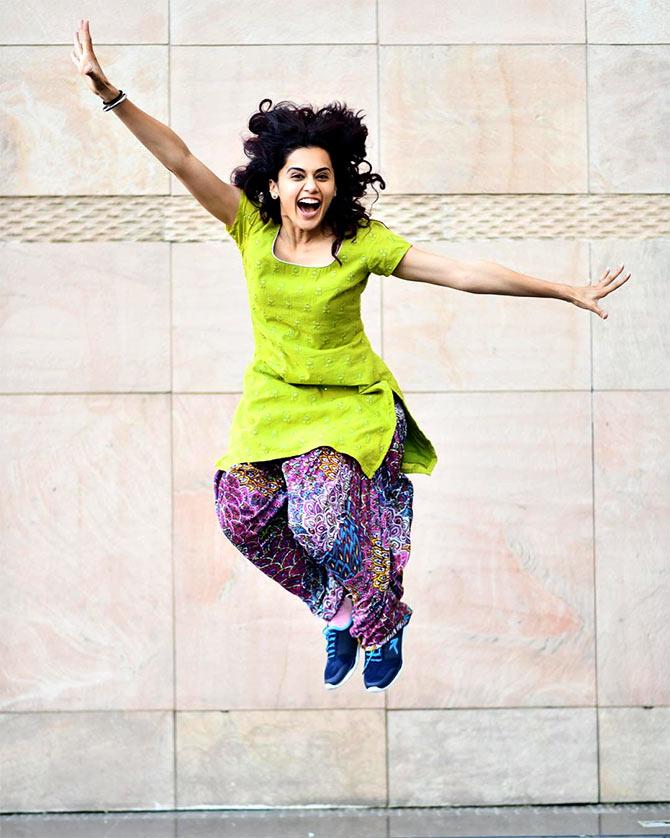 As Taapsee Pannu, who would you choose in real life: Robbie or Vicky?
I will 100 percent choose the one who takes responsibility.
I have always been a black and white person.
This works for me, this doesn't.
I like this, I don't like this.
If I am in a relationship, I would have imagined a marriage with him and kids. Only then I would go ahead.
How do you give your nod to a film?
I hear the script and then think whether it will be worth Rs 250, Rs 300 (the price of a movie ticket).
I see if it is worth it or if I will regret it.
Then I think will I have fun working with the director and the cast.
The last thing is, which sounds pretty awkward to people, is that I want to have a filmography that I can show to my kids.
Did you think you would get to work with such big names in the industry?
I didn't even know that I would continue this job for long.
I realised that I want to be an actor after my first film released.
I didn't take acting seriously back then; I was preparing for my MBA degree.
After the first film released, I saw the response and realised that this is working.
So I decided to put in proper planning and set an aim.
I decided to do it properly and worked on it.
Everything is a bonus for me right now.
2018 has been an amazing year. At any given time, you are promoting more than one film. How do you juggle the promotions?
I wake up in the morning and take five seconds to think which film's promotion I am doing for the day.
I am promoting three films at any given time.
I am still talking about Mulk, then there is Manmarziyaan and there's a Telugu film (Neevevaro) that released two weeks ago.
But I am not complaining.
I have worked really hard to reach here.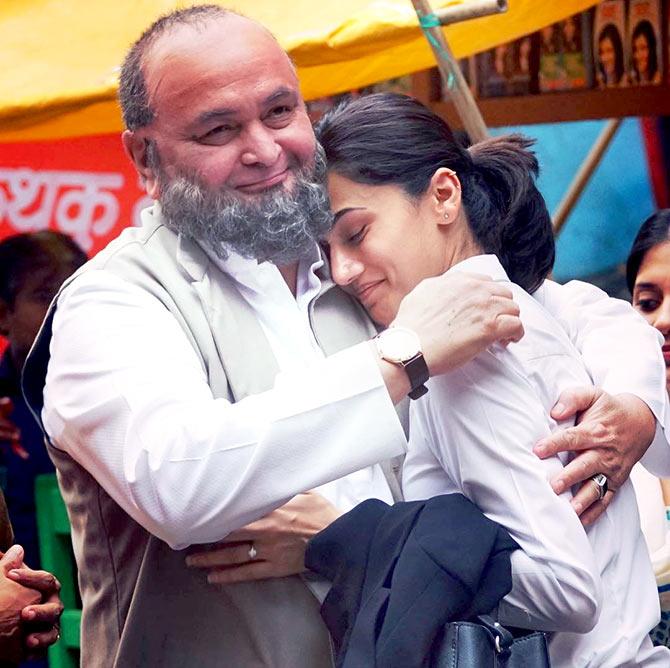 Was it taxing to do the climax scene of Mulk?
It was a one-take scene -- from that interrogation scene with Rajat Kapur to that scene with Rishi Kapoor.
Since the time I got the script, I was so kicked about it.
I learnt the lines by heart, but didn't know how I would perform it.
On the day of the shoot, I did this in one take.
But during the take, there was this girl in the scene. She got a cough attack and it was shot on sync sound.
She didn't know that she could get up and go out.
Poor thing, she kept sitting because she thought there were five cameras capturing us.
And it kept coming in my sync sound.
After the scene, people clapped, the director came and hugged me.
Then the sound designer told us that it had to be repeated because of that.
I felt so bad; it was shattering.
I told my director I cannot do it again.
He said, I had to.
I convinced myself to do the scene again and it was taxing.
Eventually, they ended up using the first take by cleaning it.
Is it a conscious thing to balance content-driven movies with masala entertainers?
They have different target audiences, that is why I do them.
I want the audience to watch me in Judwaa 2 and then browse my other movies and see them.
Also, it gives me a nice breather.
Yes, it's a conscious move to balance them, otherwise, I will be stereotyped.
The list of actresses, who want to do those masala entertainers, is long. They are good looking and fit the role, that is why I get less chances.
You are very expressive on social media.
I am hyper active there.
It's fun to handle trolls. They are my best friends.
Because of them, I get more followers, the media praises me.
I read all the messages and posts. And when I get stuck in traffic, I reply to a few of them too! (laughs).