The Tamil film industry has rushed to the aid of the thousands of tsunami-affected people in the state.
Vikram has given Rs 1.5 million, Vijayakanth and Ajith Rs 1 million and Satyaraj Rs 100,000 to the Fund. Vijaykanth has also given Rs 200,000 to Pondicherry and visited Nagercoil, Kanyakumari, to help with relief work.
Veteran actor Sivakumar sent his son Surya to Chief Minister J Jayalalithaa's house with a donation of Rs 200,000.
Parthipan and his children Keerthana – National Award winning child artiste for Kannathil Muthamittal – and Ramakrishnan collected money for tsunami victims. They also distributed food, clothes and water to those rendered homeless in Chennai.
Others spotted taking active part in relief work included actors like Surya, Jyothika, directors like Bharatiraja, S J Suryah, Cheran, Nasser and the father-daughter duo of Charu Haasan and Suhasini Mani Ratnam.
Actor Sarath Kumar read out a statement on behalf of the Tamil film industry mourning the thousands who lost their lives.
'We pray to nature to leave us in peace,' he said. Ajith, his wife Shalini, Arjun, Satyaraj, Surya, Srikkant, Vijayakumar, Manorama and many other industry bigwigs were present.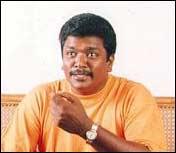 But the man who opened his house to the homeless was filmmaker Krishnamurthy Vijayakumar, who lives on the San Thome High Road, a few metres from the sea.
He gave shelter to about 300 people hours after the disaster. He is looking after them till they are rehabilitated.
Most of the people of Thevanampattinam, Cuddalore, didn't know who Vivek Oberoi was before the tsunami struck. Now, he is their guardian angel.
Vivek, who visited affected areas in Cuddalore along with his parents, has decided to adopt Thevanapattinam, the biggest and the worst hit fishing village in the district.
One of the first things Vivek did in Thevanapattinam was conduct a mass prayer presided over by his spiritual guru Swami Chidanand Saraswathi.
He also gave the victims blankets, plastic buckets and clothes and has promised to rebuild houses, get the boats repaired and buy fishing nets so that the villagers can begin life afresh.