'I am not a part of any group or politics.'
'I work with everyone.'
'I have worked with Akshay Kumar and Ajay Devgn.'
'None of the Khans have ever taken me in their films.'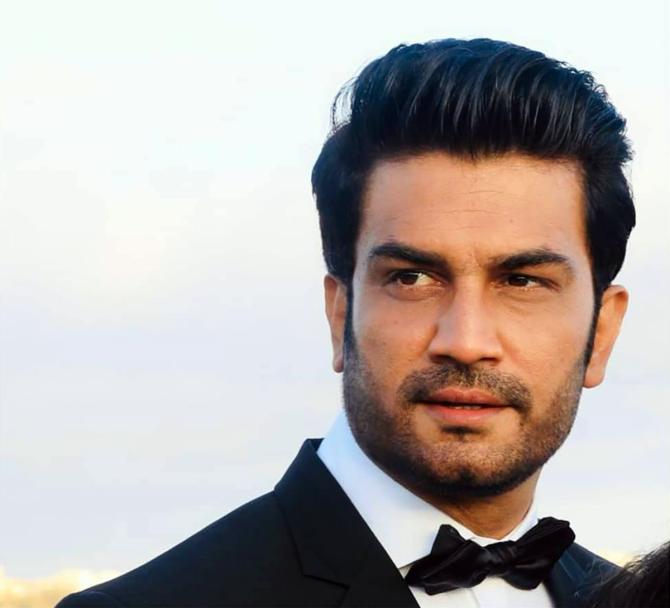 "I never like myself on screen," confesses Sharad Kelkar.
Yet, audiences have appreciated his performances in Laxmii, The Family Man, Bhuj: The Pride of India.
"If the audience loves me so much, at least now producers should give me a lead show," he tells Patcy N/Rediff.com.
Is your wife happy with the kind of work you are doing?
My wife (Keerti Gaekwad Kelkar is a well-known television actress) praises my work.
She also gets angry with me because I go out of the house every day. I explained to her that if I don't go out of the house, ghar mein roti kaise aayegi.
She is very critical about my work.
I am not a great actor; I am a smart actor.
My wife taught me basics of acting, that's why she is my biggest critic. She feels I am capable of a lot more.
I just did an English film called Déjà vu. I am not fluent in English, so I get nervous and stammer.
There were two long monologues, so I was terrified.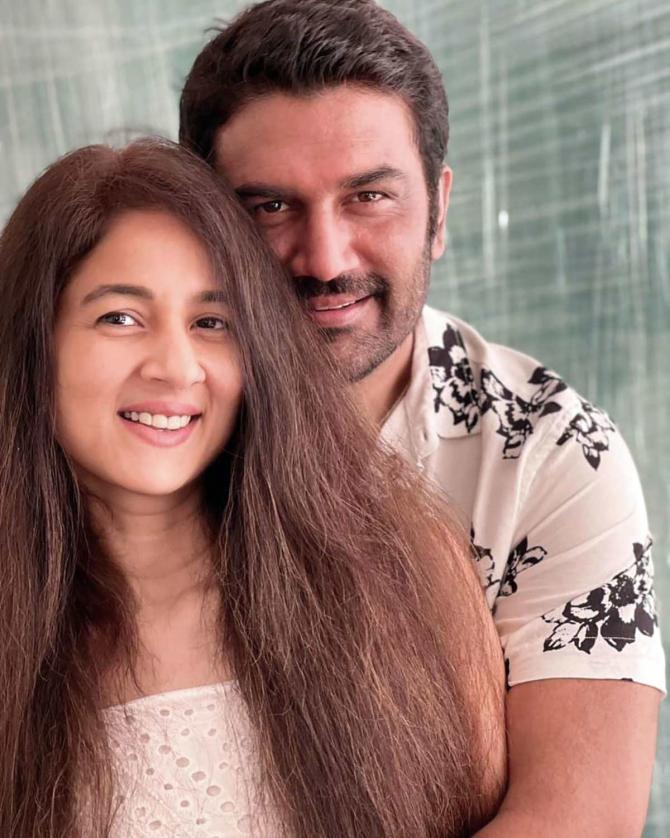 As a child, you stammered and you were bullied. How did you overcome stammering?
We demoralise kids who stammer.
Whenever I opened my mouth, people would say 'tu chup re' or 'bahut time lagayega bolneko' or 'tu toh rehne de, yaar.'
I never did theatre because of my stammering.
I didn't dare to talk on a public platform.
But I would sing in public without stammering. I have won many singing competitions.
I never went for any speech therap,y but when people started telling me to talk slowly or breathe while talking, I started paying attention to that.
I realised I did not stammer while singing because while singing, we concentrate on our breathing.
So I started concentrating on my breathing while talking.
I started observing Amitabh Bachchan and how he breathes while delivering his dialogues. He breathes perfectly when he delivers his dialogues. That's an art.
So I corrected my breathing and overcame my stammering.
Even today, when I get breathless after climbing stairs, I still stammer because at that time, I am not in control of my breathing.
Do you watch your films?
Yes, and I criticise myself.
I never like myself on screen.
I am never happy with my performance.
I find myself fat sometimes.
I didn't like myself in Laxmii. I looked too fat.
There were a scene where I could have performed better; I could have been more subtle.
I am critical about how my hands move on screen.
But I think I was best in that stage scene in Laxmii. I am proud of it.
Whenever I watch that scene, I cry.
I even cried watching myself die in Bhuj: The Pride of India.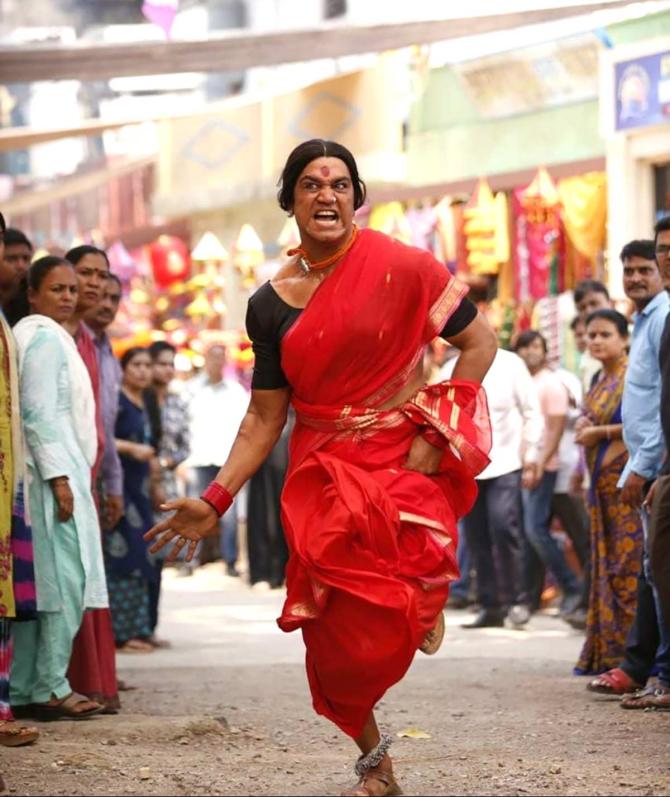 With the OTT boom, character actors are getting prominence. Do you agree?
Touch wood, things are changing now. The perception of the audience has changed.
Character actors are getting opportunities to play different kinds of roles.
I have been in the industry for so long now; it's high time we get our due.
I have five-six releases in the next 10 months.
I am not the only actor who is getting his due. There is Manoj sir (Bajpayee), Jaideep (Alhawat), Pankaj Tripathi...
There is no need of a star system now.
I don't agree. To be honest, to run any business, you need pioneers. In our business, those pioneers are stars.
Theatres will lose out if we shut down the star system.
Avengers works because of stars. If you replace Robert Downey Jr, Chris Evans and Mark Ruffalo with some unknown actors, the film will not work.
You can't think of John Wick without Keanu Reeves.
I have seen some good movies with unknown actors, but such movies don't work.
To make revenue, we need stars.
I understand that there are good actors and everyone should get their due. But if you think of the business of cinema, the star system has to be there. They bring in money.
The Marathi film industry is dying because there are no big stars. They worry about how they will recover the money even for a small film with a budget of Rs 3 crore (Rs 30 million).
It's the oldest industry; Dadasaheb Phalke, a Maharashtrian, started the film industry.
They have great content, but no stars.
We are the king of content, but bad at business.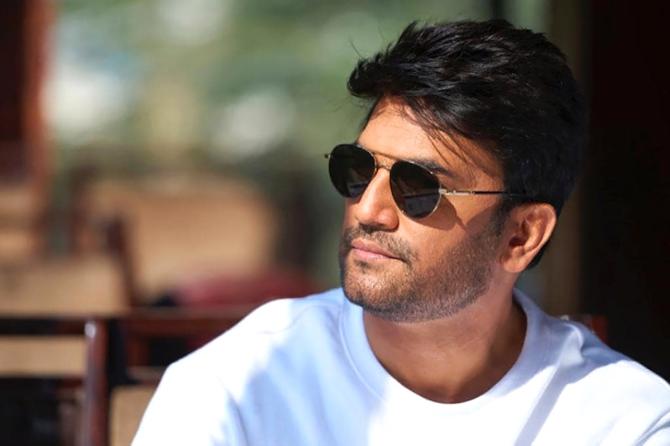 Thanks to OTT, every actor has become a pan India actor.
That's the best part of OTT.
I am doing films in different languages.
Every industry's work pattern is different, even the visuals are different, and you get to learn a lot.
Because of this, you don't get bored or stagnant.
Vijay Sethupati is doing Hindi.
Samantha Akkineni and Priyamani did The Family Man.
I think it's a fantastic thing.
We had such brilliant actors in The Family Man... who knew Chellam sir (Uday Mahesh)? Today, everyone knows him.
There are so many brilliant Bengali actors like Dibyendu Bhattacharya. He is a good friend.
He has been working since Black Friday, but he has got recognition only now. He will be doing Mafia.
Then there is Swastika Mukherjee and Parambrata Chatterjee...
All these actors are resurfacing and they are doing great.
I think it is good for the industry too.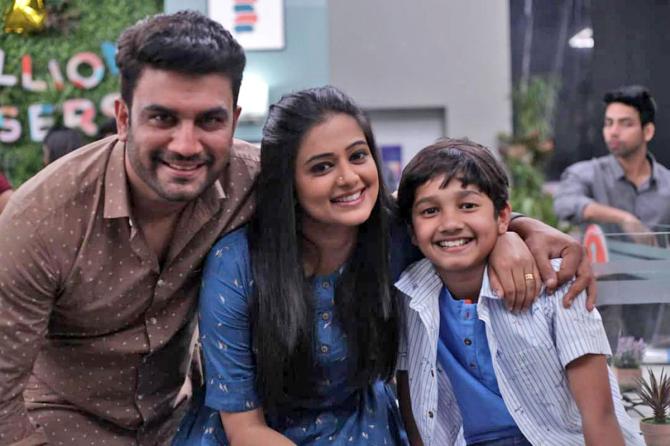 People appreciated you in Laxmii and The Family Man&.
If the audience loves me so much, at least now producers should give me a lead show.
If I am getting recognised in the middle of so many big actors, producers should understand that.
Has it happened to you that when you read a script, you love it but during the shooting, you feel it's not going anywhere?
Yes, it has happened a couple of times.
When a film is not going according to plan, everybody associated with it knows that.
I never read a script; I ask for a narration. I want to know the director and writer's perspective about the film or show.
If I read it, I would just read the script through my character's perspective. I will be bothered only about what I am doing in the film or show and that 'I' will ruin it.
When the film is not going according to what I had heard in the narration, I realise it quickly.
But as an actor, you have to still give your 100 percent.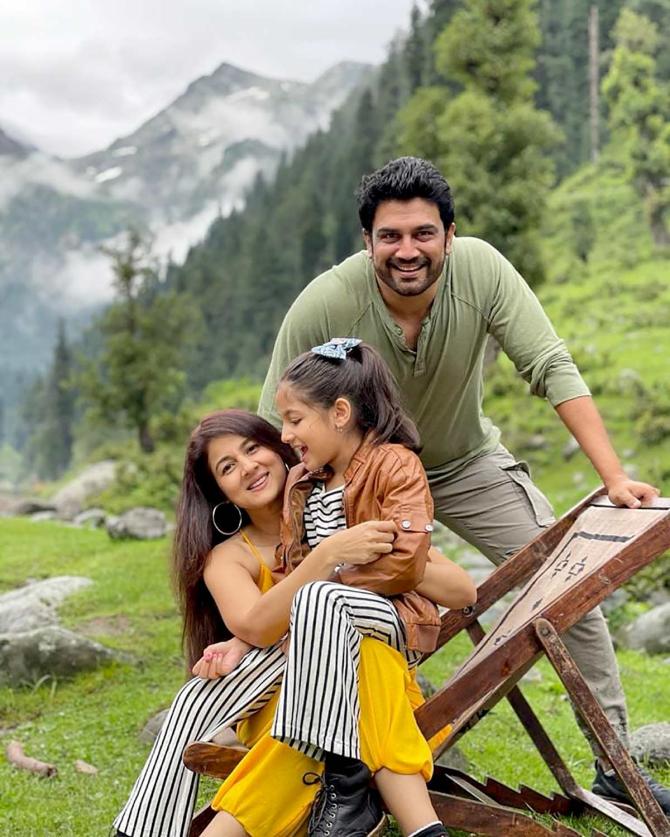 Are you happy with the way your career has shaped up?
I am a kind of person who doesn't get too happy or sad.
My only worry is that I should get work.
If I get work, I am happy.
I am a middle-class mentality person.
I should get work, money should keep flowing.
Mera ghar chal jaye, my daughter should get a good education...
I am not a part of any group or politics.
I work with everyone.
I have worked with Akshay Kumar and Ajay Devgn.
None of the Khans have ever taken me in their films. They were talks with one, but it did not happen.