'Previously, when people used to meet each other, without any hesitation, they used to hug each other or shake hands.'
'But no longer.'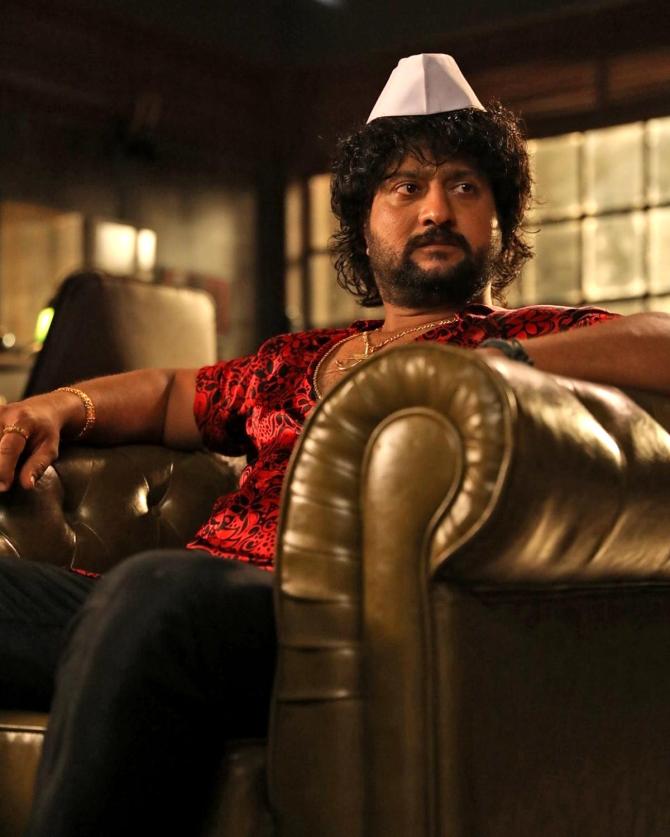 Jitendra Joshi has received a fair share of praise for his latest Web series, Cartel.
The actor, who stepped into the spotlight with his terrific performance in Sacred Games, tells Rediff.com Contributor Prateek Sur, "The kind of offers that I received after the success of Sacred Games was all of playing hawaldars, and I did not want to do any of them. I kept waiting to get good work. I am not in any hurry."
What drew you to Cartel?
The story of the three brothers was quite different.
Such bonding does not happen that often.
Plus, I would say every artiste -- at least I am -- is selfish for good work.
I was waiting for something which had everything in it.
I really enjoyed working on this.
It took a long time to complete, over two years.
It got stuck because of the pandemic. Otherwise, it would have come long back.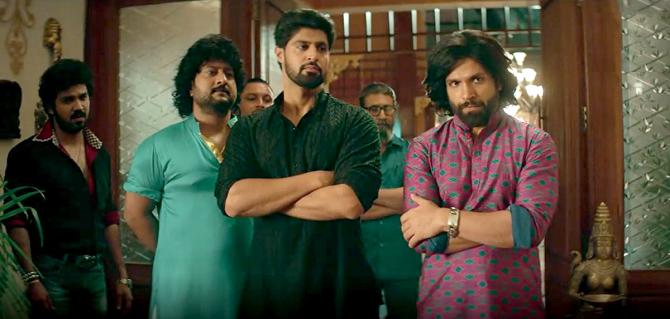 How did you approach your character? Did you improvise?
The director was very open to improvisations, so yes, I have done a lot of that.
I am one of those actors who love to improvise.
But I am also a director's actor.
If the director says no, I will not do it.
There have been so many times when Tanuj Virwani started laughing in the middle of a take because of my improvisations.
Tanuj's character was like that. He was playing a major and therefore, he was made to stay bound to the script.
Rithvik and I were let go off freely.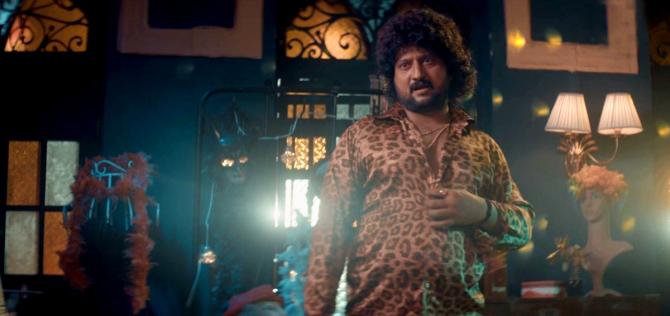 You have done a couple of OTT shows.Do you enjoy the freedom from censorship on OTT platforms?
I enjoy whatever I do.
I have done projects in my career which if I had not done them, it would have been much better. But I would never say that I did not enjoy while doing them.
To be honest, as an actor, you are not looking out for these aspects.
During the time we shot Cartel, if I had thought about where it is going to release and how it would be edited, it would not have been right for me as an actor.
My work is not to look at these aspects. The makers are going to look after that.
My work is to enjoy what I am doing.
If the artist is enjoying himself while playing that character, it is visible on the screen.
How different is shooting a Web series from a film?
I don't find it very different. The way the content gets presented can keep getting changed over time but the work remains the same.
For example, when I was growing up, we used to make plans to go to the theatres to watch a movie of say Anil Kapoor or Amitabh Bachchan or Govinda.
Nowadays, you can just switch on your mobile, make the card payment, and start watching.
So times have changed.
Apart from that, there is no other difference.
Even today, if someone is feeling sad, they have to emote sadness.
If someone is feeling happy, they have to laugh.
The nature of human beings has not changed and so the way of making (a Web series or film) is pretty much the same.
The medium for audiences to enjoy may be different but the work is pretty much the same.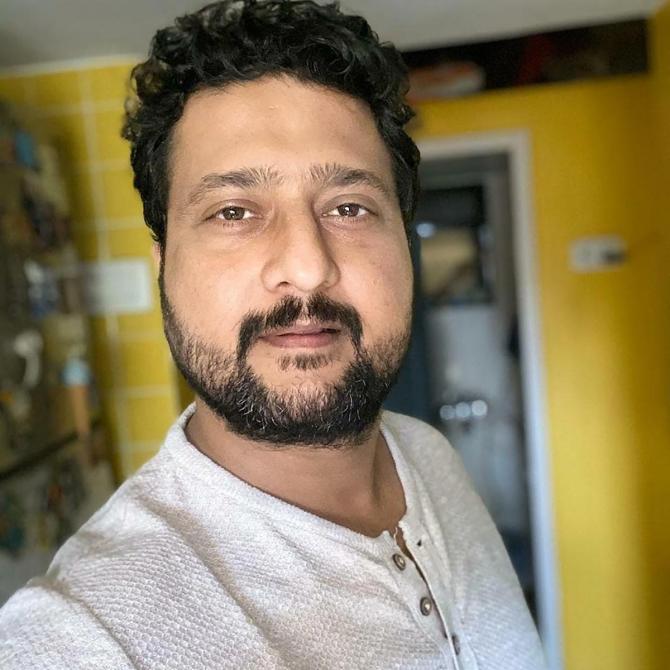 You are a big name when it comes to Marathi cinema. Why do we see you so infrequently in Hindi films?
I began from Marathi theatre.
It was during that time that Mahesh Manjrekar had seen me in a Marathi play, and he offered me a Hindi film, Pran Jaye Par Shaan Na Jaye.
It may be shocking, but ever since I came to Bombay, I have never gone and asked for work.
I always believed in getting work on my own merit.
I am actually Marwari, but I continued to get work in Marathi cinema, so I kept doing that. Even today, I am doing that.
Even today if there is a film offered to me in Hindi and at the same time, I have a Marathi film with a script that is more powerful than the Hindi one, I would take the Marathi film.
For me, the script is the most important thing, not working with a big star in Hindi.
Has OTT changed the game for actors by bringing in so much work?
What OTT has done is that it has put all actors to work.
The star system has changed.
People have realised that even in a 15-second video or audio, they can become popular.
Another thing I feel is that artistes are becoming more prone to overexposure.
The artistes have come really up close to the audience.
They have gone into the pockets of the audiences.
After coming so close to the audiences, how do actors maintain their exclusivity?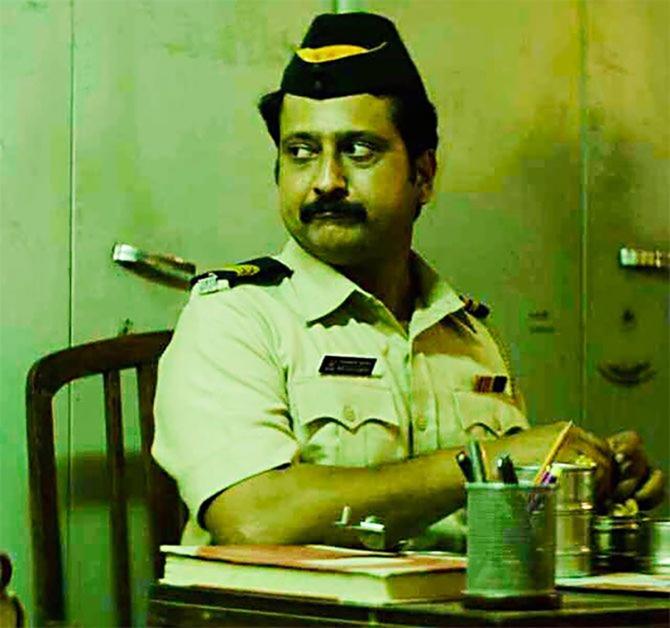 You are a writer yourself. You sing and write lyrics as well. What do you enjoy most -- acting or writing or singing?
A person enjoys only when his household economics are running smoothly (laughs).
My household finances are taken care of, thanks to my acting.
If my household would have run smoothly with my writing, I would have never come into acting.
I used to write lyrics a lot, but later, it became a hobby because I was not earning enough.
But now I enjoy myself as an actor.
I am growing slowly and steadily as an actor and learning every day.
Did your life change after the massive success of Sacred Games? Did it open up the doors to Hindi cinema? Are you getting more scripts from Hindi filmmakers now?
Not really. The kind of offers that I received after the success of Sacred Games was all of playing hawaldars, and I did not want to do any of them.
I kept waiting to get good work.
I am not in any hurry.
You are making a debut as a producer with Godavari. Its release got pushed due to the pandemic. What's the status of its release date?
We have shown the film to a lot of people.
Even OTT platforms, who had expressed their interest in buying the rights for the film had come and watched it. After watching the film, everyone has unanimously said that it should release in theatres.
For me, that was surprising that the buyers were only saying that you should release the film in theatres.
I realised that I should wait.
But I can promise you that within a month's time, I am going to give you some very happy news on Godavari.
What sort of difficulties are you facing while shooting in this 'new normal'?
People have started doubting one another -- that is the worst thing that has happened now.
Previously, when people used to meet each other, without any hesitation, they used to hug each other or shake hands. But no longer.