Rishi Kapoor passed into the ages on Thursday morning.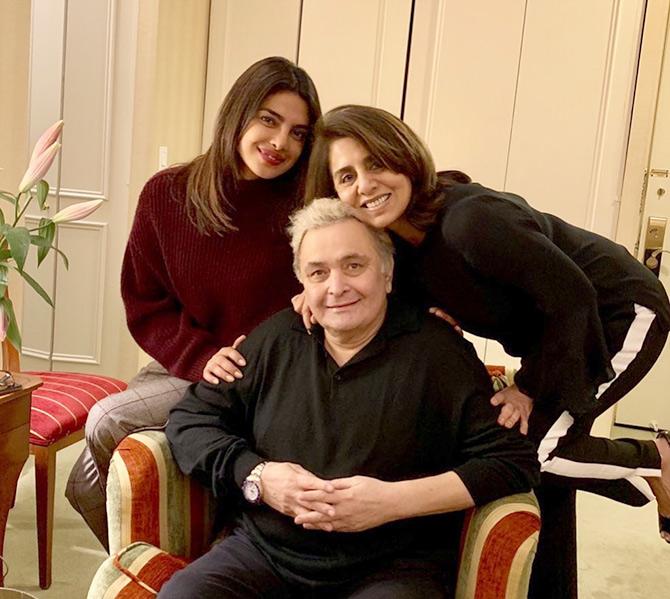 Priyanka Chopra: My heart is so heavy. This is the end of an era.
#Rishisir your candid heart and immeasurable talent will never be encountered again. Such a privilege to have known you even a little bit.
My condolences to Neetu maam, Ridhima, Ranbir and the rest of the family.
Rest in peace Sir. #rishikapoor
Urmila Matondkar: With tears in my eyes I bid this adieu..to an actor who played my brother, father n also my hero eventually..whose songs I grew up loving n dancing to..
my most favourite n versatile actor..‬what a pity never got to meet him after n now never will..
RIP Rishi kapoor
Isha Koppikar: I don't think I can even process this information. Just heard about the demise of another legend this morning and I'm shattered.
Condolences to the Kapoor family. Om Shanti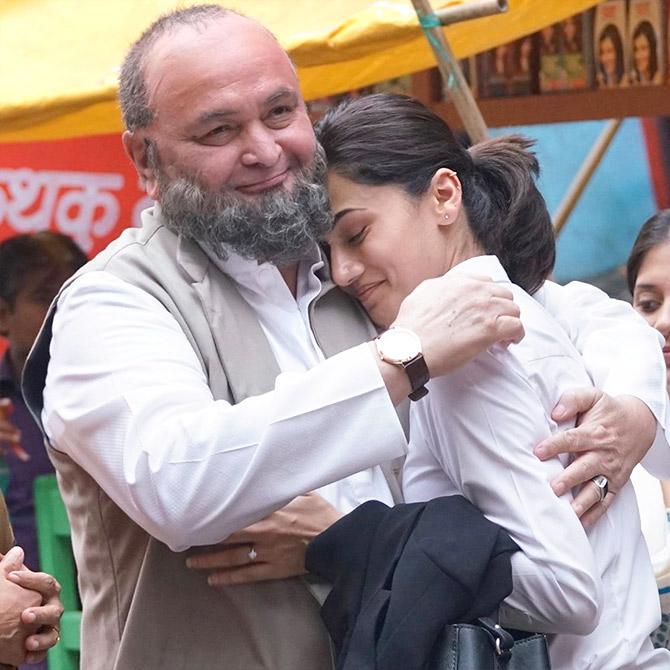 Taapsee Pannu: My most favourite picture with him.
Worked with him twice n the kind of brash honest compliments this man gave have never left my heart n mind.
Even in his bullying there was so much love that one couldn't help enjoy listening to him.
The most entertaining stories came from him. the only costar of mine who could beat me in being 'brutally' honest.
Sir humaari hat-trick reh gayi. I'm sure I will meet him somewhere n this hug shall be repeated with the same smile on our face.
Kumar Sanu: Never thought I'll have to write back to back about 2 legends demise!
Great actor Rishi Kapoor Ji is no more! It's a huge loss! I was very fortunate to be able to sing for him.
May his soul Rest In Peace
Shilpa Shetty: Waking up to a news like this is gut-wrenching!
A Legendary actor, loved by millions of people around the world has just left us.
Your style, brilliance, your smile, and joie de vivre... will be dearly missed,
Rishi ji Your legacy will live on for generations to come. My heart goes out to @neetu54 ji & the entire family in this tough time.
Tusshar Kapoor: This is devastating! Had literally grown up in front of him, like part of my family!
Words can't express my feelings right now, imagine what millions of his fans must be going through!
A truely gifted natural cinematic genius!
RIP chintu uncle...you will be missed!
Aahana Kumra: This void cannot be filled.... An irrepairable loss to us all...
Gone...just like that... Leaving us with so many memories.....
Rest In Peace #RishiKapoor sir.. My thoughts are with Neetu Ji, Riddhima, Ranbir and the whole Kapoor Family.
Kunal Kemmu: Heartbroken to hear the terrible news.
A legend not just as an actor, but as a personality as well has left us.
I grew up watching and being in awe of your evergreen charm and versatility.
You will forever be smiling in our hearts.
Your performances and stories always brought joy to one and all.
Love you Rishi sir. You are in my thoughts and prayers. Condolences and strength to the family.
Kajal Aggarwal: 2020 cannot get any worse!
Loss of a legend. Om Shanti Rishi sir.
I am sure you must be illumining the heavens, the shining star you've always been!
This feels like a personal grievance, Cannot even fathom what the family is going through. Heartfelt condolences.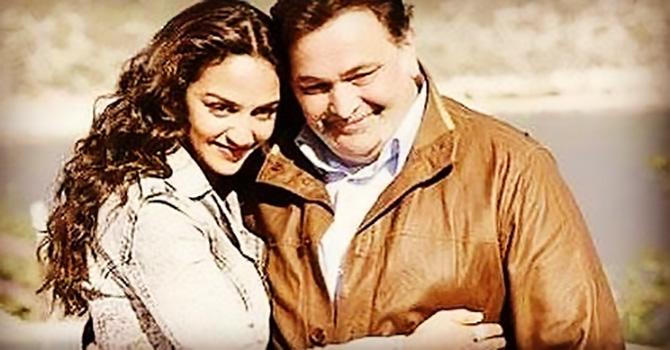 Esha Deol: No way ! I don't want to believe this news!!!! Heartbroken Rishi uncle no more! we all are gonna miss u a lot!
Hema Malini: Unbelievable that such a warm human being is no more!
Recall all my movies with him Ek Chadar Maili si, Naseeb etc &under my direction, Tell me oh Khuda.
Such a lively interaction with him always!
My heart goes out to dear Neetu, Ranbir & all his family. God be with thm
Both tragedies have happened in ths terrible time of corona & it is too much to digest.
Such a wonderful actor,Rishi, snuffed out just whn we thot he was recovering.
Sad tht we cannot pay our last respects to this lovely person.
We are all with the Kapoors in spirit in ths tragedy.
Vivek Oberoi: Shocking. What a terrible time for our bollywood family. Cannot believe we just lost another one of our best.
Chintu uncle u were irreplaceable & legendary, we will always miss u.
My heartfelt condolences to Neetu Aunty, Ranbir, Riddhima & family. Om Shanti. RIP Chintu Uncle
Arbaaz Khan: Two powerhouse performers gone too soon huge loss to the film world and all their fans and admirers.
Prayers with both their families friends and loved ones. They will be missed #ripirrfankhan #riprishikapoor
Twinkle Khanna: Chintu Uncle will be missed terribly.
There was never a dull moment when he was around. He was a legend on screen and also off it.
Heartbreaking for all of us who loved him.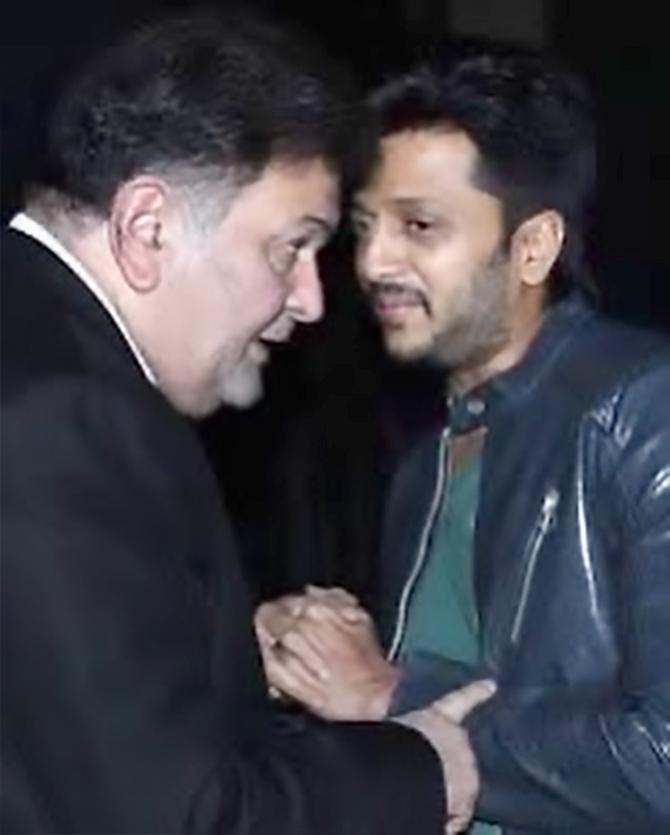 Ritiesh Deshmukh: Am devastated, heartbroken...
King of charm, King of Romance, the legendary actor Rishi ji just said 'pack-up'.
Not fair Sir, you said we will do a film together.... just not fair.
My heart,thoughts and prayers are with Neetuji, Riddhima, Ranbir, the entire kapoor family and loved ones.
India lost a bright, shining star. You will live with us forever. #RIP #RishiKapoor ji
Sonu: Sood: Cinema can pass Not RISHI KAPOOR.
Sir you are immortal and I know it. Just it will be a new a STAGE. A new performance & a new audience.
Ranveer Singh: Just shared a picture with the legend.
Richa Chadha: In August 2011, I acted in a play written and directed by @khalidmohamed9487, called 'Kennedy Bridge'.
After the first bell, we saw, seated quietly in a corner, Rishi Kapoor sir.
His uncle Shammi Kapoor had passed away just a few days before ... Later that night I got a call from a landline number... the voice on the other end was distinct.
It was Rishi sir, calling to congratulate me on the performance... and share some tips for the future... tips that I use to this day, that I am indebted for ...
Years later we met again, I had done a few films, I reminded him of where he'd first seen me...
Got a rare chance to hang out with him in Melbourne few more years after that... his camaraderie with his wife was made in heaven...
He'd skipped an official lunch one afternoon to go and enjoy some seafood in Melbourne... as I watched him being gently rebuked for that by Simi Garewal, it reminded me of their Mera Naam Joker performance...
It was kinda impossible to not smile around him...
As an actor, he was inimitable... one of his finest performances in the later years was in Agneepath...
My mind was blown... you know why you don't see anyone do his mimicry? Cuz he was original!
I am no industry insider and I still feel wounded by the loss of these two legends in the past 24 hours... men of character, of a bygone time...
Both of whom showed me kindness in my initial years, kindness I promise to pay forward...
God give us the time and space to grieve...
RIP sir... you were something else... condolences @neetu54 ma'am. Be strong!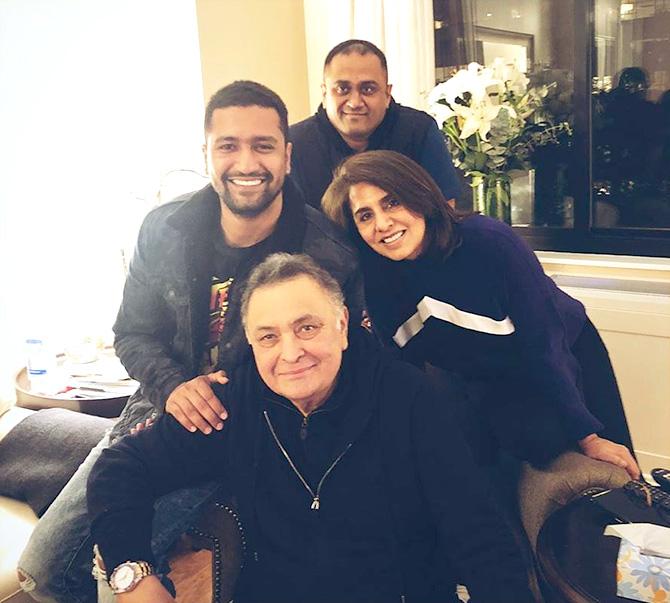 Vicky Kaushal: Absolutely shattered and heart broken to wake up to the news of the loss of Rishi Kapoor Ji, one of the liveliest persons amongst us.
The last time when I met him in NY, he was fighting the battle like a boss, with Neetu Ma'am by his side and a smile on his face.
This is utterly tragic and incomprehensible. My condolences to his family.
May his soul be resting in peace and raising a toast to a life well lived with the Gods in heaven.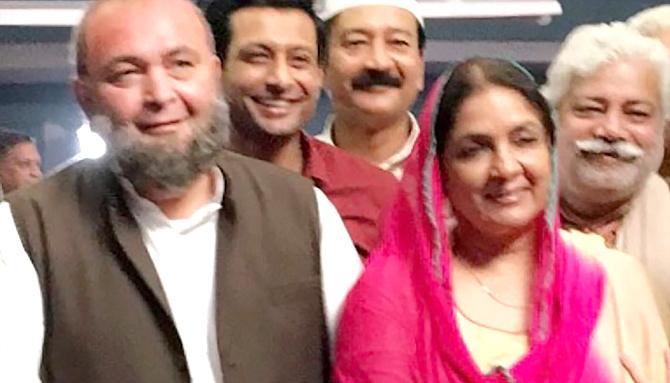 Neena Gupta: Will miss you soooooo much rishi ji just thinking about all the nice time we spent at d mulk shoot miss miss miss.
Bhumi Pednekar: It is a great great loss . RIP #rishikapoor sir. Your legacy will live on forever sir.
Venkatesh: It's been such a tragic two days already. To have lost two great talents is really heartbreaking.
Rishi Ji will always remain in our hearts with that child-like smile spreading joy.
It was always a learning experience whenever we met.
Your absence will be a big loss to our family as well sir. Deepest condolences to the Kapoor family and friends in such testing times!
Karishma Tanna: No no no.
Another heartbreaking news. One of my fav actor is no more. I woke up with a shock and a heavy heart.
'Main shaayar toh nahi' is my all time fav song and I just lovveee #rishikapoor Sir in it.
My fav Hero gone too soon. God pleaaaseee stop RIP. My heartfelt condolence to the entire Kapoor family.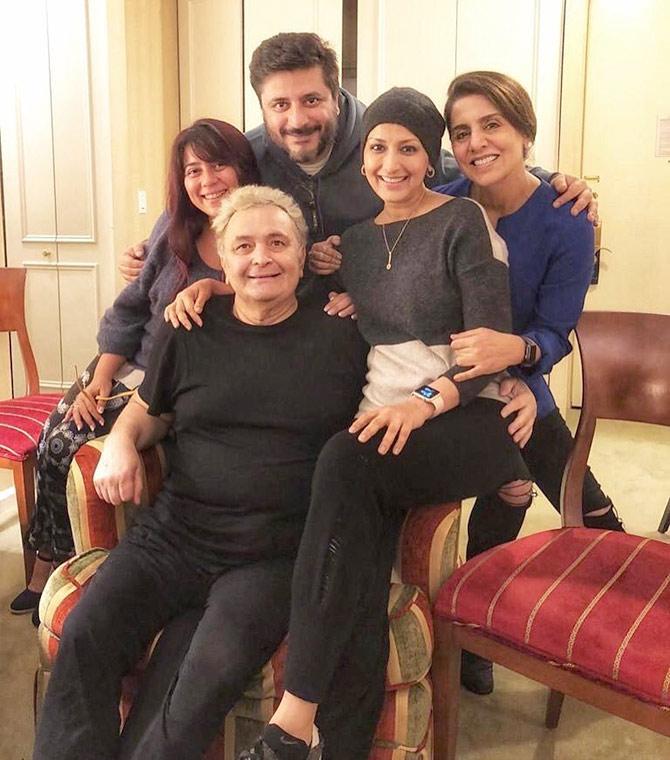 Sonali Bendre: Heartbroken and at a loss for words...
#RIP Chintu uncle. So many thoughts and emotions running through me right now.
Remembering our time in New York as we battled together, fighting an unseen monster. Keeping each other bouyant through the sadness and pain.
We held each other up through it all, forever connected.
My thoughts, prayers and love go out to Neetu aunty, Riddhima, Ranbir, the family and your legions of fans.
You will always be remembered for your talent, your passion and your zest for life.