'(Earlier) The audience loved poetry and tunes. They loved singers. Today, someone who sings in a coarse voice is liked.'
'There is no shelf life for any singer. Why isn't there a Lata Mangeshkar, an Asha Bhosle, a (Mohammed) Rafi, a Mukesh or a Kishore (Kumar)?'
'Today, there is Arijit Singh, but somebody will replace him too.'
'Nobody is sustaining and movie goers are responsible for it.'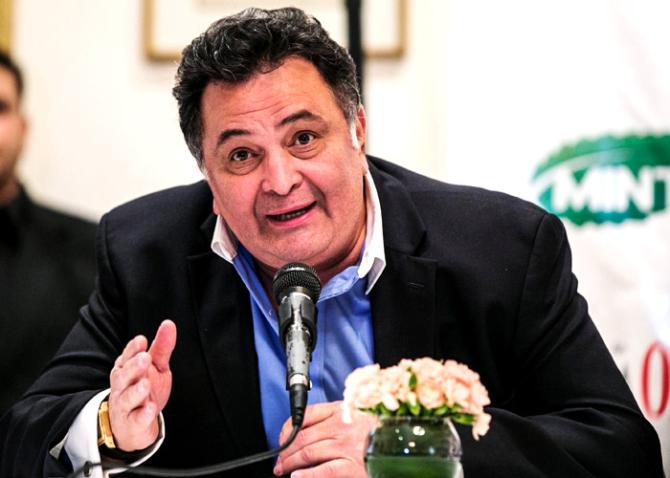 Photograph: Lucas Jackson/REUTERS
Rishi Kapoor is known not to pull punches as far as his opinions are concerned.
When Rediff.com met him recently for an interview, the actor seemed quite upset with the younger generation of movie-goers for allowing the film industry to spiral into 'degradation.'
In his autobiography, Khullam Khulla: Rishi Kapoor Uncensored, he had mentioned that, in his younger days, actors, music directors and lyricists would sit together and brainstorm for each song. But it doesn't happen any more. Kapoor lamented that it upset him to see multiple composers for a film.
Yet, he remains thankful to this very audience for continuing to give him a job.
Over to Rishi Kapoor's candid, one-sided chat, which Rediff.com's Patcy N listened to very quietly indeed:
Someone asked me recently why RK Films isn't making any films. I told them we are not capable of surviving in these times because everything has changed.
We were taught to make films in a certain manner. Maybe, we have become old-fashioned or have missed the bus. Maybe, we need to hire local talent to make a film.
But I feel it is degradation. Most things that are being done today are either compromised or not up to the mark.
Today, singers and lyricists complain that they don't get work that is justified. They say whenever they write good poetry or lyrics, it gets rubbished by the music companies. Music companies have become the boss.
Today, music is being made for ringtones, so they gives instructions like don't give long lines that the audience will not understand. They just want it to rhyme and expect the meter to be fit into a ringtone.
One doesn't see cassettes and vinyls being sold today. One has to download it from social media or other sites.
This is what you people have done. The audience, the younger generation, has done these things.
You only want to hear rhythm or cacophony.
And we give society what it wants.
If you want rubbish, you will get rubbish. We are making garbage and you are getting garbage.
(Earlier) The audience loved poetry and tunes. They loved singers. Today, someone who sings in a coarse voice is liked.
There is no shelf life for any singer. Why isn't there a Lata Mangeshkar, an Asha Bhosle, a (Mohammed) Rafi, a Mukesh or a Kishore (Kumar)?
A flash in the pan has a shelf life of two years and then he is out. Kumar Sanu or Mika are out.
Today, there is Arijit Singh, but somebody will replace him too.
Nobody is sustaining and movie goers are responsible for it. You like trash, so we make trash for you.
I want to tell you this as well, and this may answer the questions you have in mind.
How am I getting work in today's times? Twenty-five to 30 years ago, actors of my age would cease to be the hero. You would either play the father of the hero or the heroine or stay at home. There was no other job.
I've seen my father. Of course, he was a director, so he made films. Once stars like Rajendra Kumar and Shammi Kapoor were no longer in their prime, they were nobodies.
Why do actors like me get films today? Why are films like Patel Ki Punjabi Shaadi being made?
It doesn't boast of a huge star, neither does it have young or so-called saleable actors.
(Amitabh) Bachchan saab spearheaded this change.
There was a time, when I was the hero, we had only single-screen theatres. The audience was so simple and forgiving that they would take anything in the name of entertainment.
At any given time, actors would have at least two or three films based on lost and found themes -- in the first reel, the children would separate and in the last scene, the villain would be beaten up and there would be a song -- and two films would be based on love stories. Either it was a rich boy-poor girl or vice versa, and the conflict that caused.
These were the only type of films made in those days and the audiences would lap them up. Every actor felt that it was safe to star in these films because our stardom would remain.
But today, with the advent of multiplexes -- air-conditioning, great sound, plush seats, hot popcorn, Coke and tickets priced at Rs 300-400 -- only a certain section of our nation can afford it.
We have more than four hundred million people in this country who belong to the middleclass and the upper middleclass, and they can afford these tickets. These people don't have the sensibility of an autowala.
An autowala would still want to watch a film like Bajrangi Bhaijaan. He may still want to see the old South Indian rape films, crude films that were made when I was the hero. Those people don't want to see good films.
This new audience has made it possible for us to make the kind of films that are offered to me. Patel Ki Punjabi Shaadi has happened because of this audience. Otherwise, you would have never have character actors like Rishi Kapoor and Paresh Rawal leading the cast.
They have given India a chance to make better films like PINK, Piku, Talvar, Do Dooni Chaar, Shubh Mangal Savdhaan, Lipstick Under My Burkha...
This is how actors like me have a job in today's times.
The other audience (the autowalas) would not even come to see my film, so I don't even bother about them.
Films like Bajrangi Bhaijaan and Dangal will always work with both audiences.
It was a stroke of luck when I worked in Agneepath. It was a great role, something different for me. I have tried to look different and play different roles through my life because I am passionate about my work. I love my work. I love to act.
I never got a chance to direct after my first directorial. My first love is acting, not directing. God has been very kind to me that I am paid to do what I love most.