Did you have a favourite song? Favourite movie?
Share your Rishi Kapoor memory.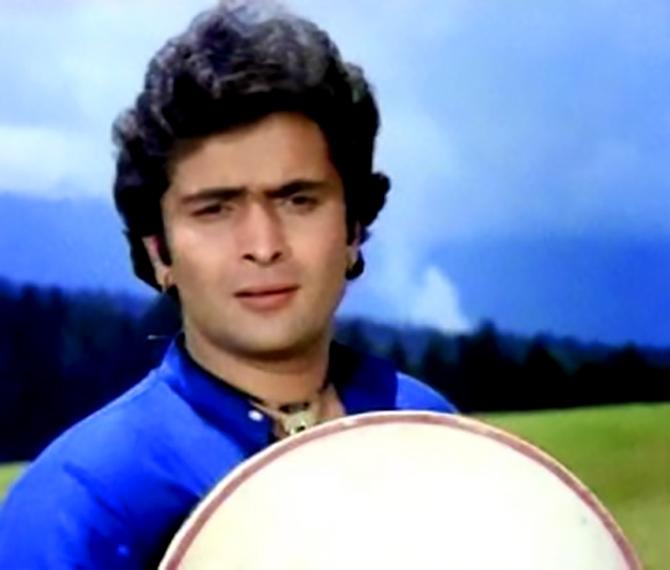 Light and shadow.
These were the two constants of Rishi Kapoor's professional life.
He was a Kapoor with an incredible legacy -- a legendary grandfather (Prithviraj Kapoor) and father (Raj Kapoor), uncles (Shashi and Shammi Kapoor) who were popular stars.
It was also a legacy that was bruising, almost impossible to live up to. Yet Rishi Kapoor went on to create an undeniable place for himself on the Kapoor landscape.
There was the fact that, despite acting in roughly over 150 films, he was never called a superstar. There was always another star who shone brighter, though not bright enough to eclipse Rishi Kapoor.
This was something that always rankled because, hidden beneath the razzle-dazzle of the chocolate faced loverboy hero, was a talented actor.
An actor who, in his first full-fledged role, won the National Award (Mera Naam Joker, 1970). It was a stunning beginning but the long journey that followed, the awards were far and few. Again, a bitter pill that Rishi Kapoor struggled to swallow.
But there were other unplanned records he set.
As the romantic lead in 92 films, he delivered 36 box office hits (Source: Wikipedia).
He was the face for some of the most amazing songs onscreen.
Unlike many of the Kapoors before him, he was a fantastic dancer.
He played many musical instruments on-screen and the apocryphal tale goes that he learnt the basics so that it would not look as if he didn't know what he was doing.
He was the springboard that supported the launch of over 20 heroines, from Dimple Kapadia (he starred in her re-launch, Sagar, as well) to Jaya Pradha to Ranjeeta.
He also apparently wore the most number of sweaters on screen.
Wonder what Rishi Kapoor thought of that one? Well, here's what he said on Twitter which, incidentally, he enthusiastically took to like a duck to water.
'Sweaters. It was a passionate collection, over a period of time, which I used in films without repeating. This info for fans inquiring about it,' he tweeted on April 21, 2015.
He was the solid foundation on which other actors, and many of his films, shone.
There came a time in the mid-nineties when even that was not enough. And it looked like Rishi Kapoor was fading into the oblivion that envelopes actors who Bollywood considers not young enough, glamorous enough, box-worthy enough.
Until, when one least expected it, Rishi Kapoor was back with a bang.
With the 2.0 version, there was no pressure to look good.
No pressure to sing.
Or dance.
Finally, Rishi Kapoor was free to just... act.
And he served up one mind-boggling performance after another.
From the evil Rauf Lala in Angneepath to Goldman in D-Day to the unforgettable grandfather in Kapoor And Sons to the harassed son in 102 Not Out to the traumatised Murad Ali Mohammed in Mulk.
From 1955 (Shree 420) to 2020, thank you for the magic, Rishi Kapoor.
Cheers! Wherever you are, you must be enjoying your glass of whiskey and a plateful of delicious Punjabi food.
Rishi Kapoor's fans span multiple generations.
It is quite possible that both your grandmother and mother had a crush on him. Share those stories with us.
Or you may have a favourite Rishi Kapoor scene or song.
You could also tell us which is your favourite Rishi Kapoor movie or character and why.
If you met the late actor, you will have memories and pictures/videos.
Share all of these on the memorial wall below.