'Rishi Kapoor and I come from two different schools of filmmaking. I like to approach scenes in a certain way, and take multiple takes.'
'Rishi sir comes from a school where things were much simpler. I think that's where the friction comes in.'
In the end, Kapoor & Sons director Shakun Batra is still smiling!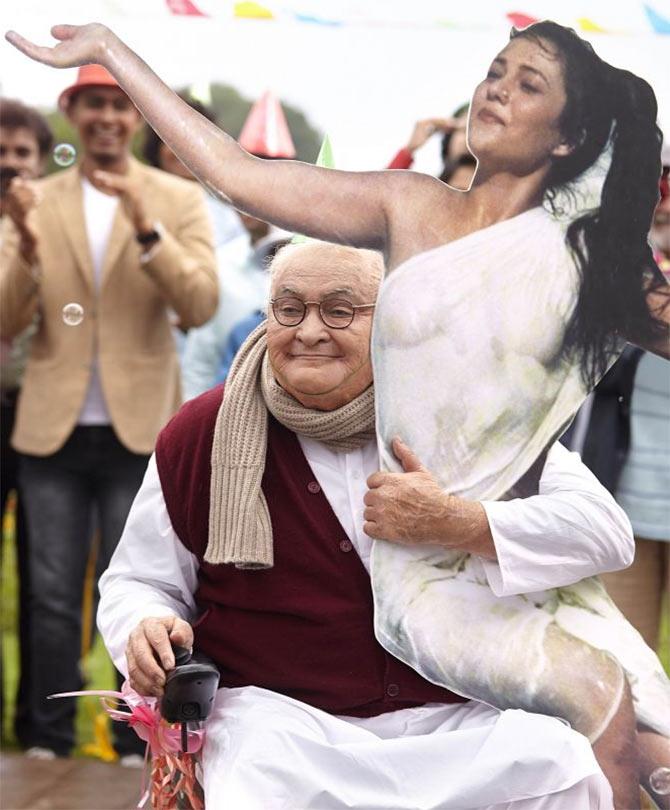 IMAGE: Rishi Kapoor in Kapoor & Sons.
Shakun Batra, who directed the hit Kapoor & Sons, is enjoying his success.
The young director -- he's only 33 years old! -- didn't know anyone in the film industry when he came to Mumbai in 2005, but managed to get a job assisting Farhan Akhtar on Don the same year. He made his own directorial debut with Ek Main Aur Ekk Tu five years later.
Shakun tells Patcy N/Rediff.com how he did it.
Did you expect Kapoor & Sons to be such a hit?
When I was making the film, the idea was to make sure it's made at a budget where it would be profitable. We did not think about making a hit film, we wanted to make a good film, and that everyone involved in it should gain from it.
It feels amazing because it makes you feel great and even more loved, admired and appreciated.
It gives me confidence to go out and try things that I really want to, explore new themes.
I don't want to do run-off-the-mill stuff. Success means I can try to do things my way.
Where did the idea come from?
The story started when my co-writer Ayesha (DeVitre) said, 'Why don't we do a sibling film, a brother-sister story'? But Zoya (Akhtar) was doing a brother-sister film (Dil Dhadakne Do), so we decided to do a film on two brothers.
I was always interested in doing a family film, where an elderly couple is drifting apart, where there is sibling rivalry and a crazy old man. So I put these things together, and wrote it for a year.
IMAGE: Shakun Batra with Sidharth Malhotra, Ratna Pathak Shah and Fawad Khan on the sets of Kapoor & Sons..
How did it all work out?
I sat at home with this script for over a year. The story needed so many actors, and they had to compliment each other, as they were playing a family. It took a while to get the bunch of people together.
I was sitting at home, and all of a sudden Sidharth's Malhotra) dates opened up. I met him and he agreed.
I had just finished an online video with Alia (Bhatt). I sent her the script and she liked it.
Fawad (Khan) had just won something for Khoobsurat. I met him and everything worked out within a week.
Fawad's gay character has been sensitively handled. How did that happen?
The intention was to be sensitive towards homosexuality. It has always been caricatured, made fun of, looked down upon, played in feminine ways, and that has really put me off.
I wanted to treat it sensitively, in a way where it would not offend anyone. I wanted it to work for the audience, without trying to shock. I just wanted people to see what a real family would look like.
You have a reputation for being a difficult director. Rishi Kapoor said in an interview that both of you fought every day.
Why can't he have a reputation of being a difficult actor? If I am a difficult director, he is a difficult actor.
The thing with Rishi sir is that even if he says all this, he will call you up after that and we will laugh about it. So it's not like we're bitter.
I think we come from two different schools of filmmaking. I like to approach scenes in a certain way, and take multiple takes. Rishi sir comes from a school where things were much simpler. I think that's where the friction comes in.
The Chand Si Mehbooba scene (the scene in which the entire Kapoor family gets together, and has a merry time) has been shot from so many angles, to give it a documentary vibe. There were so many people that I had to shoot it from different angles to make it work.
In the same interview, he added that his niece Kareena Kapoor was not happy (during the shooting of Kareena's film with Shakun, Ek Main Aur Ekk Tu).
Kareena and I got along really well. In fact, she has called me and asked me to shoot commercials with her.
We have no problems, and are still in touch.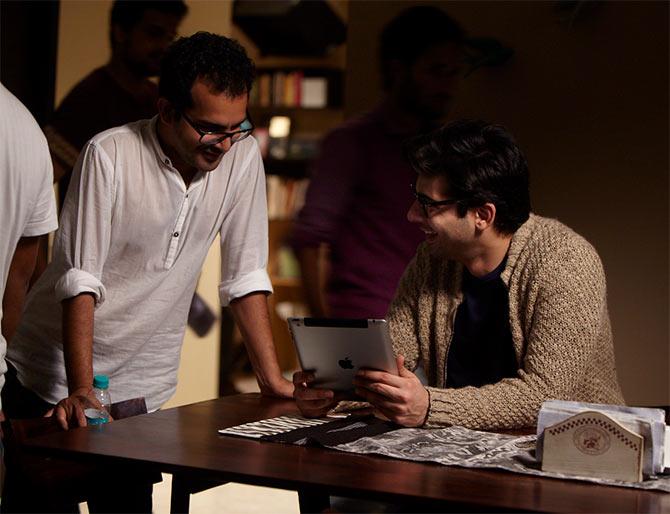 IMAGE: Shakun with Fawad Khan on the sets of Kapoor & Sons.
Why is it so important to take multiple takes? Doesn't the spontaneity of the performance get diminished?
It's just how we make films. You want to get the best you can, and have to push people for an excellent take.
I am not even David Fincher: He took 99 takes of the first scene of The Social Network. I have not taken 99 takes. The most I did with Rishi sir was probably seven or eight.
What does your family think of Kapoor & Sons? Do they see themselves in it?
My family doesn't watch movies at all.
My mom is one of those people who slept through 3 Idiots. They have been very sweet and kind, and happy about the success.
I think they can relate to the characters because my family sings Chand Si Mehbooba whenever we get together. A few things like that were taken from real life.
Your first film did not do well.
But it opened a lot of doors for me. Actually, it did well at the box office.
Karan was very happy. UTV and Dharma Productions made profits from the film. Even Kareena and Imran were happy.
It got me a lot of love and critical praise. I was happy with the film. Even though I made it sincerely, it did not have the maturity that I wanted the film to have.
My journey so far has been bouncy, but then most journeys have that. I don't mind going through a bumpy journey if I'm heading in the right direction.
How did you get to direct for Dharma Productions?
Imran and I worked together on Jaane Tu... Ya Jaane Na. I had finished writing a script that Imran had liked. At that time, he was working on I Hate Luv Storys. He messaged me, 'I really like your script. I am sitting next to Karan. Do you want me to share this script with him?'
I said why not.
Karan called me within a week and things started moving.
How is Karan Johar as a producer?
Karan is very generous, supportive and liberal.
He lets you do what you want. He is very open, and provides the best feedback. You can take notes, but then go back and do what you want.
I have learnt 'people management' from him. Or rather, that's something I want to learn from him.
He talks to so many people every day, and pays attention to them. I don't know how he does it. He juggles so many things at a one time.
He can be at a party, go home and work on a script or finish reading a script, give feedback, then go for an endorsement... I would like to know how he manages time and people. That's a great quality to learn from him.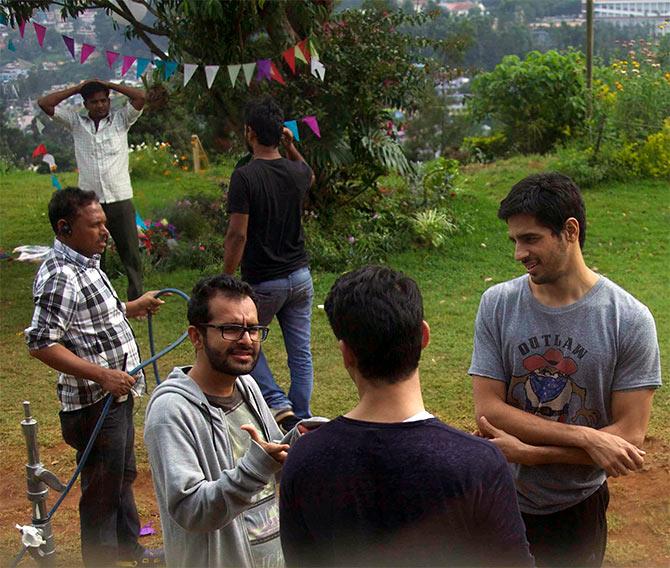 IMAGE: Shakun with Sidharth Malhotra and Fawad Khan on the sets of Kapoor & Sons.
Tell us about yourself.
After finishing college in Delhi, I went to Vancouver to study films. Then I came to Mumbai and assisted Faran Akhtar on Don and Rock On! From there, I went to Jaane Tu... Ya Jaane Na.
My father is a businessman and my mother does a lot of charity work. I ran away to film school because I did not wanted to do business.
How did you convince your parents that you wanted to get into films?
I could have gotten into anything because I wanted to get away from my family business. My father really wanted me to get into business, but I hated it.
To get away, I told him I was interested in cinematography. I used to do photography in college.
Cinematography is a heavy term and they did not understand it. They felt I was going to work for NASA or something! They were upset, but I told them that I had to try it for a year at least.
Today, I think my father is happy. He shows off to his friends that I am a filmmaker now. But he hasn't told me yet.
Was it tough to get a foothold in the industry since you are not from it?
Yes. I was very young and did not know any better. So I would go from one office to another, and give interviews. I kept meeting people, and one thing led to another.
There's a website that has addresses of all the production offices. I would take a printout and cover one area -- like say, Bandra or Andheri -- every day.
My first job was in Pali Naka (in Bandra, north-west Mumbai), at an advertising production house. I gave a job interview at Excel Entertainment (Farhan Akhtar's production house), and started working on Don.
If you are good at your job and do it sincerely, those people will recommend you.
I came to Mumbai in 2005 and got the job the same year. I started directing Ek Main Aur Ekk Tu in 2010.
What movies, made by your contemporaries, would you like to have made?
There have been movies over the years that I have watched and loved. Like Dibakar Bannerjee's Khosla Ka Ghosla, Oye Lucky! Lucky Oye, Vishal Bhardwaj's Haider...
I want to make any Woody Allen film because I connect with them.
What are you up to these days?
I haven't started on anything yet. I want to sit down and zero on in my thoughts. Hopefully, the journey will continue next month.
My last film took four years to get made -- one year of writing, one year of waiting, one year of making and one year of stupidity.
Stupidity?
Actually, I was trying to figure out what I wanted to do. I was lost. I was trying to read scripts and figure out what I wanted to do. It's inevitable, but I hope that this time, that space is shorter.