Hosted by Karan Johar, Koffee With Karan is back with its season 8.
Bollywood power couple Deepika Padukone and Ranveer Singh graced the premiere episode, twinning in black, and spoke about their 11-year relationship, their dreamy marriage proposal, life after marriage and Deepika's battle with depression.
Mohnish Singh brings us some of the revelations.
The Ram-Leela Connection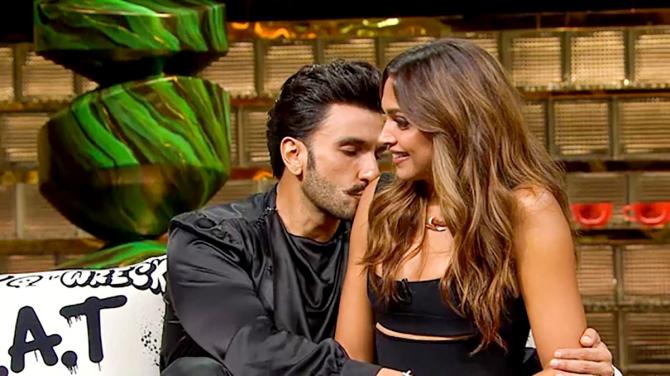 Ranveer Singh revealed he was originally paired opposite Kareena Kapoor in Sanjay Leela Bhansali's Goliyon Ki Raasleela Ram-Leela.
But when Kareena backed out, he suggested Deepika Padukone's name as he was impressed with her performance in Cocktail.
He went on to describe the way he first met Deepika in Bhansali's home, when she walked past his 'big, heavy door', wearing a chikankari kurta, the sea breeze blowing through her hair... That was the picture-perfect moment when he fell in love with her.
Netizens are having a field day with this revelation, as a few seasons ago, Ranveer described this exact way as the first time he met Anushka Sharma!
The Kissing Tale
The chemistry between Ranveer and Deepika was one of the major highlights of Goliyon Ki Raasleela Ram-Leela.
Ranveer recalled filming for the sensuously picturised song Ang Laga De where the two had to share a passionate kiss.
The actor revealed that the two of them were so involved in kissing each other that they did not realise when a brick flew in throw the window (as a part of the scene) and Bhansali had said 'cut'.
The Wedding Video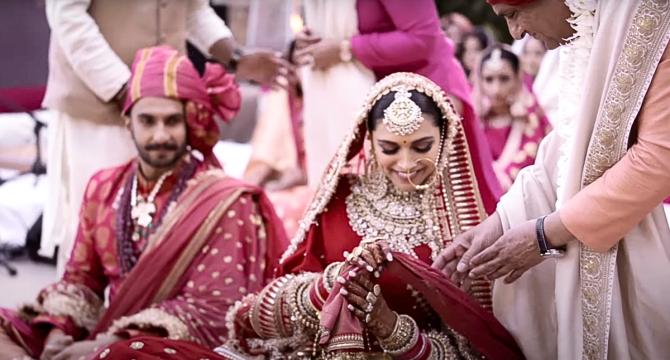 The couple shared an unseen video of their wedding in 2018.
In the clip, Deepika revealed why she agreed to marry Ranveer: 'I was attracted to the person that most of the world has not seen. There is a quiet side to him, a very intelligent side. There is a sensitive side to him. I love the fact that he cries. I love the fact that he was all heart.'
In the same video, Deepika's father Prakash Padukone is heard saying Ranveer brings some excitement to their 'boring' family of four.
The Proposal Day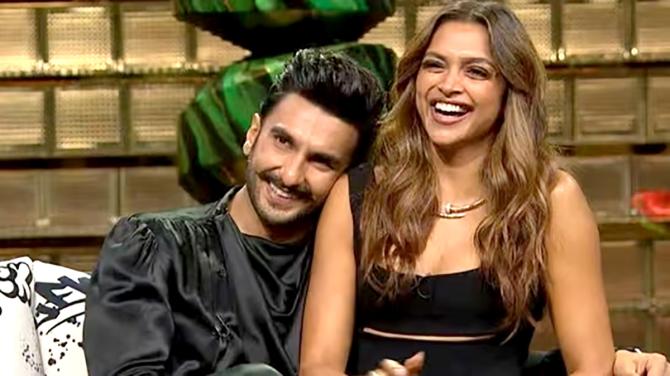 Ranveer revealed he proposed to Deepika when the two were vacationing in the Maldives.
The proposal was romantic and of course, she said yes, but when they broke the news to her family, Deepika's mother Ujjala had gotten very upset.
The actor also confessed that they started seeing each other in 2012 and got secretly engaged in 2015 before exchanging vows in 2018.
Marriage is Work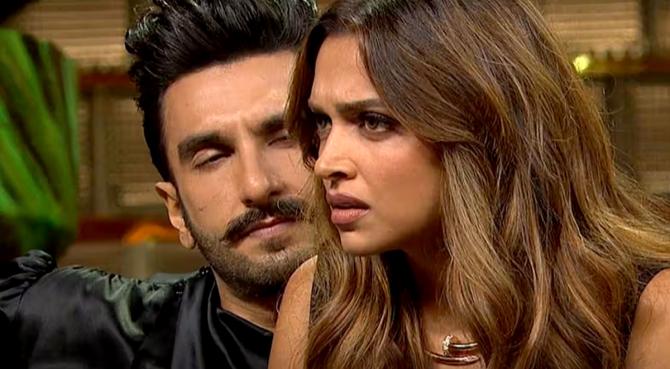 When KJo asks Deepika Padukone if sustaining a star marriage in an industry like Bollywood is difficult, the actress immediately says, 'Of course, it's work. I think any marriage is work. And it's work everyday. It's about two different people coming together.
'It doesn't mean that we don't have our fights, arguments and bad days, we do. The fact that we choose to power through it together, grow and learn from experience and then move on is what makes marriage beautiful.'
The Flop Show
Ranveer opened up about the consecutive box office failure of his films '83, Cirkus and Jayeshbhai Jordar and said, 'I had not seen three major flops in a row. It was new to me. When Cirkus released, I was not good, but then I came to terms with everything happening with me and around me. I have come out of it with more gratitude in my heart than before.'
Sassy Sartorial Choices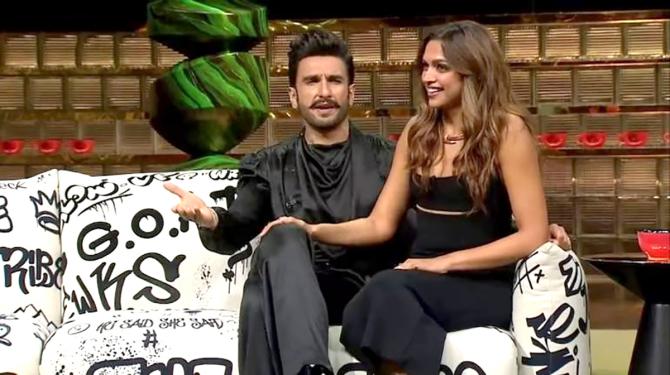 Ranveer also responded to criticism that he faced for his flashy outfits and credited wifey Deepika for improving his dressing sense.
'I take everybody's opinions, but ultimately, I do what I feel like doing. If I feel like wearing some I just go with the feeling. I felt like I wanted to not wear those clothes where I didn't want people to talk about what I am wearing. I want you to talk about my films, my acting and about me.
'She said, 'You actually come off like a supremely confident person but you are actually underconfident. You should stop distracting people from who you are with these flashy clothes'. And that really resonated with me.'
Battle with Depression
Deepika has always spoken openly about her battle with depression.
She spoke about it again on the couch and said that Ranveer tried to create a safe space for her instead of giving up on her.
Karan Johar not only acknowledged the actress for being honest about her struggle with mental health but also opened up about getting a panic attack at the launch event of the Nita Mukesh Ambani Cultural Centre in April 2023.
KJo revealed he has been seeking professional help and medication to deal with the condition.