'He really made an effort to bridge the gap so did Chintuji.'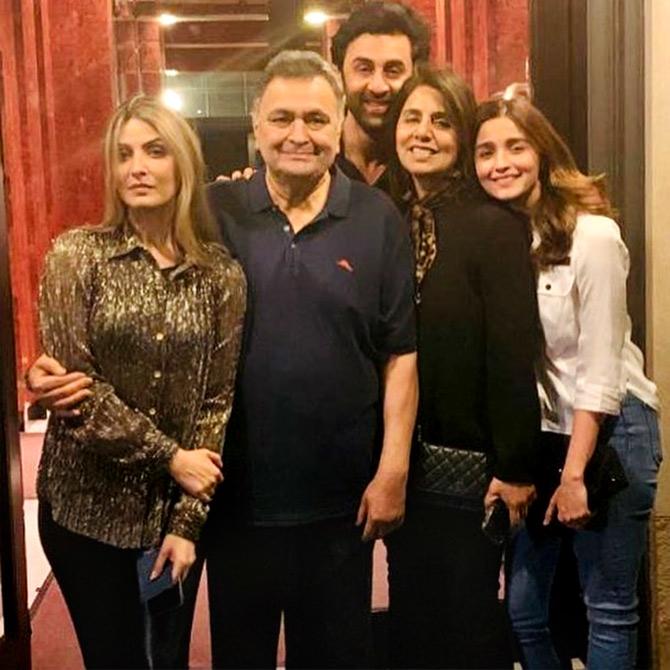 Rishi Kapoor's passing has left a vacuum in everyone's life, more so his son Ranbir Kapoor's.
A close friend tells Subhash K Jha how devastated Ranbir is.
"He doesn't talk about it, not even to his closest friends. I doubt he discusses it even with Alia (Bhatt), or for that matter, his mom. It is a loss that he has to deal with all on his own," the friend says.
Rishi and Ranbir had admitted separately to Subhash that there were differences between them. When Rishi fell seriously ill in September 2018 his son reached out to his father and vice versa.
Ranbir tried to spend as much time as possible with his father.
"He flew to New York to be by his father's side at every given opportunity," says a family friend. "He really made an effort to bridge the gap so did Chintuji."
"Alia definitely helped bridge the gap between Rishi and Ranbir," the friend adds, alluding to Alia Bhatt, Ranbir's girlfriend of two years, "but the effort to come close came from them. And they grew emotionally dependent on one another, much to Neetuji's delight."
Meanwhile, trolls expressed outrage that Ranbir is staying at his apartment after Rishi's death.
Ranbir should have stayed with his mother to give her solace and company is these busybodies's view.
"Has it occurred to these outraged souls that Neetuji may perhaps have asked to be left alone?" a close friend asks.
"She is a very strong woman. She doesn't need her son's company to confront her grief."
Ranbir, one hears, wanted to stay home with his mother. But she preferred to be on her own.
However, it is not true that Ranbir has moved in with Alia.
"He has his own place. After his dad's demise Ranbir is doing a lot of introspection," says the friend. "He hardly speaks to his close friends. He wants to be left alone."