'I remember my brother telling me, is he (Ranbir) doing a film where he plays dumb and deaf? Is he mad? Is he committing suicide? It is hara-kiri for his career.'
'What do I say?'
'But Ranbir proved them wrong.'
'I don't totally agree with Ranbir's films, but this is his career.'
Rishi Kapoor discusses his son, as Ranbir turns 35.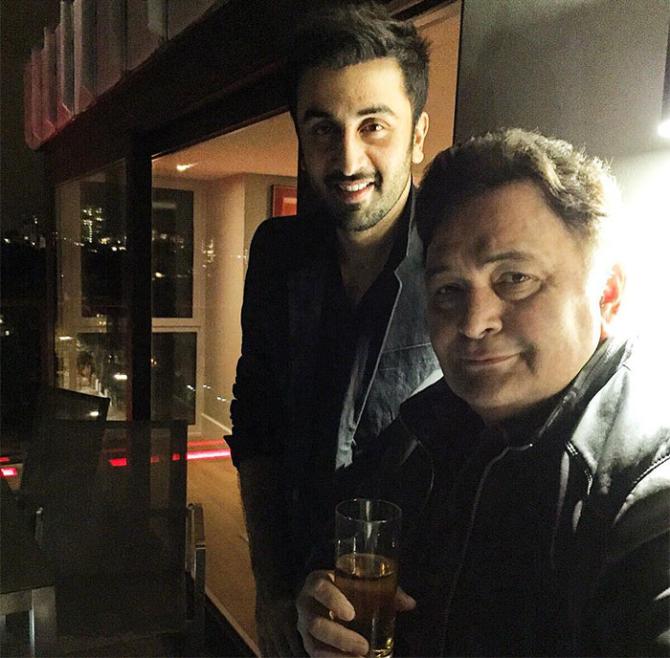 IMAGE: Ranbir and his dad relaxes on the terrace apartment of a friend. Photograph: Neetu Kapoor/ Instagram
Rishi Kapoor has famously said that he doesn't like his son Ranbir's movies.
His son's choice of films is very different from what Rishi thinks will make him a superstar.
On Ranbir Kapoor's 35th birthday, let's see what his father has to say about him and his career:
Ranbir took a different arc and told his mother that he doesn't want to work in a film where he has to wear a baseball cap or play basketball.
He doesn't want 40 dancers behind him.
You never see Ranbir doing those kind of films.
People would come and tell me, 'What is wrong with your son? He is working in certain (kinds of) films; he will be ruined.'
I told them I have no say in his career. If I did, I would have never let him do films like Wake Up Sid, Rockstar, Rocket Singh or Barfi!.
I remember my brother telling me, 'Is he (Ranbir) doing a film where he plays dumb and deaf? Is he mad? Is he committing suicide? It is hara-kiri for his career.'
What do I say?
But Ranbir proved them wrong.
I don't agree with Ranbir's films, but this is his career. I am (from) a different generation; my thinking is different. This generation's thinking is different.
I do not interfere in his career; my father did not interfere in my career.
You fall and you learn.
No actor's career is 100 percent successful. Everybody has ups and downs. No one is assured of what will be good.
People loved Ranbir in Yeh Jawani Hai Deewani. If you want to be a superstar, if you want to be loved, you have to belong to both audiences.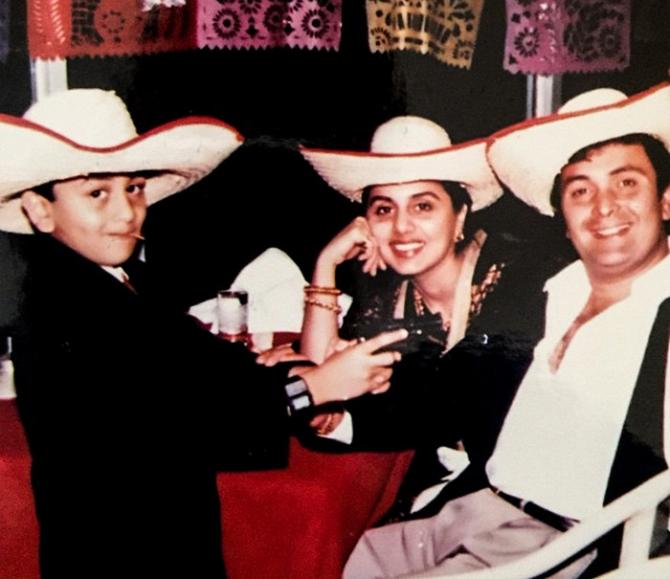 IMAGE: The cutest throwback of Ranbir with his parents Rishi and Neetu Kapoor. Photograph: Neetu Kapoor/ Instagram
The kinds of films that I did then -- like the lost-and-found theme -- you cannot afford to do that now. You can't make Amar Akbar Anthony now. But this generation does know Amar Akbar Anthony though it has been 40 years since the film released (January 7, 1977).
This generation's actors call me Ranbir Kapoor's father, but there is a generation that knows him as Rishi Kapoor's son.
Television has kept us alive. All our old films are played again. People are exposed to old films and that helps keep us alive.
It is possible that everyone has not seen me as a young actor but because I work in today's cinema. I feel I am a fairly good actor; my good work makes people think I am today's actor.
It is very important that your films are successful. People only want to see successful things; nothing succeeds like success and nothing fails like failure.