'It will take me a while to process the meaning of the loss of a man who meant so much to me through my entire life,' says Aseem Chhabra.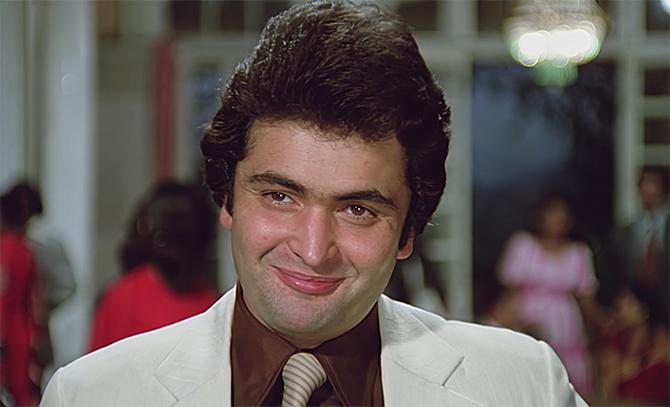 Rishi Kapoor defined my childhood, my teenage and then adult years.
I still remember where and when I saw Mera Naam Joker and Bobby.
I remember how much those two films impacted my life.
Main Shayar To Nahin and Chabi Kho Jaye remain among my all time favorite Bollywood songs, and essentially because they were picturised on Rishi.
Later, I saw Rishi in Karz, dancing to the fabulous song Om Shanti Om, and the fun films he made with his then girlfriend, Neetu Singh, Khel Khel Main and Rafoo Chakkar.
It is an endless list, including Amar Akbar Anthony where Rishi was particularly enjoyable and animated, Laila Majnu, Kabhi Kabhie, Hum Kissi Se Kum Nahin...
I can chart my life by referencing Rishi's films.
How much joy those films gave us!
Even though he never became the number one star -- there were others who kept edging him out, from Amitabh Bachchan to Anil Kapoor and later, Shah Rukh Khan -- Rishi was adorable, likeable and full of charm, at least on screen.
His off screen personality would be revealed to me many years later.
As he grew older, he took on leading roles in A-list films like Sagar and Chandini.
A few decades later, he redefined himself, playing older, sometimes flashy characters in Fanna, Luck By Chance, D-Day, Kapoor & Sons and Agneepath.
He was the actor I had grown older with.
It seemed, like it often happens with actors whose works we are familiar with and we enjoy watching them on screen, that I knew him well.
He was a friend going back to Mera Naam Joker, just a few years older than me. And I would meet him regularly in movie theatres.
Then quite by chance, I got to know Rishi Kapoor personally.
After all those years, the actor I had loved since the time he had sat by the piano and sang (in Shailender Singh's voice) Main Shayar To Nahin, suddenly knew of my existence.
In 2011, the New York Indian Film Festival planned to open with Do Dooni Chaar, a charming little film with Rishi and Neetu. And we invited them to New York to represent the film.
Before the festival, Rishi wanted to meet the NYIFF team and so during a trip to Mumbai, my then executive director Aroon Shivdasani and I had lunch with Rishi at the Royal China restaurant in Bandra, north west Mumbai.
By that time, I had met and interviewed many film personalities in India and abroad, but I was totally star struck having a meal with Rishi.
I also saw the side of the actor that I did not experience while watching his films.
I realised Rishi Kapoor was first a movie star and that stardom had greatly affected his persona.
He was not an easy person, but he had a friendly side as well.
It was fascinating to watch Rishi order lunch -- not from the menu, but based on what he suggested were Neetu's favourite dishes.
And the chef came out to especially take the order.
I also realised that it was important to make Rishi feel important and he was very much in the game of acting.
I could not just keep praising his son Ranbir even though I was a huge fan of the young actor.
In New York, Rishi showed different facets of his personality.
He would be demanding and yet continue to show his endearing side.
During a Q&A session with him, he put me in an awkward spot by challenging my question.
'What kind of question is that? I expect better from you, Aseem,' he said, somewhat scolding me in front of the audience.
I do not remember what question I had asked, but I was a bit embarrassed. Rishi seemed to be was enjoying every moment.
After that trip, he would call me a couple of times in a year.
The caller ID would say his name.
'Hello Aseem, this is Rishi Kapoor here,' he would say, always identifying himself.
'Oh hello Rishiji,' I would respond back.
'Yaar, tum mujhe Rishiji kyon bulate ho?' he would answer back. 'Rishi kaho.'
He was often in New York or passing through, including a few times he went to see his sister Ritu Nanda, who was getting cancer treatment in the Midwest.
We met for drinks once on the East Side of Manhattan, close to the Radisson Hotel on Lexington Avenue, where Rishi always liked to stay.
'It was Raj Kapoor's favorite hotel,' he would say, always referring to his father by his name. I never heard him say 'my father' or 'dad.'
He had just come back from watching The Avengers at a multiplex in Times Square and was upset because the opening sequence in the film showed poverty and squalor in Kolkata.
He blamed Danny Boyle for making Slumdog Millionaire, which he believed had given Hollywood the free ticket to show India in a negative light.
He insisted I write an article.
'You can quote me in the article,' he added.
I then realised Rishi was quite opinionated.
One phone call from India was made on January 26.
He was excited to see Barack Obama at the Republic Day parade and wanted to know if I was also watching the coverage on television.
I tried explaining to him that American television news rarely covered the American president's visits abroad.
But I am not certain if he fully grasped what I was trying to tell him.
I once ran into him at a Mumbai Film Festival party at Mukesh Ambani's residence.
'Yaar tum Chandigarh aate ho aur hamein Mumbai main milte nahin ho.' I did not correct him to say that I would actually visit Delhi.
I had only been to Chandigarh a couple of times in my life.
He invited me for drinks to his home in Pali Hill.
We sat in his special room where he had a huge collection of crosses -- Christian symbols he had collected from around the world.
I drank whiskey with him, a drink I rarely touch.
I did not feel comfortable saying I would much rather drink beer or wine.
I feared he would judge me.
It was a strange friendship or connection we had, where I felt I should not challenge him.
It seemed important for me that my favourite actor from my teenage years should like me.
He was good to me, always willing to give interviews, including a very important one at the time I was writing Shashi Kapoor's biography.
I was lucky that Neetu also joined in the interview.
I last met him a couple of years ago at the Taj Mansingh Hotel in Delhi where his autobiography was being launched.
After the conversation with Suhail Seth, I put up my hand to ask Rishi a question.
'I know this man,' he told the audience. 'He lives in New York.'
Later, at the reception, as fans tried to mob him, he walked straight to me to say hello.
Rishi's death has left his fans numb.
For me, a part of my teenage and adult years has died as well.
It will take me a while to process the meaning of the loss of a man who meant so much to me through my entire life.