'Katekar kya hai? Wardi ke neeche ek insaan hai.'
'System me pissa hua aadmi hai.'
We never get to know his first name in Sacred Games, but as Constable Katekar Jitendra Joshi steals the Web series from under the noses of better-known actors like Saif Ali Khan and Nawazuddin Siddiqui.
"When the script is written, there are only dialogues in it. The pauses you take, the sounds you make... are not written. That happens only when you act. You cannot plan it," Joshi tells Rediff.com's Patcy N over the phone as he shuttles between one assignment and another in a Mumbai taxi.
How did you bag Katekar's role?
My friend Punarvasu Naik told me 'Let's go to our friend Mandar's house' (Mandar Gosavi was a casting associate on Sacred Games).
We had lunch. Mandar told me about the Web series and asked if I was interested.
The next day, I went for auditions.
I did the scene where Sartaj's (Saif Ali Khan) character narrates his father's story to Katekar.
They liked the audition and I was selected.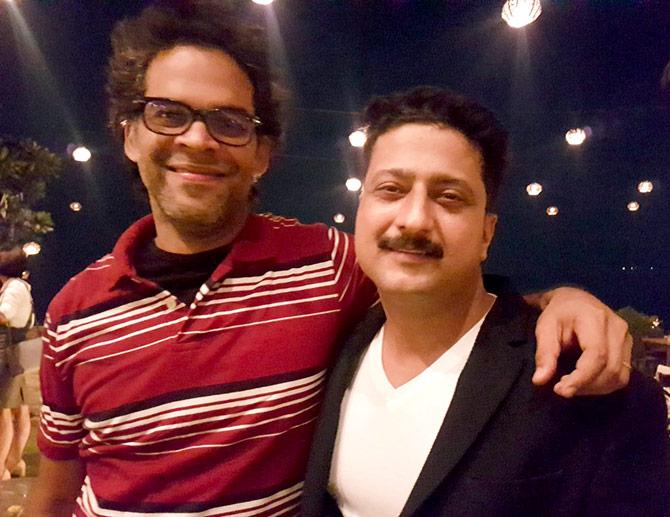 How did you prepare for the role?
I know a few policemen; I socialise with them.
I have been to police stations and seen their behaviour.
I have been observing them for a long time and know what kind of people they are.
I used my observations over the years to do the role.
The director, the locations and your co-actors help you in doing your character.
Katekar kya hai? Wardi ke neeche ek insaan hai. (Who is Katekar? Under the uniform, he is a human being).
He has a wife and a child. He cares for his family.
He has responsibility.
System me pissa hua aadmi hai (The system has crushed him).
I did not have to do any special preparation. I did whatever my director told me.
Writer Varun Grover said you went beyond the script and improvised.
That becomes possible only when your director gives you a free hand to explore the character.
When the script is written, there are only dialogues in it.
The pauses you take, the sounds you make... are not written.
That happens only when you act.
You cannot plan it.
I can't tell you how I improvised because that happened on the spot.
While playing Katekar I had decided that... even Vikram (Vikramaditya Motwane) sir wanted that... when he dies, his void should be felt by the audience.
My character is not just how I played it. It is also how Aarti Bajaj edited it.
It must have been very difficult for her.
There may be many people like me who improvised. To edit all that properly and present it is her job.
It's commendable how she did it.
Alok Nanda's background music, the way my director picturised me (helped).
To keep my character alive in people's memory even after its death is the work of my director, not mine.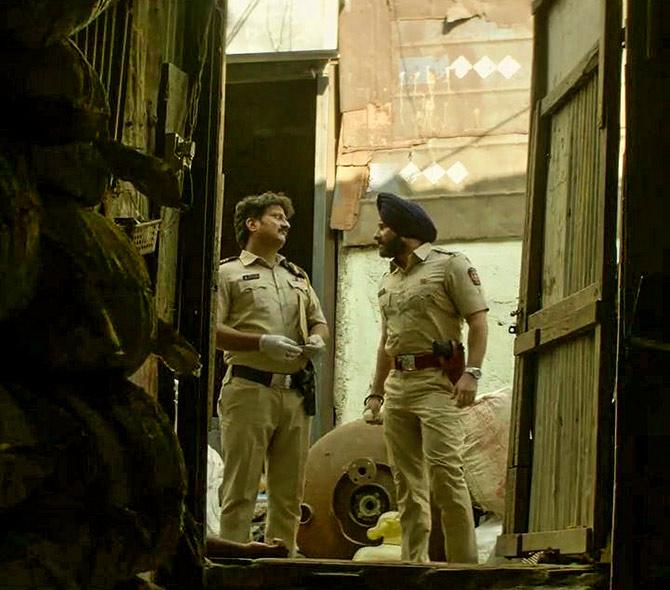 Your scenes are mainly with Saif Ali Khan. How was it working with him?
Saif is an experimental actor.
He was experimental in Dil Chahta Hai, Omkara, Kaalakaandi, Go Goa Gone...
Working with Saif was a wonderful experience.
He is a thorough gentleman, with intelligence and wit.
He has zero insecurities.
Woh bahut kamal ka aadmi hai, mazaa aaya kaam karne main. Hum bahut gappe ladate the (He's an amazing person, I had fun working with him. We used to chat a lot).
He is very serious about his work.
He has played his role subtly, which was necessary.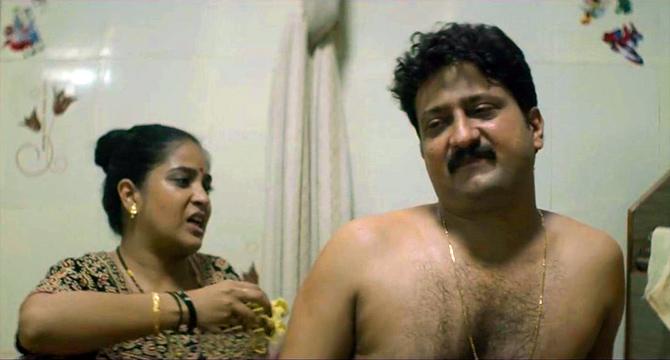 Radhika Apte played your wife in Tukaram. She co-stars in Sacred Games.
My work with Radhika in Sacred Games is not much; we just had a couple of scenes together.
Radhika has changed for sure. She is a beautiful girl.
She has established herself as an actress in India as well in the international market.
She is a free soul.
She presents herself as a fearless and independent actress.
She is cheerful and jokes a lot.
But when she works, nothing can distract her.
Neha Shitole played your wife Shalini. Your chemistry was amazing.
Neha is a friend's wife, so we have known each other for a long time. That's why you can see that comfort on screen.
We have worked in a film before, but we did not have any scenes together.
Shalini is a nagging wife, but she loves her husband too.
She is a typical policemen's wife, whose husband is busy with his work.
Neha is very natural, her comic timing is good.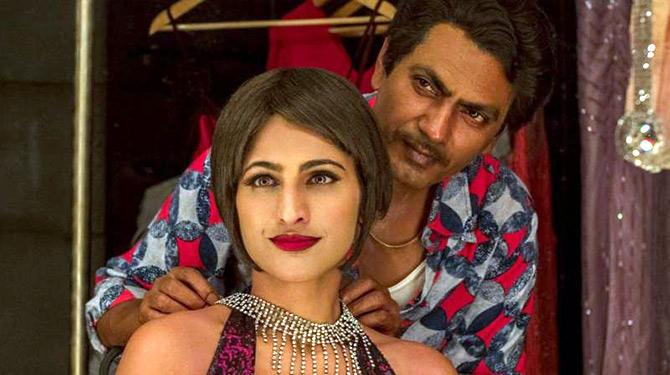 When your character dies, the audience grieves too. What did you feel as an actor?
I don't feel bad when a character dies.
I never hold onto any character so much that I feel bad about it.
Which is your favourite character in Sacred Games?
Cuckoo (played by Kubra Sait).
She is a transgender, and Kubra has done an excellent job.
Her character is beautifully written.
We see the world from the point of view of a man and a woman. A transgender is a different point of view altogether.
I also liked Sartaj.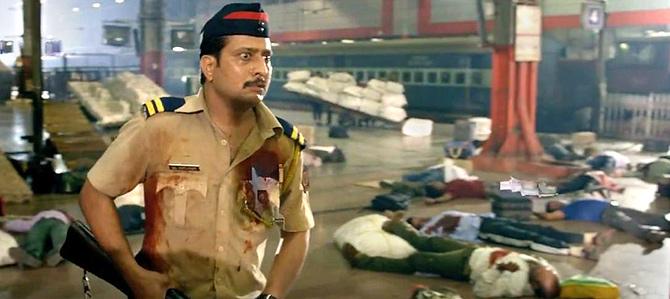 You played a cop who gets shot in Ram Gopal Varma's The Attacks of 26/11. What is your memory of that day in real life?
I was at Prithvi Theatre watching a play when we got the news.
Then, we heard that there was a firing and that something happened to (Anti-Terrorist Squad chief) Hemant Karkare.
I have met Hemant sir a couple of times. He had listened to my poems and liked them.
Later, we learnt about the terrorists and that Hemant sir was no more.
My friends and I decided to check, so we left Prithvi and reached Bandra (north west Mumbai).
But the police did not allow us to go further, so I went home.
It was a sad day.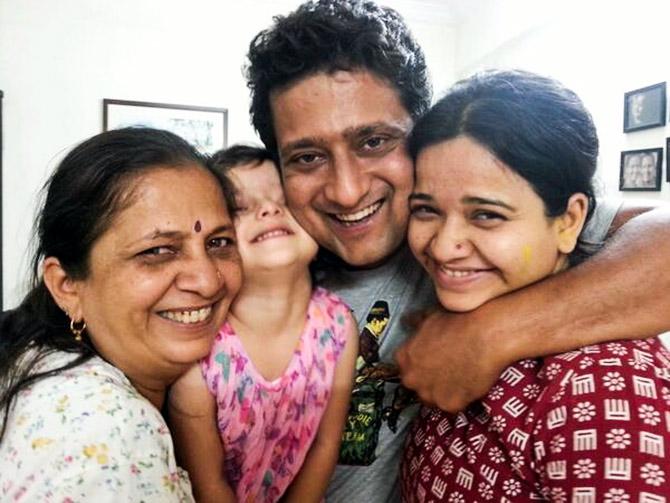 I've heard you worked as a newspaper delivery boy and an electrician...
I am the son of a single parent; my mother took care of me.
I have done a lot of odd jobs... jobs that a poor family's child will do to earn a living.
I participated in school plays.
They were nothing great, but I knew I liked to be the centre of attraction.
I loved it if people clapped or laughed at my act.
When I grew up, I realised it was not a simple job.
I wrote my first good poem after my first break up; I was 22 then.
I have written a lot of film songs.
I started working on stage in 1998.
I used to operate the music. One day, a boy did not show up, and I had to take his place in the play.
Saurabh Parkhe saw my work and offered me a small role in his play. But for that, I was required to go to Mumbai.
I wanted to go to Mumbai anyway, and become a cinematographer or director, so I grabbed the opportunity.
I did a play and started assisting directors. Soon I realised assistants have to listen to a lot of gaallis (bad words), so I decided to act.
I had my share of struggles, but I met the right people.
I found friends in Shreyas Talpade and Satish Rajwade. They fed me and took care of me.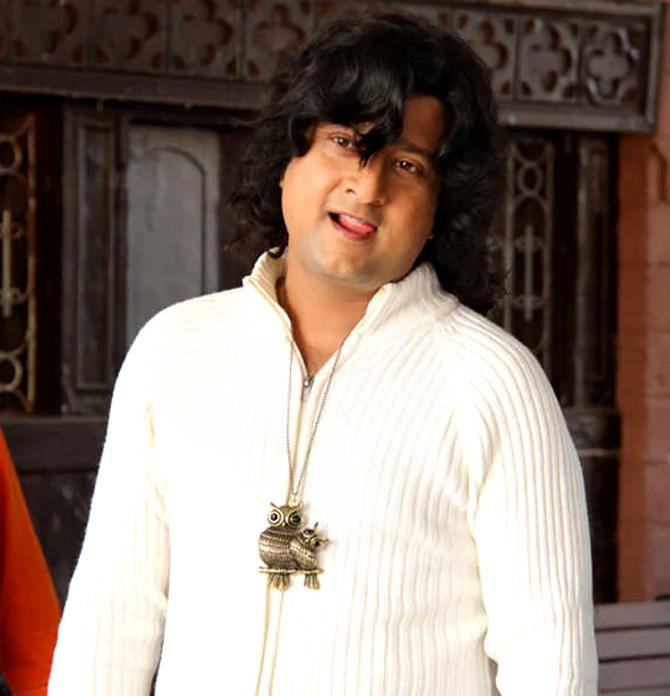 How did you get your big break?
I did a couple of folk dramas, and the popular play, All The Best.
But I got fame with Mukkam Post Bombilwadi.
I started anchoring a television show, Campus, and that made me a household name.
I act in Hindi plays as well. Mai Hoon Yusuf Aur Ye Hain Mera Bhai will be staged on September 16 at Prithvi.
I did a Gujarati play, Chhel Chhabilo, but did not try any more in that language.
You have done negative roles in Duniyadari and Baaji,
After doing Tukaram, I started getting similar roles.
So I took up negative roles.
I did comedy in Bhartiya.
In Baghtos Kay Mujra Kar, I played Chhatrapati Shivaji Maharaj's bhakt.
Poster Girl is on women's issues.
In Kakan, I play a 70-year-old man.
I like to experiment.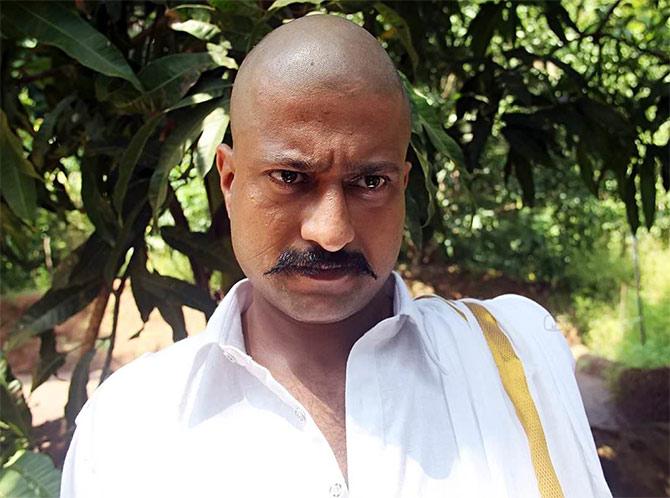 Your song Komadi Pallali from Jatra, which was remade in Hindi as Chikni Chameli, is very popular.
It does not have great lyrics, anyone can write it.
Ajay-Atul's music has made it popular.
Will we see you in Hindi films?
I will work in Hindi films only if I get good roles.
I should get sleepless nights because of that role, only then will I sign it.
I am writing the songs for Ek Sangaychay in which Kay Kay will make his Marathi debut.