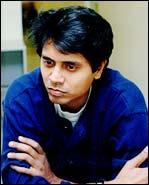 Nagesh Kukunoor's new film Iqbal -- about a deaf and dumb boy trying to make it to the Indian cricket team -- has recieved great reviews.
And when the director chatted with rediff.com readers on August 30, he was flooded with congratulatory messages. Not only that, readers gave him quite a few story suggestions as well.
And the director injected some fun into the proceedings with his witty answers.
For those who missed the fun, here's the first part of the chat transcript. Don't miss the refernce to his 'clone.'
Faiz : So How do you select your stories I mean on what basis, just random or see thing going around somewhere from news article and pick it
Nagesh Kukunoor : Stories are all around us. But there are specific ones that fire my interest and if I'm excited enough, I turn it into a screenplay.
---
neeta : IT REALLY WAS A WONDERFUL, SUPERB, AND VERY REFRESHING MOVIE, WOULD WANT TO SEE IT ONCE MORE....GOOD WORK ON THE WHOLE....
Nagesh Kukunoor : Hi. Thank you and I'm glad you like the movie.
---
satender : i will repat my ? why dont u makes movies for mass
Nagesh Kukunoor : I don't distinguish between classes and masses. Always make movies that I hope reaches out to the widest possible audience.
---
Kartik : Hey Nagesh! I know this is kind of a precipitate question, but even though you made Hyderabad Blues about a guy who comes back to India from the US to (ostenibly) get married, is there a possibility of yours delving into the reverse (more pronounced) trend of fresh grad students leaving India in the droves to get to the USA? This is an oft repeated phenomenon nowadays, especially down south.
Nagesh Kukunoor : I think these themes have been done to death and honestly, I have nothing new to say on the subject.
---
Ben : Firstly, let me tell you that all your movies so far have been wonderful. I have a request Nagesh, many movies have been made on the National Defence Academy and the Indian Military Academy, but no film yet has been made keeping the OTA in mind. It would be awesome if a film was made on the life of Gentleman and Lady Cadets of this wonderful Academy which is considered to be the most challenging and the toughest academy in the world. You could probably name it "ACADEMY BLUES"!!!!
Nagesh Kukunoor : Not a bad idea. Do you have some spicy tidbits to share?
---
geetha : Hi nagesh how r u doing? What are your future plans ? Which projects are you taking up in future
Nagesh Kukunoor : Have a couple of scripts on hand. A few with strong woman-oriented themes. Will make a decision in the next few weeks.
---
doelpande : Hi, How do I know if it is THE real NAGESH I am speaking to :D
Nagesh Kukunoor : Good question. Normally I have my clone attend most functions. Actually, he's a pretty good typist too!
---
Sonal_22 : Nagesh any plans of new movies in which u will act too? and which is ur favorite song?
Nagesh Kukunoor : No immediate plans as yet, but if the role presents itself, I will gladly jump into it. And my favourite Hindi song is Bhanvre Ki Gunjan from Kal, Aaj, aur Kal. Basically, anything sung by Kishoreda.
---
mansimads : Do you think you ever see your self making movies from the Karan Johar genre
Nagesh Kukunoor : Is there such a genre?
---
Manoj : Hello Nagesh r u from AP?? Y cant u do a telugu movie with pavan kalayan..I'd love to see that..
Nagesh Kukunoor : Someday, man, someday! Maybe you should ask Pavan Kalayan that.
---
anand : Hello Nagesh, Your bollywood calling was superb. I really liked the performance of Om Puri. What it takes to direct such good actors ?
Nagesh Kukunoor : Without sounding too pompous, it takes faith in your ability and vision and convincing others of the same.
---
NarenBabu : Hai Nagesh. This is Naren, LFJC-Uppal, OU. Hope you could identify me. When in leisure, pl. call me at 9324803297/27564446 (res) as I do not have any of your contact details. Catch up with you later. Bye.
Nagesh Kukunoor : Good to hear from you. Will contact.
---
kabirhere : hey nagesh Y R U NOT ANSWERING ME PLZ PLZ PLZ PLZ
Nagesh Kukunoor : what is your question?
---
Faiz : What is in the pipe, have you something already comming by or we have to wait for years, like we did for AAmir
Nagesh Kukunoor : I've been making one movie a year. What more do you want?
---
reddy : Hi Nagesh whats the difference between real life and reel life ?when I think of the same with respect to your movies I dont see any difference as you movies feel me to be part of it ....I appreciate the way you take and make the audience feel the difference with out any difference
Nagesh Kukunoor : All I can say is a big Thank You!
---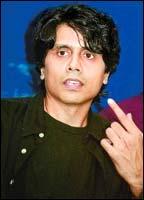 rahaman : Hello nagesh.Why don't you direct a telugu movie. Telugu indutstry needs director like you. Are you from AP
Nagesh Kukunoor : I will make a Telugu movie someday. Right now, I'm finishing my slate of Hindi films and I'm from Hyderabad.
---
pranav : which r ur top 3 favourite books? how much of reading do u manage?
Nagesh Kukunoor : Top 3 would be The Alchemist, 1984, and The Stand.A reasonable amount, if I'm not shooting.
---
Mudabid : Hi, I am also an engineer but what I really want to do is to make movies. Any advice?
Nagesh Kukunoor : Just don't take no for an answer. ANd follow your dream.
---
akansha : a few days back i was watching a movie on zee smile at about 2 in the afternoon in which u acted as a p.t. teacher. the characters where rajesh naidu, malti etc. i liked that movie very much but i couldn't get the name of the movie can u tell me.
Nagesh Kukunoor : It's Rockford.
---
Sushant : WAT AB'T UR MOVIE "TANDOOR"?SRK IS PRODUCING,AB IN THE LEAD.SIR I AM A GRADUATE FROM 'NSD'.ANY WORK FOR ME?
Nagesh Kukunoor : I don't know where this rumour got started. But there are no immediate plans for Tandoor.
---
Sanam : Hey Nagesh, Sanam here from Melbourne - A big well done for your efforts mate!! Hope to see you downunder some day soon..cheers
Nagesh Kukunoor : Always wanted to visit Australia, and will likely make it there next year. To shoot a film, perhaps.
---
RockfordBlues : Where did u do your schooling from ?
Nagesh Kukunoor : I studied in a boarding school called Montfort in Yercaud.
---
Sushant : .HOW DO YOU PRONOUNCE PICTURESQUE,SIR I AM A GRADUATE FROM 'NSD'.ANY WORK FOR ME?
Nagesh Kukunoor : That's a good one! I usually take resumes and pictures from actors and keep them on file, and go through them when I begin casting for the film.
---
koolkat : Why did you make HB2 it was awful! And do u HAVE to act in every of your film?
Nagesh Kukunoor : I'm sorry you didn't like it. But I make movies that I believe in. Some work while others don't. It's the biggest guessing game that we filmmakers play. And your prayers have just been answered - I'm not acting in Iqbal!
---
steven : please answer my question nagesh , i just want to know how did u left ur dollar dreams (after getting engineering degree) and went for what u wanted to do , as i am also going through this phase where i want to chuck my job and want to make movies and just movies , please answer me as i hope you can relate to me ..........how to just follow my heart.
Nagesh Kukunoor : There is no right way. Build your knowledge about the field, and when you feel confident enough, chuck it all up and follow your dream.
---
Sushant : WHOM DO YOU THINK IS A BETTER ACTOR:NASEER,OM PURI,AMITABH OR GIRISH?
Nagesh Kukunoor : That's the problem with acting. It is way too subjective. Honest to God, I don't know who's a better actor! They all have their pluses, and their minuses.
---
soma : Hi Nagesh, some one needs to uplift the image of telugu films outside andhra.I am really bored of the seeing the routine films in Telugu. We seriously need a director like you to direct some good Telugu Films in AP . Not only me , most of my telugu friends feel this. Please take this as a request to direct some good Telugu Films.
Nagesh Kukunoor : I promise you I'll try real hard to make one as soon as is possible.
---
Chandrasekhar : Hi Nagesh, I attended the Hyderabada film festival where the opening film was "Rockford". That was made very good. Yesterday I happened to see "Iqbal" which is simply fantastic. The performances by all the actors was excellent. Especially the sister of Iqbal was very very natural. Kudos to u for extracting such a performance from her. And what can we say about Naseeruddin Shah. He is a seasoned campaigner. He was as usual his best on screen. I know a little bit of sign language also. It seems u did a good homework on that too. And last but not the least, the hero in the movie was actually bowling really well with a neat action. That was very good to c. He also did quite well. All in all an excellent movie and I hope it will be watched by maximum people.
Nagesh Kukunoor : Thank you.
---
saikat : Hi Nagesh, does Iqbal also reflects the current problems in the team selection of indian cricket team ?
Nagesh Kukunoor : While I don't know that first-hand, I'm sure deals are made in every field. So why should cricket be an exception?

Don't miss the last part of the chat transcript tommorow!