'Who decides what is jingoistic?'
'What is patriotic?'
'Who decides Lagaan is patriotic and Gadar is jingoistic?'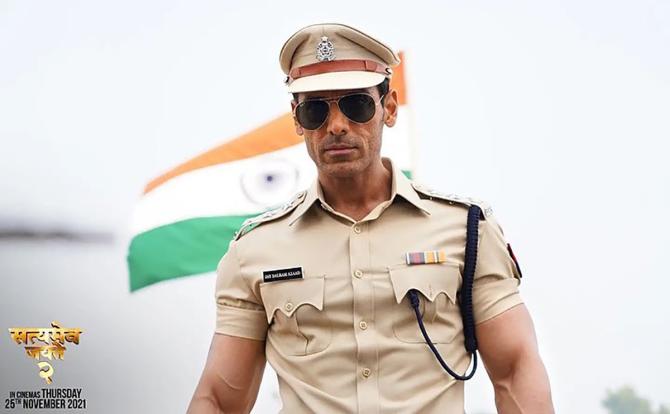 Director Milap Zaveri returns with the second installment of Satyamev Jayate after the first did exceptionally well at the box office.
Milap gives full credit to the film's star John Abraham, who chose to do the movie with a 'flop' director.
Milap's movies have faced severe criticism for being jingoistic and over-the-top, but he tells Patcy N/Rediff.com: "Till there is no dialoguebaazi and people don't clap and whistle, there is no fun in movies."
You waited and made sure that Satyamev Jayate 2 got a theatre release.
Yes. All the films I have made are for the big screen.
After theatres reopened after the pandemic, small films released. Big films didn't release, and people didn't go back to the theatres.
People kept saying theatres are finished, OTT is here.
I used to scream myself hoarse, saying that you are wrong.
I said that the day Sooryavanshi would hit cinemas, you would need an army to come and stop people from going to the theatres.
I was right.
I kept telling my producers Bhushanji (Kumar of T-Series), and Emmay Entertainment's Monisha (Advani) Madhu (Bhojwani) and Nikkhil (Advani) that.
I said, let's hold on until Sooryavanshi releases. Rohit (Shetty) will not go to OTT, so let's wait for him.
Luckily, they agreed with me.
I am grateful.
There is the risk, fear and nervousness because cinema is an exam.
OTT is like passing the year without actually sitting for the exam.
But this is an exam, where the audience decides to spend their hard-earned money and go to a theatre and watch your film.
As a film-maker, this is what we live for.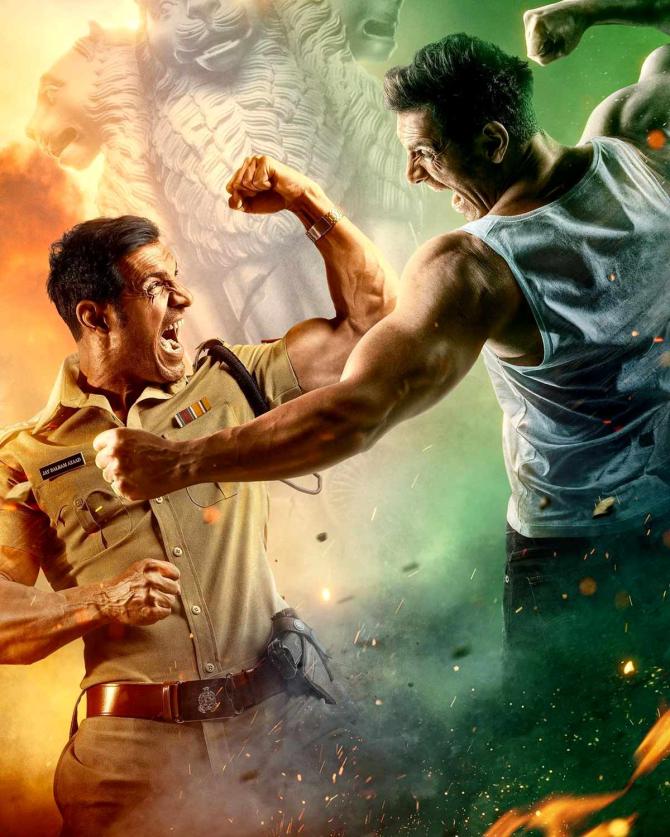 John versus John. How did this idea come to you?
The first part was a story of two brothers -- one who abides by the law, and the other who takes the law in his hands.
Part 2 has a similar structure.
Jai is a police officer who believes the law has to be followed.
Satya is a vigilante, who decides that the only way to end corruption is to take the law into his own hands.
So that is a clash between the two ideologies of the brothers.
What do you believe in?
I believe a point comes where the law cannot provide justice, you have to take it in in your own hands.
In Hyderabad, when those police officers shot the rapist, I applauded.
I feel that when people use loopholes in the law, and get away with things like injustice to women, to the downtrodden, to spread communal tensions, when the law is unable to solve a situation, you need someone to solve it. If someone is strong enough to do it, hats off to them.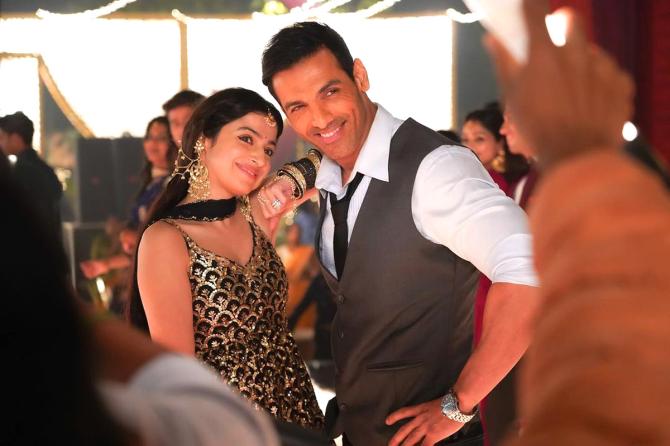 Do you plan your films every two years?
I had planned to release it earlier, but the pandemic came in my way.
The Satyamev Jayate released on August 15 and did so well, that night itself we decided to make part two.
John was busy for a year with other commitments, so I made Marjaavaan in between.
Satyamev Jayate, as a brand, tackles corruption.
Part one tackled corruption in the police force.
Part Two takes a larger look on corruption in society, whether it's the police force, politics, medical fraternity, industrialists, the babus in government offices, it takes up all the issues.
If part two works, I will gladly make part three.
I already have an idea and have bounced it to John. He has loved it.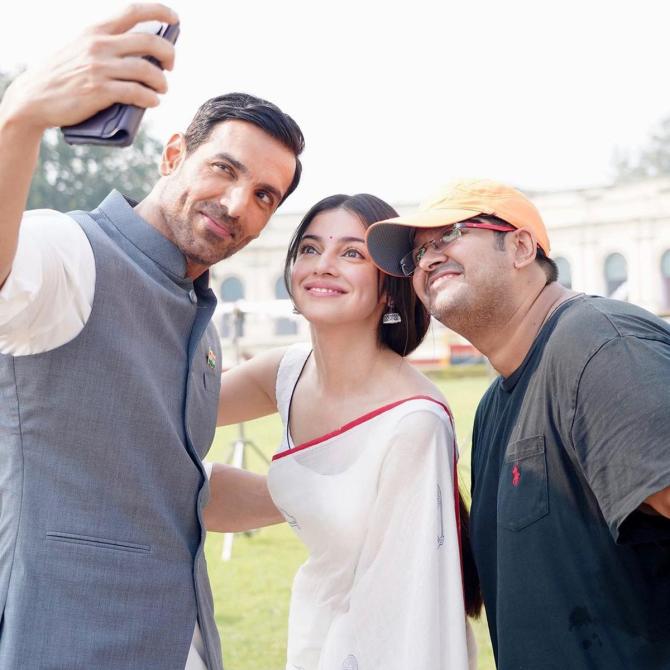 So John will always be a part of this franchise.
I would like to make films with John all my life. He is my saviour.
He is the reason I'm sitting in front of you.
He gave me a new career, a new life.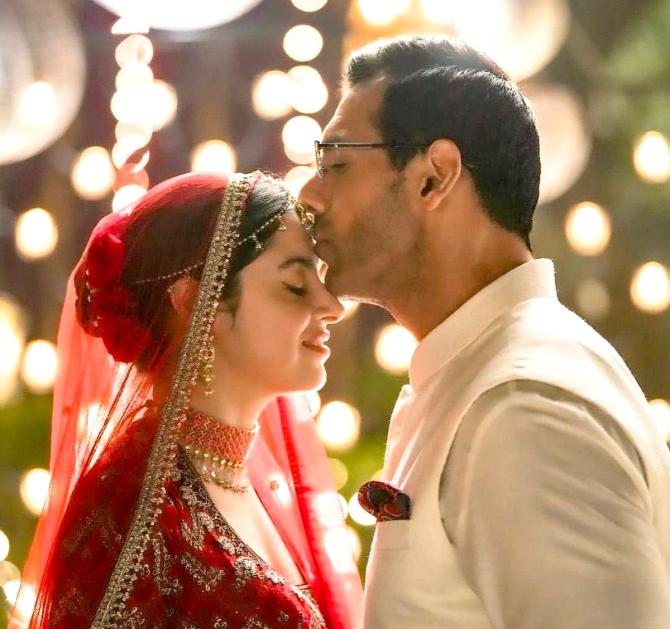 Why don't you try comedy? Why do you love violence and rage?
Audience didn't show any love for my comedy. They showed violence and rage towards it!
I have grown up on films of film-makers like Manmohan Desai, Prakash Mehra, Mukul Anand, Subhash Ghai, Rakesh Roshan...
My favourite films, as a writer, were the ones that I did with Sanjay Gupta -- Kaante, Musafir, Shootout at Wadala, Ek Villain...
I love these movies and loved writing them.
Films like Masti, Housefull, Heyy Baby, Maine Tera Hero did great and I love them too.
But the pleasure I get when I see the audience whistling in Shootout at Wadala is something else altogether.
When Mastizaade failed and I didn't have work, I was in a dark space.
I made a short film called Raakh which got a lot of appreciation.
It was very angry and dark film. In fact, Satyamev Jayate was born out of that idea.
John was kind enough to agree to do it and he decided my trajectory after that.
So there will be dialoguebaazi...
Always! I am first and foremost a dialogue writer.
Till there is no dialoguebaazi and people don't clap and whistle, there is no fun in movies.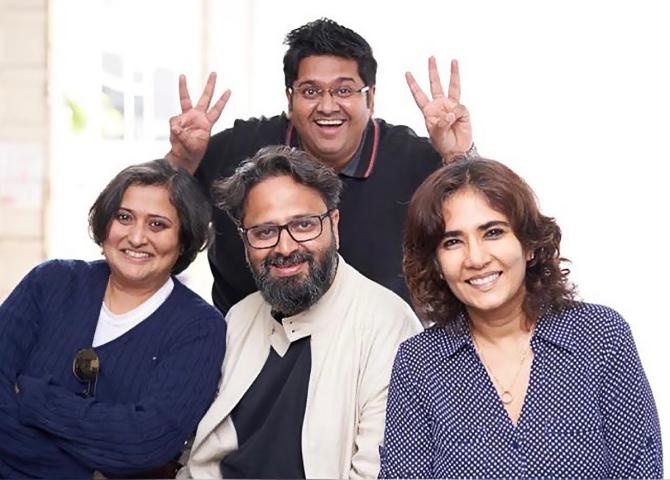 Nikkhil Advani has produced your last three films. How is that equation?
I met Nikkhil a couple of days after Kal Ho Naa Ho released.
I was besotted with that film.
I used to hero worship Nikkhil. I started writing a script for him at Dharma Productions, but it didn't happen, unfortunately.
Then Nikkhil left Dharma.
I went to him with my directorial debut film Jaane Kahan Se Aayi Hai and he produced it.
I would like to apologise to him. It was a sweet film, but nobody watched it.
Then his sister Monisha brought me back to him. I went to her with the Satyamev Jayate and Marjaavaan scripts.
I had no work, no money, no career.
She saw some merit in me.
She bought the Marjaavaan script.
Then I narrated Satyamev Jayate to her and she loved it. I told her I wanted to direct it.
Nikkhil had no idea that I went to meet John, only Monisha knew about it.
When John said yes to the film, he called Nikkhil and said, 'I heard you are producing Satyamev Jayate.'
He was a little shocked.
Nikkhil called me and asked me for the rough idea because he had to meet John.
Nikkhil Advani is the greatest actor you will see. He sat for three hours, pretending he knows everything about the film.
John Abraham was also fooled.
As soon as Nikkhil came out of the meeting, he called me and asked me to narrate the script to him.
Go on...
Nikkhil is a friend. He's an elder brother, a mentor.
We love each other.
We fight like cats and dogs.
Monisha says we are like husband and wife.
I am the bad apple of the company. I make films that get trashed by critics.
Nikkhil gets four or five stars for his work.
When Mumbai Diaries came out and he got great reviews, I told him to enjoy it because I would destroy his reputation in a few months.
But to his credit, he trusts me.
He sees my scenes and holds his head in disbelief.
I would like to say today that for all his pretense about being so cool and intellectual, he's the one who thought about John tearing the tire in part one.
It was Nikkhil Advani's idea! Let me destroy his credibility right now!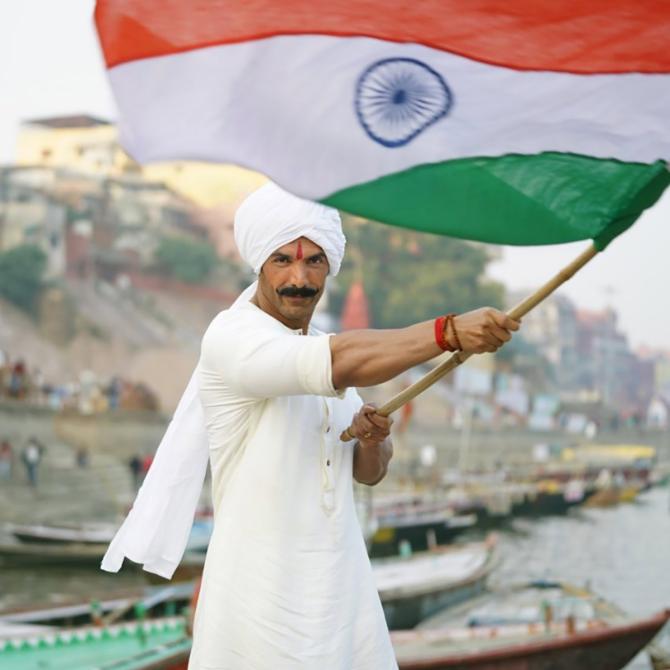 People say your films are jingoistic.
Who decides what is jingoistic?
What is patriotic?
Who decides Lagaan is patriotic and Gadar is jingoistic?
Who decides this is cool, this is uncool?
For me, patriotism is anything that says love your country, love your fellow countrymen, respect other countries but respect yours too.
Do not discriminate between Hindu, Muslim, Sikh, Christians, rich or poor... die for your country.
Also, if your country does something wrong, point it out.
There's a dialogue in the second trailer of Satyamev Jayate 2: Sadak par khada hawalde 100 rupay par meherbaan hai
Naam tumhaara Khan, toh atankwaadi pura khandan hai
Apne he ghar mein phankhe se latak raha kisan hai
Lekin mera desh mahan hai!
So it calls out to what is wrong in the country too.
This is the first time a film of mine has been passed by the Censor Board with an UA certificate and no any cuts.
My film wears its patriotism on its sleeve.