'I have been hearing this for the last four generations, that this is the last generation of superstars.'
'We will not leave it for the younger generation to take it easily.'
'We will not hand it over to them.'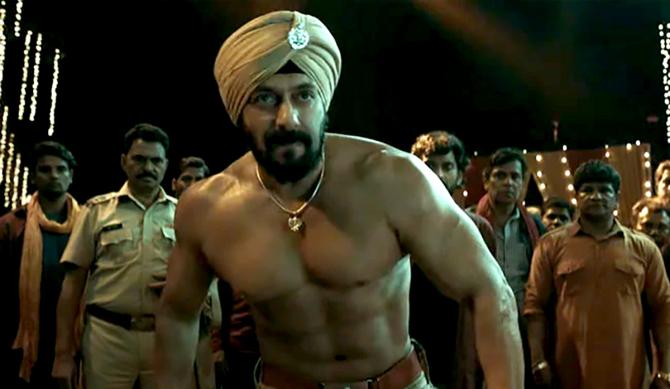 Salman Khan is happy and relieved that theatres have finally resumed operations and people have started going back to them to savour films on the big screen.
Bhai is ready to entertain audiences with his cop act in Antim: The Final Truth, a film that co-stars brother-in-law Aayush Sharma.
"I did think that I was playing a cop too many times, but I liked this film's subject a lot. I was in two minds that whether I should do it or pass it up. But the character got stuck in my mind," Salman says as Rediff.com Contributor Mohnish Singh listens in.
How did you come about making Antim?
The DOP (Director of Photography) of Dabangg 3, who also worked on (the 2018 film), Mulshi Pattern, once narrated the film's plot to me.
I watched the original film much later.
I liked the cop's character in the original, so I made this film from his point of view.
What did you like about the cop's character?
Mahesh Limaye, who shot the film, told me about it and the fact that Mahesh Manjrekar played a powerful character in it. The film's plot is very strong.
I watched the original film at my farm.
After watching it, I asked Manjrekar why the makers had left the cop's character halfway. It happened because it was the other guy-centric film.
I felt that till the time these two characters are not pitted against each other, it does not sound thrilling.
So there is this guy who joins the underworld after his farm and land are snatched from him.
The second guy, on the other hand, chooses to become a cop after going through similar circumstances.
This film is about the clash of two ideologies.
You have played a cop in Wanted, Dabangg and Radhe. Are you creating your own cop universe?
(Laughs.) I did think that I was playing a cop too many times, but I liked this film's subject a lot.
I was in two minds that whether I should do it or pass it up. But the character got stuck in my mind.
Let me tell you, we have just taken the basic plot from the original film. Ours is a different film, a different screenplay. It is a lavishly mounted film.
Pravin Tarde (director, Mulshi Pattern) did a very good job, but he made the film on a very small budget.
The budget here is very large. There are songs, action, emotions and drama.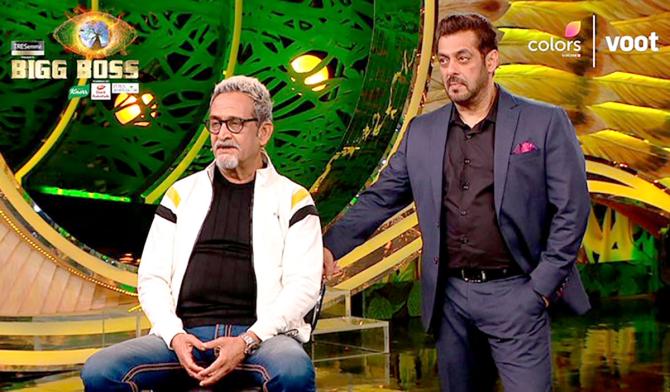 How was it working with Mahesh Manjrekar on this film?
He is damn good.
He is into acting, direction, photography, painting, and singing. He does it all.
He cooks as well, and what food he makes!
Chicken or fish, you just name it and he will make it for you in no time.
He was diagnosed with cancer. He is a fighter and he fought it.
He didn't give it a damn. He was like, 'Chal bhai, yeh meri body hai. Tu nikal yahan se.'
He was shooting during this entire period.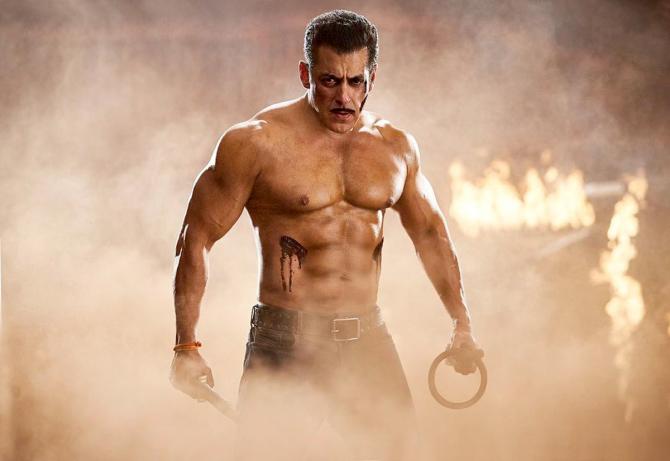 He has said you kept your stardom aside for Antim.
Only to make it look more authentic.
You cannot play this character like the one in Dabangg. If we wanted that, we could have made Dabangg 4.
This is a different film altogether.
It has got the seriousness of Arjun Ranawat from Garv. He is very Hindustani, very rugged.
He does not shout.
He is very focused at what he wants to do.
Even if he is humiliated, he will do what he wants to do only at the right time.
He will sacrifice anything for what he believes is right. That's what I liked about this character.
In the Marathi film, they had only four-five scenes of him. I took the plot and made a different film out of it.
The audience likes to see the larger-than-life Salman Khan.
It is larger-than-life, but more realistic.
All the stuff that you expect in a larger-than-life film is there. Just that this character looked best alone, so we did not have a heroine with him.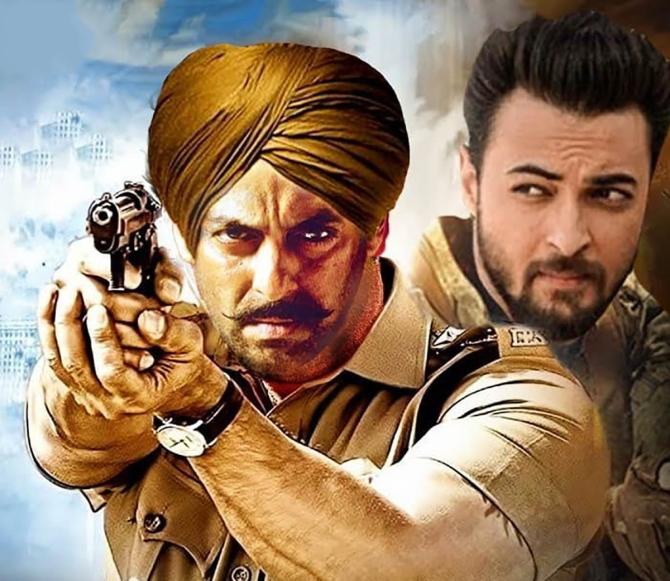 How have your Sikh friends reacted to your character?
They loved the look.
They loved the character.
It is a very strict, but noble character.
A lot of times, Sikh characters are used for comical effect in Hindi films. Were you clear that this character would be an exception?
When you see a well-dressed Sardar and the height and gait they have, they look like Gods, they look like warriors.
That is what I wanted in this film. It is a big film.
Suddenly, reports emerged this is Aayush's film. Aayush is there, but this is paaji's film (laughs).
Now that theatres are open and Sooryavanshi has done well, does it bring in more confidence?
I was very impressed with the critics this time.
I don't know how long it will last, but I felt that a certain pathos, sensibility and graciousness was there in the reviews that didn't drown that film.
The reviews said everyone should go to theatres. It was very nice of them.
If people don't go to theatres and watch films, then what will they write about?
We depend on each other for our bread and butter.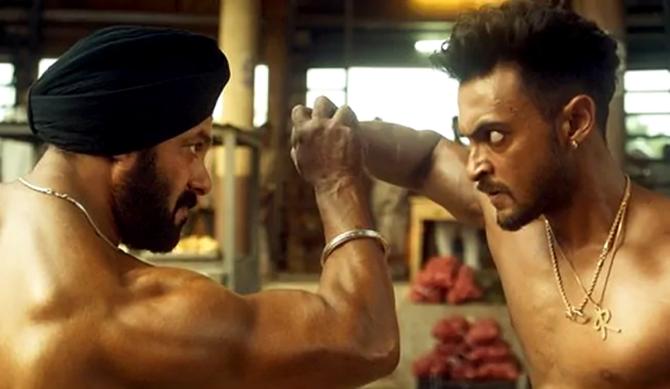 What are Aayush Sharma's qualities that impressed you as a working professional?
Before that, let me tell you an interesting story which happened a lot time ago.
Sohail (Khan) and I were supposed to do a film earlier.
We still have that script, but it is not for me now because I have passed the age to do it.
It was Sohail's story and the title was My Punjabi Nikaah.
One day, Sohail came to me and said, 'Now, we have to look for somebody else to do this role. I have seen a guy at Gold's Gym who seems to be the ideal choice for that character.'
After two days, I asked him if he had signed the guy. He said, 'He is coming to meet us.'
Arpita called everyone down. Everyone came out and gathered together.
I saw a boy standing with Arpita and my parents.
Arpita turned to Dad and said, 'Dad, I want to marry him.'
Dad said, 'Ask him.'
The guy replied, 'Yes.'
Sohail turned to me and said, 'He is the same guy I was talking about. Now I will make him do my film free of cost.'
So Aayush was the boy that Sohail was planning to sign for My Punjabi Nikaah.
When the theatres were shut for a large part of 2020 and 2021 and some people were busy saying that the charm of the big screen would eventually fade away, did that worry you as an actor and producer?
No. I knew theatres would be shut for some time, but at one given point of time when the vaccinations are done and the virus just becomes a common flu, people will start going back to theatres.
I don't think cinema can take OTT's place or OTT can take cinema's place.
The experience you get while watching a film on the big screen is unbeatable.
It is a great family experience.
You see, in foreign countries, a lot of options are available for the public to entertain themselves. Even then, you see the number of films that they make, and the number of theatres that they have.
Each country has more than 30,000 theatres.
What do we have? We have around 11,000 or 12,000 screens in total.
In China, they build a theatre every three-four weeks.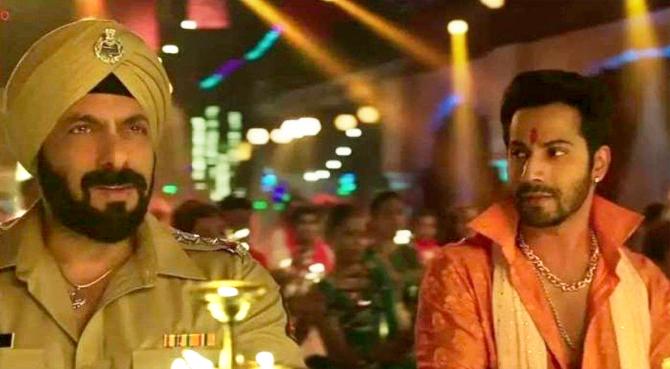 A couple of years ago, you had revealed your plans to build your own cinema chain in the country.
Yes, we had plans to build theatres.
Hopefully, it will be sometime soon with the support of the government.
We were planning it, but everything was put on hold due to the pandemic.
We had planned to open them up in smaller towns where people didn't have access to theatres.
The existing theatres in the country have gone through a very bad phase; they need to be refurbished.
More and more people should go to theatres, so that theatre owners can get more money to improve them.
Some say this is the last era of superstars, especially with the emergence of OTT and actors gaining popularity through it. Do you agree?
We will go, somebody else will come up.
I don't think the era of stars will go.
It will never go.
It will always be there.
It depends on a lot of things, like selection of movies, what you are in real life... it is a whole package.
This younger generation will have their superstardom.
I have been hearing this for the last four generations, that this is the last generation of superstars.
We will not leave it for the younger generation to take it easily. We will not hand it over to them.
Work hard for it.
We are 50-plus and still working hard, so you should also keep working hard.