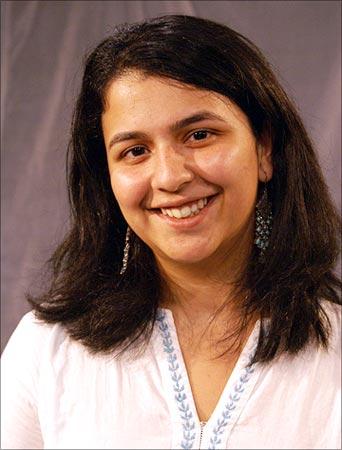 Deeksha Gaur, executive producer of the off-Broadway show Ugo's Last Dance currently underway in New York (show ends on October 4), is among the few theatrical producers of Indian origin.
She is a recipient of the Foundry's Producer's Chair Award for this production created by God Machine, a new theatre company, which she says was started explicitly to produce what the typical theater community would consider "unstageable."
Gaur, who also works full time as assistant managing director at the Long Wharf Theatre, is a cofounder of God Machine.
"We are committed to supporting the work of artists who create provocative and uncompromising theatre," she asserted. "We applaud their passion for their work is not tailored by their desire to be produced; who are unafraid to explore difficult material. And these are the artists who inspire others to reach down to the depths of their souls and share with the world what they find there."
The Foundry Theatre Producer's Chair is a mentorship programme supporting the development of emerging creative producers. Each year, it selects two promising young producers spearheading premieres of theatre projects in New York City and provides them with four- to six-month residencies at The Foundry and a small grant to be used toward their projects.
"We are producing this musical with a live band, and artists from many countries and it has everything including a morality element and wonderful costumes and puppetry," she said.
The musical by David Lefort Nugent, the cofounder of God Machine, is directed by Alec Tok. It is based on the 33rd canto of Dante's Inferno, Ugo's Last Dance, and focuses on three clowns whose fame as political commentators under the previous regime leads them to a jail cell. Despite looming starvation and torture, the trio know that every moment is a struggle to hold on to your humanity, Gaur said.

"I have been enormously interested in producing shows that uphold the vision of the writer," she said, adding that she was particularly drawn to productions that used talents of people from various countries and ethnic backgrounds.
"There is a vibrant theatre community across the world and many artists who live in work in America, like the ones we have in Ugo's Last Dance, come from diverse backgrounds," Gaur said.
"I was interested in theater and acting in school plays when I grew up in Mumbai and my family moved to England, but I didn't know what I should do about my interest as I was more interested in producing plays," she continued. "I studied history as an undergraduate at Cambridge but my interest in theatre was growing nevertheless."
After checking out half a dozen universities in several countries, she opted for the Yale School of Drama, earning her MFA in theatre management.
Her career highlights include producing A Bedtime Story at the Edinburgh Fringe Festival. It is a play inspired by a story in the Mahabharat, but because of its bold nature and its critique of social conventions, it was banned in India for 17 years, she said. Written by Kiran Nagarkar, it is described as one of the most violent plays written by an Indian playwright.
"It challenged us to think about our responsibilities to the world around us," Gaur said.
She says she would like God Machine staging similar production houses globally. "I would like to see A Bedtime Story staged in many places. It has a moral for every one and for all times."
Text: Arthur J Pais