Shiromani Akali Dal MLA Manjinder S Sirsa tells Syed Firdaus Ashraf why he is furious with the director and actor of Sacred Games 2.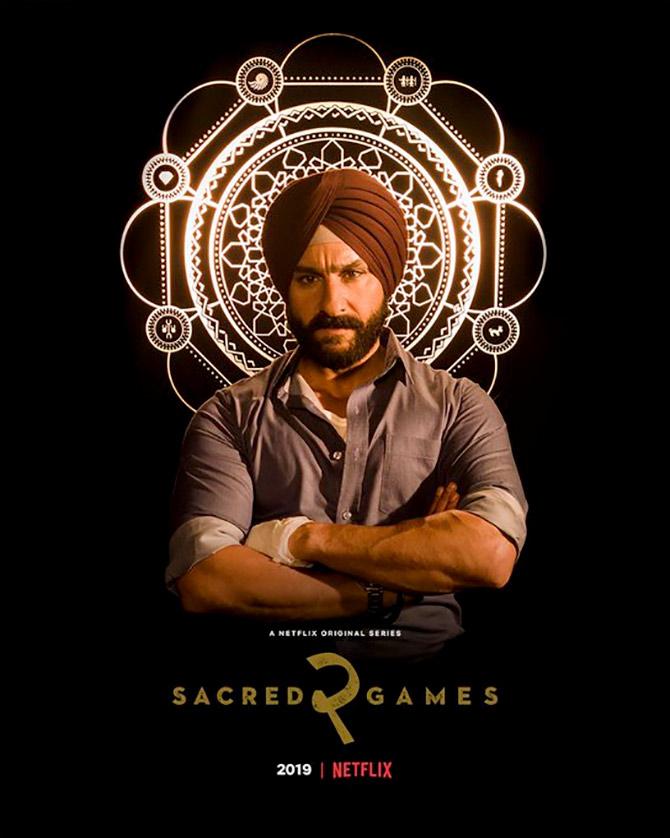 Five days after it went on air on August 15, Netflix's Sacred Games 2 has come under fire from an angry Manjinder S Sirsa, the Shiromani Akali Dal MLA representing Rajouri Garden, New Delhi.
Sirsa, who is also the party's national spokesperson, objected to a scene that shows a disillusioned Saif Ali Khan throwing away his kara.
The kara is a cast iron bangle worn by the Sikh community and -- along with the kesh (hair), kangha (comb), kachera (a salwar undergarment) and kirpan (a small dagger) -- makes up the five kakars that Guru Gobind Singh asked the Khalsa Sikhs to wear at all times.
Speaking to Rediff.com, Sirsa said, "In one particular scene, Saif Ali Khan throws away his kara because he says he is upset with God. There is a clear intention behind the act."
"The kara is one of the five holy Ks of the Sikhs. It is as dear to us as our lives."
Sirsa continued angrily, "Bollywood is known to do such things in the past too. They create controversy to sell their films.
"I feel it is with this mentality that the director of Sacred Games, Anurag Kashyap, has done such a bad deed.
"I have sent a written complaint to the Union minister of information and broadcasting, Prakash Javdekar, and demanded that this scene be deleted immediately from Sacred Games."
Sacred Games is based on Vikram Chandra's book of the same name.
The first season also ran into controversy, when Congress leader Rajeev Kumar Sinha filed a police complaint against Nawazuddin Siddiqui, the actor who plays Mumbai gangster Ganesh Gaitonde, and Netflix over a dialogue about the late prime minister Rajiv Gandhi.
"Nawazuddin is calling Bharat Ratna Rajiv Gandhi a fattu (coward)?" raged an angry Gupta then.
When asked about the creative freedom of filmmakers, Sirsa said, "You cannot attack any religion in the name of creative freedom. You have no right to do so. You are belittling my religion and calling it creative freedom. This is no freedom."
Sirsa quoted Indian Penal Code Section 295A, "There is a provision in the law which clearly says if you attack or demean any religion, a case will be registered against you under Section 295A.
"This means you have freedom but that does not mean you can attack any religion in the name of freedom. I am going to court and I will take Anurag Kashyap and Saif Ali Khan to jail."
When reminded that Netflix was headquartered in the US, Sirsa replied, "But Anurag Kashyap is here and Saif Ali Khan too is here in India.
"They have to remove that scene from Sacred Games.
"I am not demanding any apology from them.
"I want them to remove that scene from Sacred Games."
The parts featuring Sartaj Singh (played by Saif Ali Khan) have been directed by Neeraj Ghaywan in Sacred Games 2.
PTI adds: Meanwhile, in Sharjah, UAE, an Indian man has been suffering sleepless nights as his phone keeps ringing with unwanted calls from around the world, after his mobile number was flashed during the first episode of Sacred Games 2.
'I have been getting incessant calls on my phone for the last three days from India, Pakistan, Nepal, the UAE and around the world. I don't know what is happening,' a harassed Kunhabdulla CM told Gulf News.
'Hearing my phone ring sends shivers down my spine. I want to cancel my number. I want this problem to go away,' said the a 37-year-old Keralite who works for a local oil company.
Kunhabdulla has never heard of Sacred Games.
'What's Sacred Games? A video game? I work from 8 am to 7pm. I don't have time for such things,' Kunhabdulla said.
'I got more than 30 calls today (Sunday) and it's draining my battery. In the last one hour, I got five calls asking for someone called Isa...Who is Isa? I don't have anything to do with him,' he said. Sulaiman Isa, played by Saurabh Sachdeva, is one of the gangsters in Sacred Games.
Kunhabdulla's number went public in the scene where an undercover Indian agent from Kenya hands a chit to Ganesh Gaitonde (Nawazuddin Siddiqui) bearing the number of dreaded gangster, Isa.
Although the number was not visible on the small piece of paper, the subtitles gave it away.
Shortly after the story was published, Netflix wrote to Gulf News saying that they had removed Kunhabdulla's number.
'We apologise for any inconvenience caused. As soon as we were alerted to the situation, we resolved the issue and removed the phone number from the subtitles,' the American media-services provider and production company said in a statement to Gulf News on Monday.