'When you are half decent looking, you want to look like yourself, especially in your first project. But it was important to do justice to the role, especially when it is such a big project.'
'I don't want to play the lead and look like a hero. I am open to do character roles, what is the harm in it?'
Dangal actor Aparshakti Khurana looks ahead in life.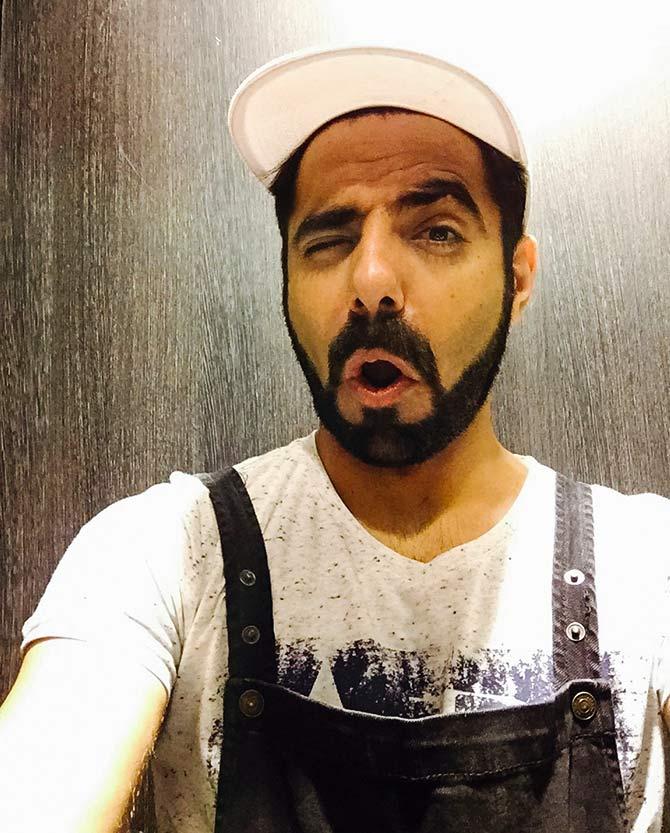 Photograph: Aparshakti Khurana/ Instagram

Aparshakti Khurana wears his emotions on his sleeve.
Talk about his older brother Ayushmann Khurana (they have a three-year gap), and Aparshakti's love for him will reduce him to tears. Ayushmann, or Ayush bhaiya, like he calls him, is the most important person in his life, and it shows.
But at the same time, Aparshakti is very cheerful, loud and animated and jumps out of his chair several times in the interview, while trying to describe something.
The 29-year-old actor, who says he took a long time to learn the spelling of his name, chats with Patcy N/ Rediff.com and talks about his big break in Dangal and much more.

What is the best compliment you got for Dangal?
The best compliment came from Ayush bhaiya. It feels good if your family appreciates you.
He was the last one among the family to watch the film. He hugged me after the interval and said I had done a good job.
My brother is the most important person to me. It's like unless Tauji (Aparshakti's character calls Aamir Khan's Mahavir Singh Phogat 'Tauji') doesn't say 'shabaash' to Geeta and Babita, they are not satisfied.
My brother is very creative -- be it music or writing songs. Plus, he is an actor.
I come from a theatre group called Drama Tech in Delhi. When its founder Mr Chopra called me and appreciated my work, that was also satisfying because he gave me my first play.
Is it true that you bagged Dangal because you got the Haryanvi dialect right?
I speak Hindi with a Punjabi accent, not a Haryanvi accent. But I have travelled extensively in Haryana because of sports (Aparshakti played cricket on the national level).
I have been living in Delhi for the past seven-eight years, where people speak in Haryanvi. So I had a fair idea.
Before we started the shoot, we had dialect training for two and a half months with Prakash Bhardwaj and Sunita, who had trained Kangana Ranaut for Tanu Weds Manu.
Tell us about your audition.
Kudos to Mukesh Chhabra and his team, who travelled across the country to look for the cast! They were looking for sports people, who could act as well. Zahira Wasim is from Srinagar so that tells you about their research.
Nobody could think I would play the character, as I am a very loud Punjabi and a radio jockey.
I was in Delhi when Mukesh's assistant Balwinder called me for the audition. I was not totally satisfied with my audition but I was not aware that it was for an Aamir Khan movie. After that, I did not get a call-back for four months.
Meanwhile, I auditioned for a film called Raabta with Sushant Singh Rajput. A week later, I was told that I was selected and that I would be going to Budapest for the shoot.
But they also told me that I will be getting a call from Aamir Khan's production house. I thought Aamir was producing Raabta, as he had worked with Sushant in PK.
Then I got the call from Aamir Khan's production house and told me it was for Dangal. That's when I realised that I was in an Aamir Khan film for the audition that I did four months ago.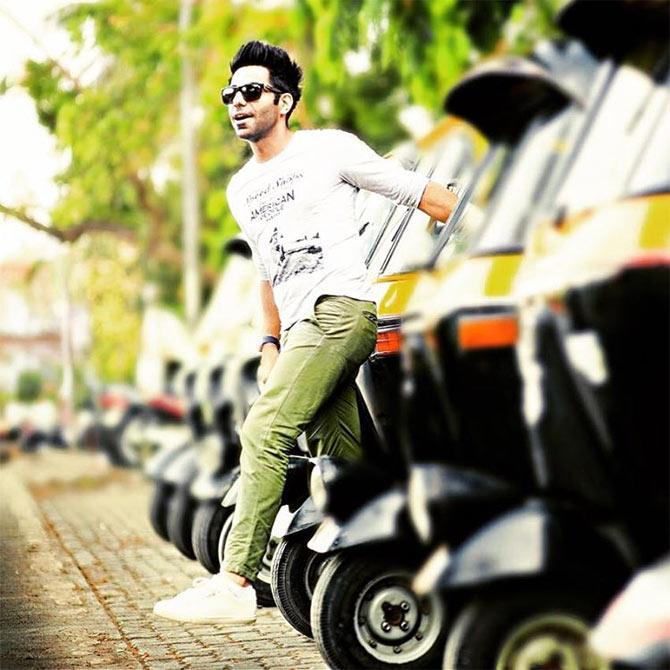 IMAGE: Aparshakti Khurrana/Instagram
Tell us about your first meeting with Aamir.
The first time I went to Aamir sir's house, the only thing that came to my mind was that I may not get a chance to visit the house again, so I immediately clicked some selfies.
I knew Aamir had become fat for the role and had seen pictures but I did not recognise him when he walked into the room. I thought it was an elderly member of his family and stood up to greet him. That's when I realised it was him.
When we started talking, the first thing he asked me was if I was Ayushmann's cousin. I told I was his brother.
The best thing about him is that he is not a star in his head. He is a normal human being and he treats you like an equal.
What was your training like?
Suhani Bhatnagar and Zaira Wasim were put up at Aamir's old house and we would all meet up for Haryanvi classes.
Even though I have hardly two scenes of wrestling, I had to train for a month and a half. Aamir felt that I should know it properly because I come from the family of wrestling.
We would do script-readings on alternate days, meet and live like a family. The credit goes to Aamir sir and Kiran ma'am. I would always cry after the reading of the climax scene. I still cry every time I watch the film's climax.
Where you apprehensive about your look in the film?
My look test happened after two months of wrestling and Haryanvi classes.
My first look was clean shaven. But suddenly one day, Aamir sir we need a bearded look.
When you are half decent looking, you want to look like yourself, especially in your first project. But it was important to do justice to the role, especially when it is such a big project.
I don't want to play the lead and look like a hero. I am open to do character roles, what is the harm in it?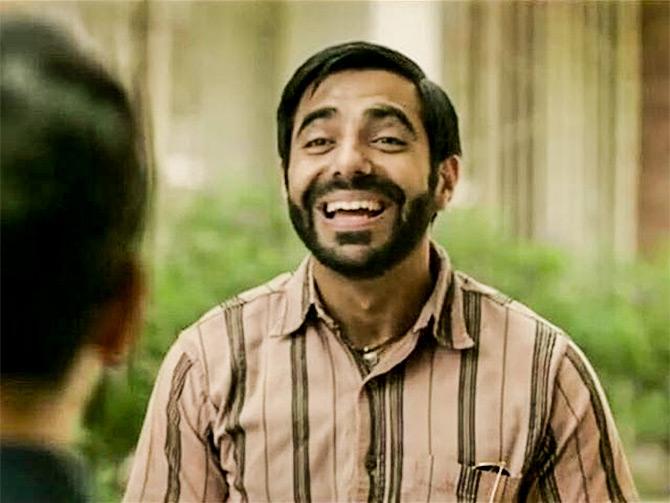 IMAGE: Aparshakti's unique smile in Dangal
Aren't you scared of being typecast?
That is true. But I have to work. I don't want to sit at home.
I have made money from my radio days and can afford to sit and relax at home till my next project but I don't understand the concept of waiting for the right moment. I will do whatever I get.
Did Aamir help with your performance?
Aamir sir changed the way I smile, he wanted me to pitch my smile in a specific way.
I was not nervous when I was shooting with Aamir sir may be because I was meeting him for three months continuously.
Kiran ma'am would always speak highly about my audition. She would say, 'Yaar Omkar (the name of Aparshakti's character), tu mera favourite actor hai.'
Small things like that would make us walk that extra mile.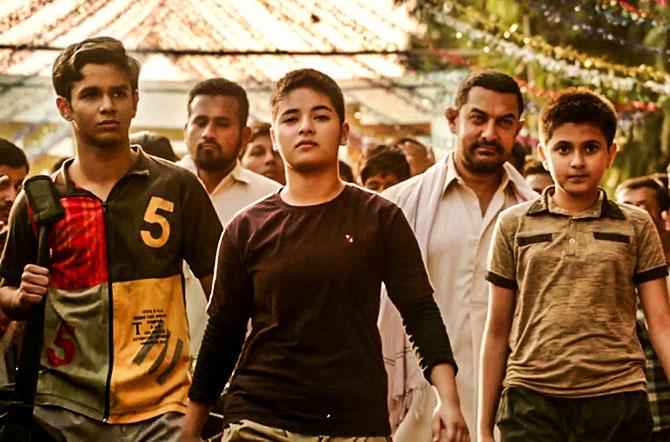 IMAGE: Ritwik Sahore, Zaira Shaikh and Suhani Bhatnagar make their strides in Dangal while Aamir Khan follows
How was your bond with Sanaya Malhotra and Sana Fatima Shaikh?
I share a special bond with Sanaya and Ritwik (Sahore), the younger Omkar. I want to give him credit for making Omkar possible. Had he not picked up the same pitch, I would not have been able to finish it. It was like a relay race.
Another reason I share a special bond with Ritwik is that he shares his birthday with Ayush bhaiya.
I have the most scenes with Sanaya, who played Babita, because Geeta leaves the village in the second half.
Sanaya and I have a lot of common things -- we were from Delhi and had common friends. She is a brilliant dancer and loves Punjabi songs. Plus, both of us are foodies.
Both of us worked in a film called Babbu Ki Jawaani, which got shelved. We didn't realise we were in the same film, as we shot at different locations.
Which was the most difficult scene for you?
My audition scene. It's a scene where I tell Tauji that I want to go with him to the city, where Geeta was training for the Commonwealth Games.
I had done that scene during the audition, and i wanted to do better than that. If I gave a bad performance, it would be a shame because that was the scene because of which I got selected. That would play in my mind all the while.
You have a unique name.
Thankfully, people appreciated my name. They would say 'badaa kamal naam hai tumahara.'
Yes, it is a powerful name. I have to go to the gym to justify my name.
I knew my name was long, unique and difficult and it took me a while to learn the spelling of my name. Plus, my surname is equally big. My nickname is Paari.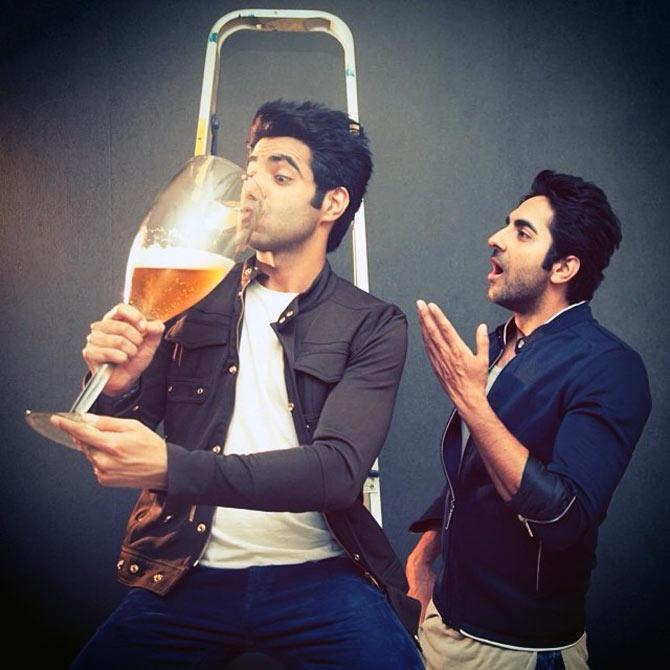 IMAGE: Aparshakti with brother Ayushmann Khurrana. Photograph: Aparshakti/Instagram
Did you ask your brother's help when you wanted to become an actor?
I have always followed in my brother's footsteps.
I never told him about acting. My brother was a radio jockey while I was studying law. I have assisted a lawyer at the High Court. But I decided to give it up. I cleared auditions for Radio Jockey in the first go and within a week, I was on air.
My father was supportive and told me to follow my dream. I was worried about how my brother would react -- he had done radio for four years.
I called him after I got the offer from Big FM in Delhi. He did not stop me; he encouraged me.
I came to Mumbai seven years ago; I was 22 or 23. I was still working in radio. I took a transfer to Mumbai because I wanted to try my hand at acting.
People, who come to Mumbai for acting, have to look for a house but I came here with a job in hand and Ayush bhaiya's house to live in. So everything was perfect for me.
His Vicky Donor had released, and he was very busy his shootings, so I hardly met him.
After a month, Ayush bhaiya told me to return to Delhi because my homework was not complete. He asked me to come back when I was ready. I was heartbroken. I told him this was my dream.
My brother also started crying. He told me, 'You are crying today. I cried the day you gave up cricket during the first year of law school.' My brother hoped I would represent the country.
I decided to follow his advice and return to Delhi. I decided never to come back.
I went back and did eight years of theatre. Then Dangal happened.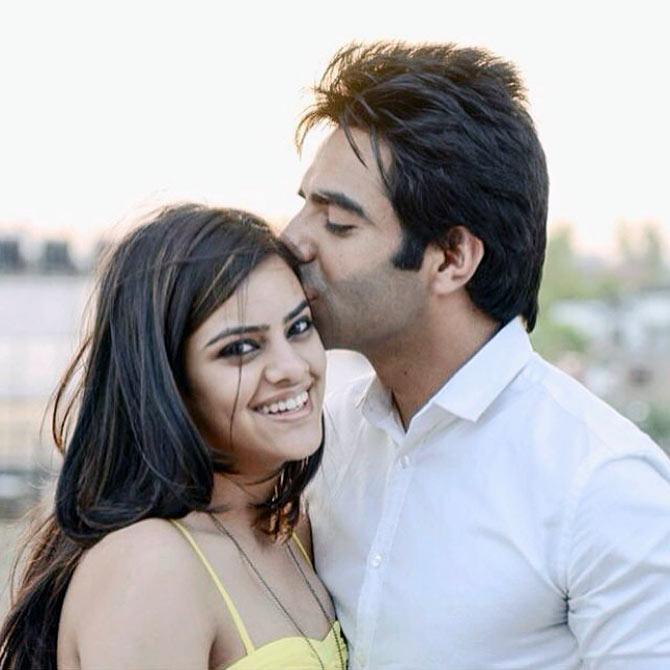 IMAGE: Aparshakti with wife Aakriti Ahuja. Photograph: Aparshakti/Instagram
But Dangal was not your first film.
Saat Uchakkey was my first film. That prepared me for Dangal; it gave me confidence. I worked with Manoj Bajpayee, Kay Kay Menon, Vijay Raaz and Anupam Kher. Unfortunately, it did not do well.
But I did not come to Mumbai for that film. It was shot in Delhi.
You got married in 2014.
Yes. I met Aakriti Ahuja at Shaimak Davar dance classes in Chandigarh but we weren't dating then. When I shifted to Delhi High Court, we fell in love. She is three years younger than me and run a company called Laugh Area.
What next?
I have renewed my Star Sports contract. But I just have one request: I hope people don't expect me to a hit a six on every ball.