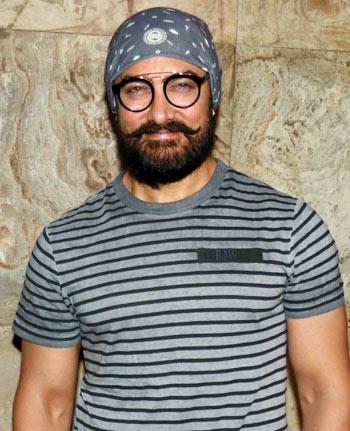 Aamir Khan's Dangal promotions are on in full swing and the actor, as is usual with him, keeps coming up with different publicity strategies. This time, he screened a video to show how he gained weight for the character of Mahavir Singh Phogat and subsequently shed it.
Directed by Nitesh Tiwari, Dangal -- which releases on December 23 -- looks at the life of the Haryanvi wrestler who trained his daughters, Babita Kumari and Geeta Phogat, to become world-class wrestlers.
The actor left no stone unturned to look like Phogat and the response to the biopic's trailer says it all.
Aamir, who is now now sporting his Thugs Of Hindostan look, said, "Yeh main Thug ke liye ready ho raha hoon. It's not my final look though." In this Yashraj flick, Aamir will achieve a long-standing dream, that of acting with Amitabh Bachchan.
The actor answered questions about his transformation for Dangal and how it impacted his health.
Aamir began shooting after he gained weight. "Nitesh (director) wanted me to do the younger version first and then gain weight. But I told him if I did that, there would be no reason for me to lose the fat. So I opted for the older role first."
Khan said he enjoyed the process of gaining weight. "All I had to do is to eat. I ate everything that we are not supposed to eat. I indulged myself in ice creams, cakes, brownies, vada pavs and samosas."
His family was concerned about his health. "Kiran and my mother were worried but I was not. I was worried about the film and my character and performance."
But his son, Azad, loved the chubby version of daddy. "He seemed to think I was a teddy bear. He thought that the fluffy daddy was cuddly," he smiled.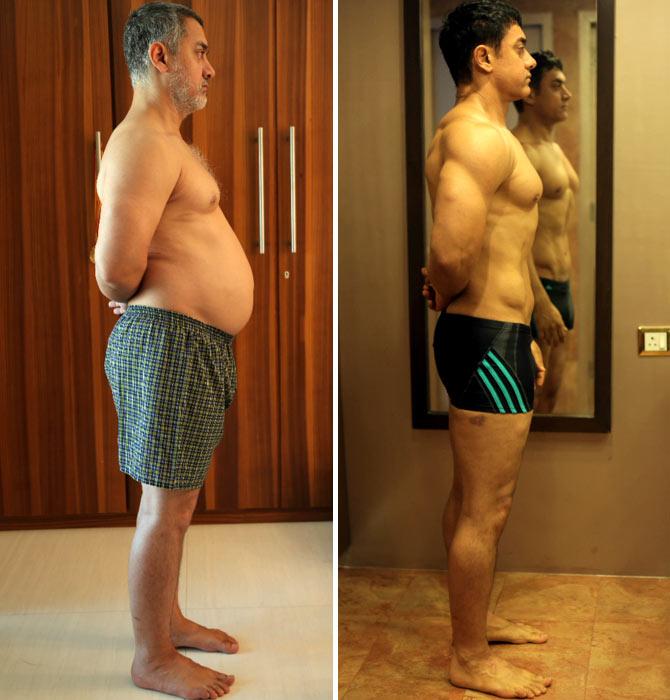 IMAGE: Aamir Khan as the older and younger versions of Mahavir Singh Phogat in Dangal.
Gaining and losing weight for the role was not easy. "Though I went through body building to get a certain look for my films before, this one was one of my most dramatic body transformations so far. Putting on weight was easy and fun. But when I had to lose it, I felt I wouldn't be able to do it as I weighed 97 kilos and had a lot of body fat. I was wondering if I will be able to lose weight on time or not as I had only five months. I used to find it difficult to tie my shoelaces. My whole body language changed. I was shocked to see myself in that state (with a paunch). I had completely forgotten what I used to look like (without the weight)," he laughed.
He added, "At one point I thought I had committed a mistake by gaining so much weight. I panicked. I had to convince myself not to get depressed. But the key to success was to take one step a day and forget about the end result.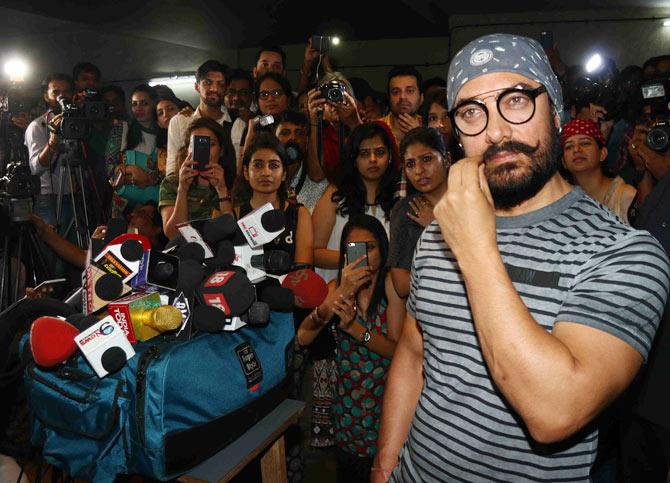 IMAGE: The actor's wife, Kiran Rao, was impressed by his ability to go from fat to fit.
The actor revealed that his wife, Kiran Rao, was impressed by his ability to go from fat to fit and return to his original body fat content -- a little over nine per cent. Apart from exercising, he consulted nutritionist Dr Nikhil Dhurandhar, who outlined a healthy diet regime to help Aamir achieve his target.
Sharing his diet schedule, Aamir said, "For losing weight, I would eat 25 grams of upma with 100 grams of papaya. It would be followed with a protein shake and a tuna sandwich. For lunch, I would have rotis made of 30 grams of grains."
The actor had his share of injuries too during the shoot. "I had injuries on my back, my ankle, my shoulders, both my elbows. But none of them were serious enough to stop work. The only time it stopped my work was when I hurt my back during a wrestling scene. It was very painful and I couldn't shoot. The doctor advised at least two months rest but I didn't have that kind of time. So I took injections every morning to control the pain."
Check out the video Aamir Khan fat to fit.
The actor had the option to use a bodysuit for the character but decided against it."When you put on weight, it affects your breathing and body language. That naturally reflects on your performance. You cannot get that from a bodysuit," he said.
The actor's doctor has advised against such drastic weight gain and body transformation in the future. Being a creative person that he is, Aamir said, "It all depends on the film and role. If I like it, I will do it."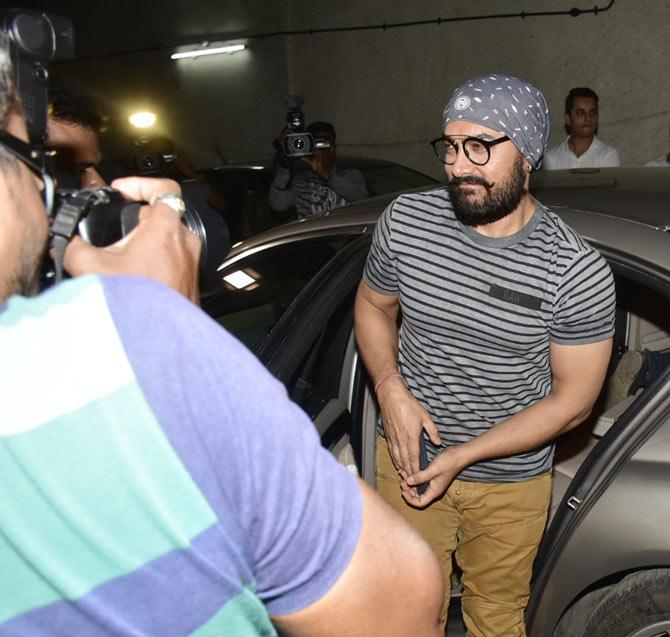 IMAGE: Aamir Khan says he would love to work with Shah Rukh Khan.
When asked if demonetisation would affect Dangal, he said, "I hope it doesn't. I think things are slowly getting back to normal. I think Rock On 2 did get affected because it had released right at that time. But I believe Dear Zindagi is doing quite well. Hopefully, it will not affect our film."
Aamir said the makers of Dangal would apply for tax exemption. "I believe it's a film which fulfills the parameters for getting a tax exemption. But that's not for me to decide. Ultimately, it is for the state governments to decide that. But we will be applying for tax exemption."
The actor was positive his friend, Salman Khan, would promote Dangal on social media. "I love promoting his films too. I am dying to show Dangal to him." Aamir, however, will not promote the film on any television show.
Talking about the third Khan, Shah Rukh admitted that one of his biggest regrets was not doing Raj Kumar Hirani's 3 Idiots. His decision, he said, made him the fourth idiot.
"That's lovely!" said Aamir, who starred in the film. "I would like to work with him."